Hosthavoc is a renowned game server hosting provider that provides gamers with a wide range of services, including VPS hosting, dedicated servers, shared hosting, and dedicated servers. It offers different game servers for popular titles like Minecraft, Rust, CS GO, Survival Evolved, and much more.
The servers of HostHavoc are rigged out with super fast connections and powerful hardware, which ensures lag-free and smooth gameplay. All the servers of Hosthavoc are hosted in Tire-3 data centers, which provide the best uptime.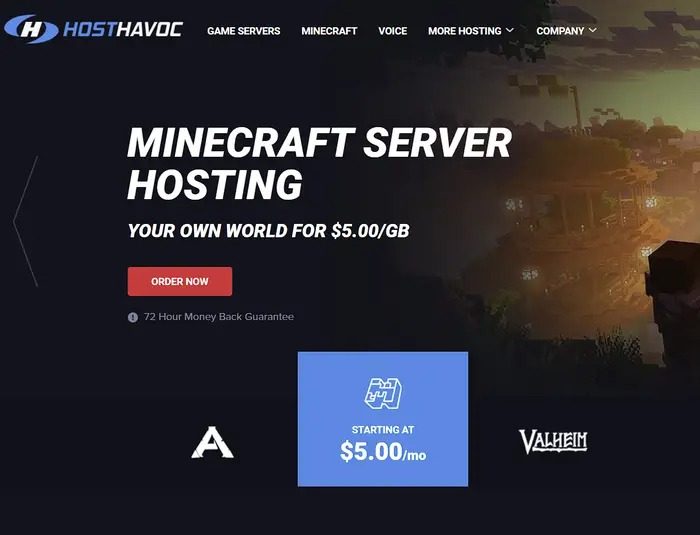 Premium Features and Server Capabilities
Hosthavoc comes with premium features and fantastic server capabilities. Let's discuss this in more detail.
Instant Server Activation 
Buying a Minecraft server will be instantly activated within 30 seconds of the payment receipt confirmation.
Automatic Modepack installer
The server will automatically install mode pack installers like FTB, Pixelmon, Twitch pack, etc.
Scheduled backups 
It automatically takes backup within your multicraft panel to keep your game progress safe.
24/7 hours support 
You will get 24/7 hours support service from this company, where the technicians will help you and fix your issues. The average response time will be less than 15 minutes.
Full FTP access
For users who prefer to self-manage, Hosthavoc offers full FTP access and a web-based file manager that can be customized according to users' requirements.
Best In-class DDOS protection
It saves you from brutal DDOS attacks and keeps you online with the help of its inline protection appliances.
Powered by Multicraft 
It allows users to use their powerful custom-tailored Multicraft control panel suite to manage their Minecraft servers.
Works with all mode packs 
Hosthavoc's server supports all mode packs like Vanilla, FTB, Technic, ATLauncher, and more.
Safety and Security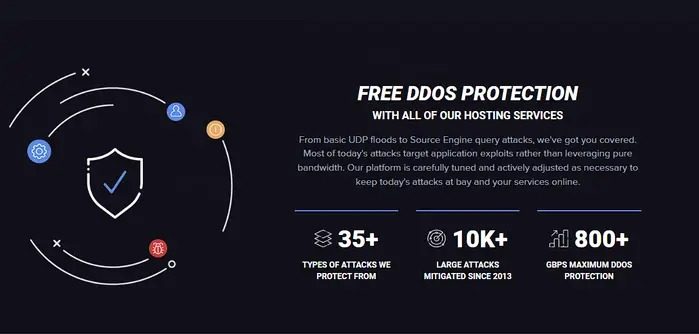 When it comes to safety and security, Hosthavoc is always top-notch. All the hosting services of Hosthavoc provide DDoS protection from essential UDP floods to Source engine query attacks. You will be fully protected from any malicious attack. As per its track record, it protected more than 35 types of attacks on almost 3,000 individuals since the start of its service.
Payment Terms and Plans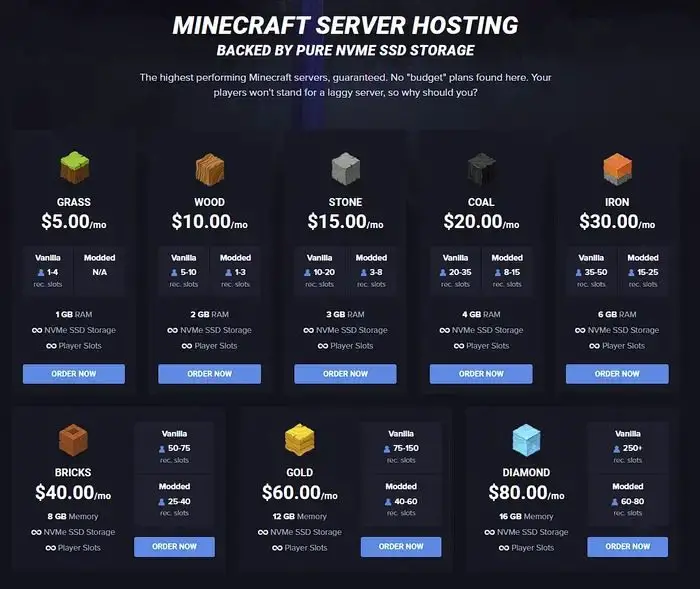 Hosthavoc provides different servers, and the game server's cost is usually based on slots. This company offers eight packages for the Minecraft game. Those server slots are like grass, wood, stone, coal, iron, bricks, gold, and diamond. As shown in the picture below are the costs of those slots: $5,$10,$15,$20,$30,$40,$60, and $80/month.
Why Hosthavoc Is Better Than Others?
You will undoubtedly get many other game server providers (as alternatives to Hosthavoc) like Gportal, Shockbyte, and Nitrous Networks. But why is Hosthavoc os better than others? Here are some of the reasons
Performance
HostHavoc's servers are equipped with robust hardware and high-speed connections, which ensures smooth gameplay and minimal lag.
Reliability
HostHavoc's servers are hosted in Tier-3 data centers, providing high uptime and reliability.
Security
Its servers are protected by DDoS protection and other security measures, which help to keep your game server safe from attack.
Scalability
The plans of Hosthavoc are scalable, so you can easily upgrade your server as your needs grow.
Support
HostHavoc offers 24/7 customer support so that you can get help with any problems.
Price
HostHavoc's prices are competitive, making them a good value.
Features
It offers many features, such as mod and plugin support, a control panel, backups, and DDoS protection.
Experience
This company has been in business for over ten years, and they have a proven track record of providing reliable and affordable game server hosting.
Server location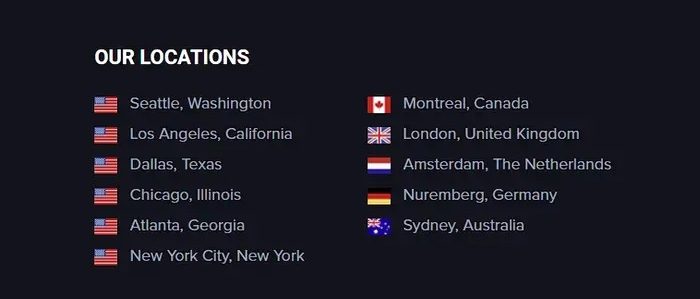 Whenever you buy a server, choosing a location nearer to your location is essential to use its full potential and flawless service.
Hosthavoc has 11 locations across the United States, Canada, Europe, and Australia, including:
Seattle, Washington
Los Angeles, California
Dallas, Texas
Chicago, Illinois
Atlanta, Georgia
New York City, New York
Montreal, Canada
London, UK
Strasbourg, France
Nuremberg, Germany
Sydney, Australia
You can consider the best location server for you as per your current location.
Uptime
As per my experience, Hosthavoc will provide the best uptime. As per the company's claim, they guarantee users a 99.9% uptime. They claim high network availability because they believe they have the best data centers in the industry with trustworthy uplinks.
Performance
When it comes to picking a good hosting, server performance is what matters the most. When you are paying for a dedicated server, you never expect lag. Fortunately, Hosthavoc always meets your expectations. With a vast community of members, it performs exceptionally well(lag-free). You must select the slots you need on the official website of Hosthavoc; they will instantly deploy your game server slots with sufficient power to manage them efficiently.
Support services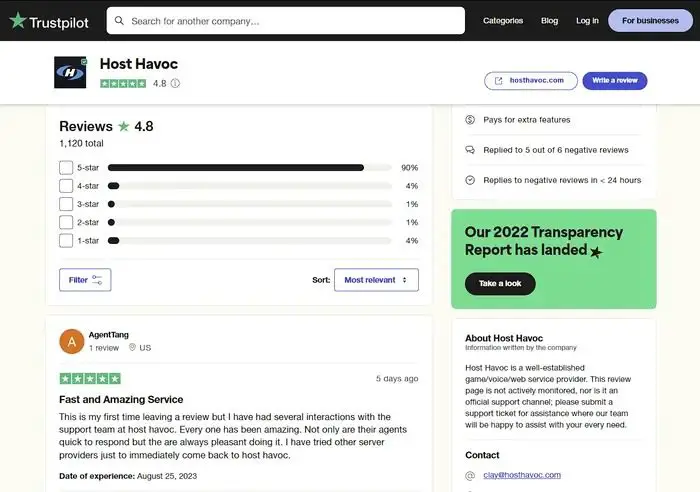 Outstanding support service makes Hosthavoc better than its competitors. They have a 90% 5-star ratings review on Trustpilot. Most users praise Hosthavoc for their helpful customer support and how quickly they resolve their issues.
I tested their services recently, and my experience with the support team was excellent. They only focus on the quality of the service, not like others who only focus on price and features but are not good at support service.
Conclusion 
Hosthavoc is a reliable hosting company that provides premium services, fantastic support, and advanced control panel compatibility with supported useful plugins and mods. Hosthavoc is highly recommended to host a server with a larger community for flawless activity with security.