4K Videos offer an excellent quality of footage with details that would look mesmerizing on a large screen. The large resolution also means the streaming data will be large, and the file will be almost 4-5 times the same video when in HD or 1080P. Not only do you need more bandwidth but also a lot of CPU power and more storage space.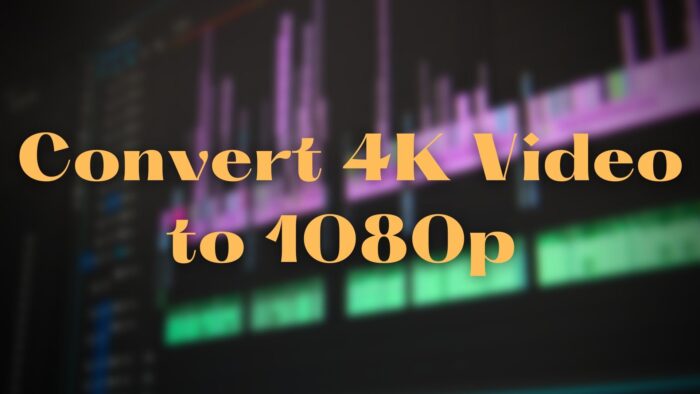 Even if you can afford the bandwidth, the storage space will always be a challenge with the ever-growing collection of videos. That's why it is best to convert the 4K videos to 1080P. If you want to convert 4K to 1080p HD video, options include online and desktop software. However, there are some drawbacks with then that you should know.
Drawbacks of converting 4K Video to 1080p With Online Tools
4K video size is so much more than 1080P that you will end up[ putting a lot of time uploading the video to online tools. While these tools, the amount of time consumed for a large video is not worth it.
Once uploaded, the online tool will take their sweet time to convert them, especially those free tools. As the resources are shared with everyone who wants it to be done for free, it can be anywhere between hours to half a day for it to get done.
On top of this, even if claimed, you never know what is being done to your data on those online servers. Are they using it for analytics or advertisements? Are they selling it to data brokers? Are they sharing it with law enforcement? Are they using it to develop artificial intelligence and advanced computer vision? You will never know.
One of the biggest disadvantages of using a free online tool is the loss of quality. When converting from 4K to HD, the quality should now downgrade, but quality goes for a toss with these online tools.
Lastly, some websites even deliver unwanted software along with the converted video. You should be very careful if the website is downloading anything except for video. Also, make sure your security software is active all the time, so if there is an attempt, it can be blocked.
Advantages of converting Videos using Professional Software
It is always recommended to use desktop software when converting videos. Not only is your privacy ensured, but the software also allows you to trim, cut, crop, merge files, add subtitles, choose audio tracks, and more.
WinX Video Converter software is an excellent software that offers video conversion, editing, and hardware acceleration for the best conversion experience. Here is the list of features:
Being a software, it is 100% secure and works even when you do not have internet. The software has been marked safe and downloaded by many. This assures your data is not being read or uploaded anywhere.
You can keep the quality at the top by changing the codec to HEVC and others. While they offer high compression, but they do not degrade the quality.
WinX Video Converter Software also offers video editing to cut off unnecessary parts of the video file, trim any part of the video file, crop the video file, add video and audio effects, adjust the audio quality, and finally render the video. This will reduce the size further when it will downgrade 4k to 1080P.
The software also offers to adjust the frame rate, bit rate, audio channel.  This will help users to convert 4K video to HD video with high quality.
According to the stats, the software can convert any video in any format 47X faster with GPU acceleration. You can decode, process, and encode large 4k/1080P or high frame video without overloading the CPU.
How to convert 4K Video to 1080P with WinX Video Converter
Make sure the WinX Video Converter for Free is already installed and activated. Keep your videos ready in a folder, and have enough storage space at the destination, i.e., where the converted videos will be stored.
Step 1: Open the software, and drag and drop the 4K videos you want to convert. You can also click on the Video + option and then select multiple videos from the folder. The software will then display the video's basic information, including length, audio channel, resolution, and so on.
Step 2: Select the Use quality Engine, Deinterlacing, and hardware acceleration option. It will ensure that the GPU or onboard GPU is used for the conversion.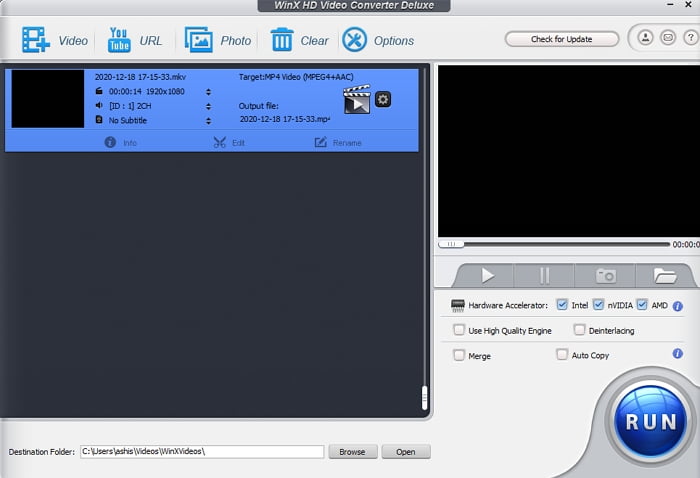 Next, click on the settings icon on the right part of the video listing to open the Output profile.
Here you can either select a prefilled format, or you can change it manually. Make sure to select the video codec and resolution to 1080P. Apply the change once done.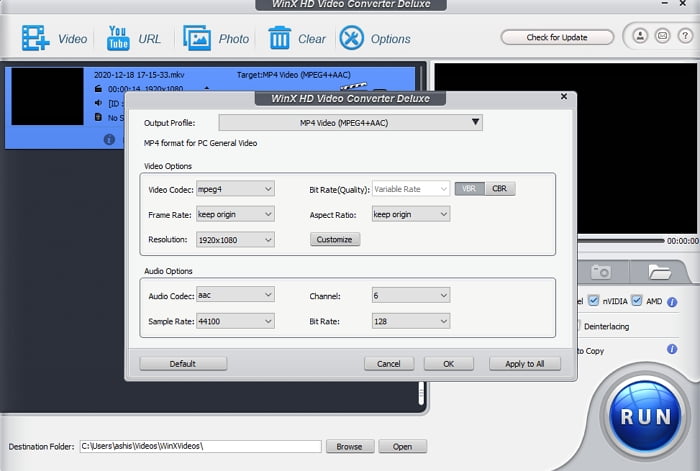 Step 3: The last but one step is to edit the video and remove whatever is not necessary.
This will further reduce the video size in the final output.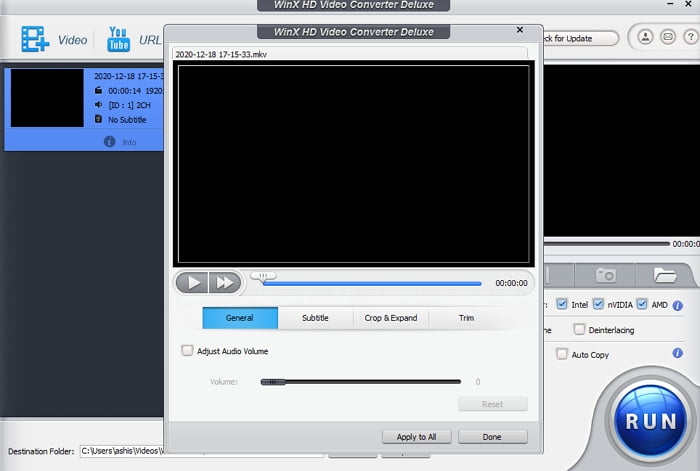 Step 4: Make sure to change the destination folder location to a place where this enough storage. Finally, on the Run button to start the process of converting 4k to 1080P, and wait for it complete.
Conclusion
Now that you know the disadvantages of using an online tool to convert 4K videos to HD videos, it is clear that a software is the best and the most efficient way. You will be able to handle large videos and use the hardware acceleration on your computer to convert them faster.  WinX Video Convertor offers an excellent solution for high speed, delivering quality, and lowering the size.