Having a live chat option on your website is essential. It allows you to serve your customers, make it easy for them to seek help, and so on. But implementing a chatbot on your website can be highly complicated and cost-effective.
But thanks to Chatbot, you can use this tool to create conversational chatbots without coding. However, if you haven't heard about the tool yet, then you are at the right place, as I will discuss Chatbot briefly below.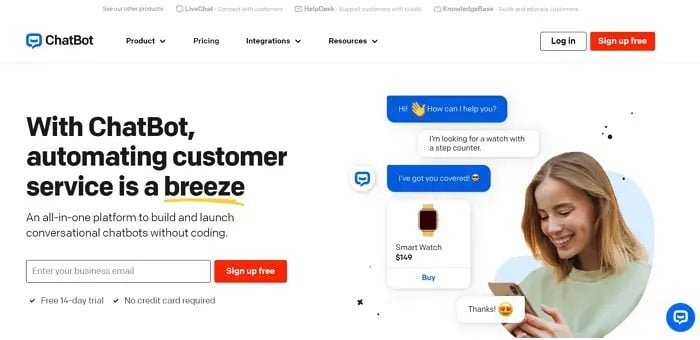 What is Chatbot?
Chatbot.com is an all-in-one platform for building and launching conversational chatbots without coding. It comes with ready-to-use templates you can customize instantly and use for your business needs.
Top Chatbot Platform Features
It comes with different templates such as call scheduling templates, creating helpdesk tickets, customer support templates, and more. The tool also enables you to reach out to your visitors using personalized chatbot greetings proactively. So you can score better leads and offer your users a personalized experience.
Create your own Chatbot for Website
Conversation Design
Designing conversations with Chatbot is extremely easy, and there are two ways to do so. You can start with any existing templates if they meet your requirements. Or, if you want something new and fresh, start with a blank design.
You need to design your Chatbot with a welcome message, then you can offer your customers a few options to choose from, and these options would lead to different queries and their answers.
Also, if there is anything the Chatbot won't understand, you can set a prompt for that, like helping the customer create a support ticket.
AI Capabilities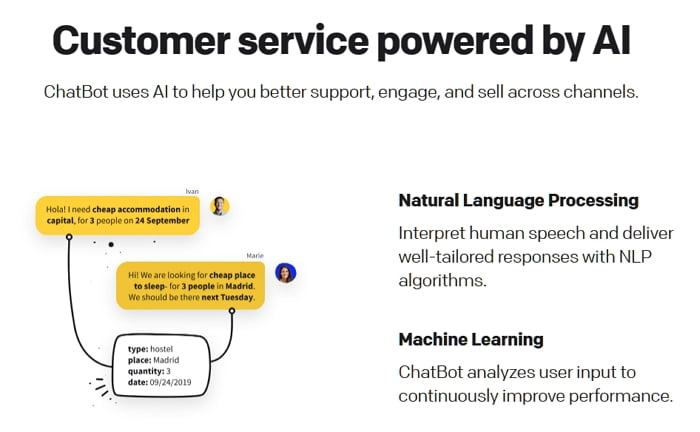 Chatbot uses several AI features to offer your customers a smooth conversation experience. For instance, it uses Natural Language Processing to interpret human speech and deliver well-tailored responses with NLP algorithms.
Chatbot also uses machine learning algorithms to continuously analyze user input to improve performance.
Matching System
Chatbot uses two matching systems to match user questions with chatbot responses. Its machine learning algorithms check entire sentences while the keywords you choose put a fine point on matching. As a result, you can offer a better-automated response to your customers and solve their queries quicker.
Natural Conversations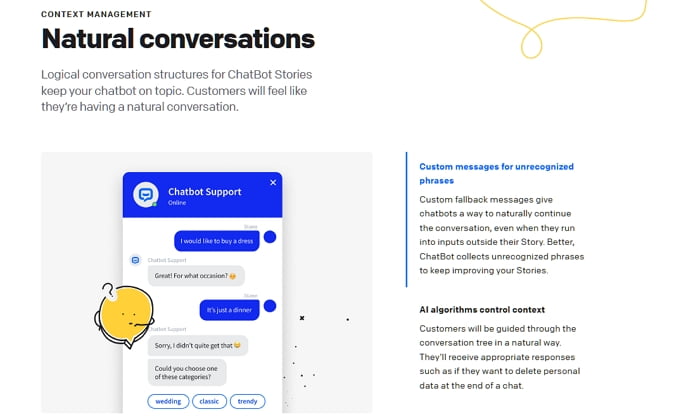 The overall conversation offered by Chatbot is pretty natural. It offers a logical conversation structure for Chatbot stories and keeps your chatbot on topic. As a result, your customers would feel that they are talking to a real support agent and not a chatbot.
Furthermore, Chatbot will also reply with custom fallback messages. So the Chatbot can continue the conversation naturally even if they run into inputs outside their story.
Moreover, your customers will be guided with a conversation tree naturally. So they can receive appropriate responses.
In addition to that, Chatbot also stores all the unrecognized phrases and suggests them as possible story additions.
Integrations
You can also integrate Chatbot with various conversation tools, CMS, etc. For instance, you can add a customizable chat widget to your website. It can be used as a helpdesk to allow your customers to create support tickets.
It also easily integrates with Facebook Messenger, WordPress, Shopify, and many other tools.
Ease Of Use
Chatbot is also super easy to use. You can easily create your first Chabot using an existing template. Alternatively, you can start fresh and draw your customer chat journey as a flowchart.
You need to edit your start point message and other bot responses as per the conversation flow, and you are all set.
Chatbot Pricing & Plans

Talking about Chatbot's pricing, it has four different plans – Starter, Team, Business, and Enterprise. The Starter, Team, and Business plans are priced at  $52/month, $142/month, and $424/month, respectively. And for the Enterprise plan, you are required to contact the support team.
Additionally, Chatbot also offers you 14 days trial. So you can check out the tool and see if it's helpful to you.
Customer Support
Chatbot offers excellent customer support to its users. You can find a live chat option on the website itself. Alternatively, you can also reach customer support through email. They have a quicker response time and will help you solve your queries as soon as possible.
Chatbot Pros & Cons
| | |
| --- | --- |
| Pros | Cons |
| Human-like conversations | The basic plan comes with 1 chatbot only |
| Easy to setup and use | Fails to handle complex customer queries |
| Premade templates | |
| Lots of integrations supported. | |
| Drag & drop conversation blocks. | |
| It comes with 14 days trial. | |
Comparisons to Competitors
Tidio
A good competitor to Chatbot would be Tidio. The tool can help you automate up to 47% of repetitive answers about shipping, order status, or product availability. The tool also integrates with a wide range of solutions, but the number is lower than Chatbot. It also comes with premade templates and offers you 7 days free trial.
Verloop.io
Verloop.io is giving a head-to-head competition to Chatbot. The tool also uses NLP and ML to resolve customer issues with natural language automatically. The tool integrates with many solutions, but not as many as Chatbot.
Conclusion
Overall, Chatbot.com is an excellent chatbot solution for your website. It gets easily integrated into your website and other tools. Plus, it is super easy to set up and use. Also, its AI capabilities would help you serve your customers better and faster. So go ahead and look at the tool and see if it's any help to you.