In this age of mobility, a higher percentage of videos are now shot by smartphones. These smartphones have evolved, and are capable of shooting cinematic videos thanks to high-quality lenses, more massive megapixels, availability of ultrawide lenses, and slow-motion capabilities. These, along with inbuilt and third-party video editor, has increased the demand for processing videos for sharing and uploading the videos. However, those editors don't do a great job if you want to edit a long video.
Why do you need a desktop software to edit large videos?
Imagine yourself at a birthday party where you take birthday wishes from everyone, record cake cutting ceremony, and shoot moments that everyone would like to see it later sometime. The number of videos is practically unimaginable. The most challenging part is when you need to trim videos so only the best of the moments can appear in the final video. At times you need to re-record videos, there are some distractions, and while it's fun for everyone, it's not that smooth for the one who edits the video.
That's why you need a desktop video editor who can not only edit large videos easily but can also help you arrange them in order, and even add some cinematic effects, transitions to your videos. One of the essential requirements these days about video editing is 4K support. All mid-range and high-end smartphones now offer 4K video recording, and if you plan to edit such videos, the editor should support. Add GoPro and DJI, and you have more devices shooting large size videos that you need to edit.
That said, there are many out there, but today we are introducing a professional-level video editor — VideoProc — which can be your one-stop editing software to edit long videos. It offers everything you need to create cinematic videos.
How to edit long videos with VideoProc
When you launch the software, it offers four options—
Video,
DVD,
Downloader, and
Recording.
Since we are here to understand the editing section, let's click on the Video button. It will open the editor interface, which offers a plethora of options. On the top, you have options to import media files, i.e., images, videos, etc. and at the bottom, you can select the target format.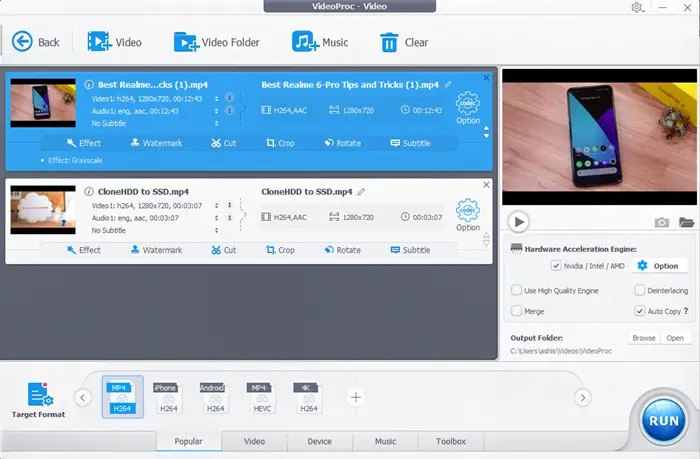 Editing Tools
The next step is to import the video files(s). Each listed video has to add effect, watermark, cut, crop, rotate and add subtitle. When you click on any of these options, it will open the video editor where you can manage all the features together.
Effect: There are over 20 filters that are incredibly useful for social media or if you want to add an emotional touch to the part of your videos. You can further customize the filters by changing its color properties
Audio/Video: This section allows you to adjust video orientation,  playback speed, recalculate time stamp, change volume, delay audio, and disable audio tracks if the noise is too much.
Subtitle: Import subtitle from your computer or online
Cut and Crop: Thes are self-explanatory and useful to either delete unwanted part or hide part of the video
Watermark: If you want to add branding, this is the tool for you.
Toolbox

It is the most exciting feature of this video editor, which allows you to edit merge, stabilize, trim, split, and other similar operations. In my experience, these tools should have been upfront, as many will look for it right away. I will take an example of the split function.
You can manually split the video or automatically split every 10 seconds. The later is useful if you have recorded a stop motion video that has a gap of 10 seconds. You can split them and then make the corrections easily. Then you can later use the merge function to join them in one go.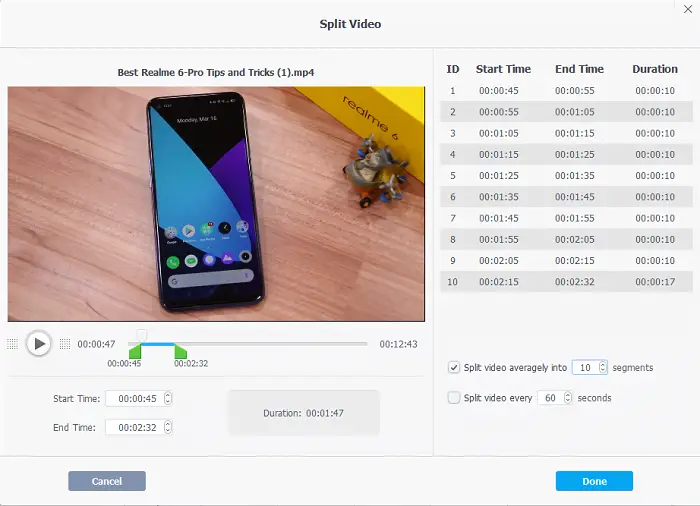 Exporting Videos and Processing time
Right next to the edit video section, you have a Format section. Utilize this to decide the overall quality, codecs, and so on. When editing a long video, you should choose the quality of the output. It will make a definite impact on the processing time.
We tested the software by merging two videos, each of 12.5 minutes into 4K format. We chose to combine the video, and it was complete within 20 minutes thanks to is hardware acceleration. Even though it showed 55 minutes at the start, the video conversion picked up the pace later. The PC on which we tried has 4GB of RAM, an Intel processor, and an SSD. Keeping this in mind, the video editor did well, and it's well suited when it comes to editing and converting long videos.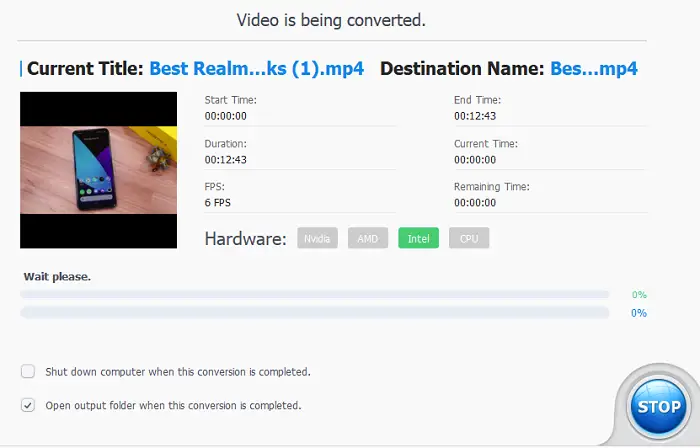 VideoProc Features
VideoProc GPU acceleration offers Level-3 Hardware Acceleration, which works on Intel®, AMD®, and NVIDIA® GPUs to edit long 4K videos without any loss in quality.
Stabilize shaky video footage.
If you shoot videos using an action cam lens, the corners are usually distorted. It can be fixed.
Noise in the background can be minimized or removed completely
Extract image or GIF from video to share quickly on any social media platform
Branding supported through watermark in the form of text or logo
Supports audio-video sync, change video speed, and volume level
The editor also offers inbuilt video converter which can convert one format to other, especially H264 to H265,  MKV to MP4, and more
Download and edit videos from websites such as YouTube. You can bulk download videos using a playlist and also download Live Streaming to watch the video later.
Screen recording allows you to record desktop with webcam support (PIP mode). You can use it to explain something using the built-in drawing tools and voiceover to create a perfect video that includes narration.
Why should you try VideoProc?
While I can give you multiple reasons, but here are a few important ones
Easy to use and with the least complex interface. Th advance options only reveal when it is required.
Support for 70 input codecs and 420+ output formats makes sure all devices are covered.
Faster processing time thanks to the GPU acceleration.
Tools like video stabilization are crucial when it comes to video editing from mobile devices.
There are dedicated GoPro tools. It is needed as the GoPro device is usually used for long 4K videos along with a lot of shakes in the video.
It can convert 3D videos to 2D videos.
Summary
One of the best things about VideoProc is that it is quick and easy to learn. Not everyone can use a professional video editor, and that's where this video editor excels. Even if you edit videos for fun, and you have tons of 4K videos, VideoProc can quickly get the job done without being intensive on the hardware. If you have a computer with decent specs, i.e., 1 GHz processor, 1 GB RAM, and GPU like NVIDIA or Intel or AMD, it can easily edit your videos.