If you are a music producer, musician, DJ, or anything to do with music, you have probably encountered a situation when you want to extract the music from a song. So you can use plain music without the vocals for your use. However, removing vocals or a specific sound from an existing track is daunting. But thanks to Lalal.ai, extracting specific elements from music is super easy.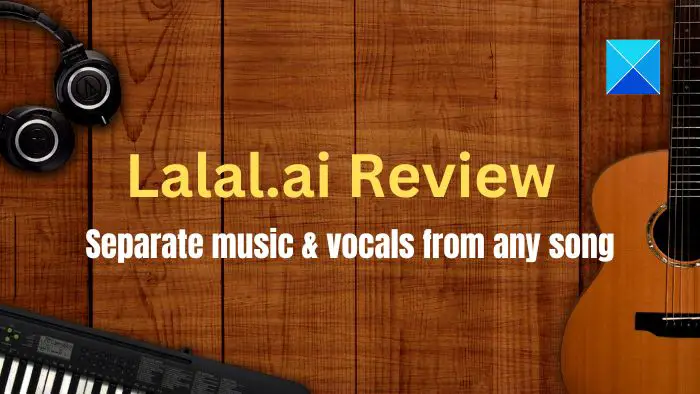 What is Lalal.ai?
Lalal.ai is a powerful online vocal remover tool. It can easily extract vocals, various instruments, and accompaniment from audio and video. The tool uses advanced machine learning and artificial intelligence algorithms to help you quickly extract audio elements.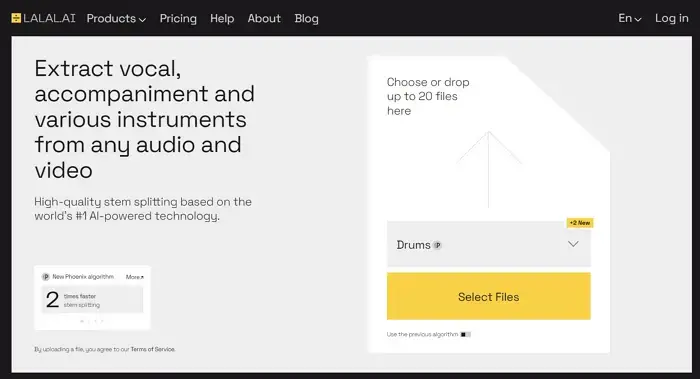 It also helps you remove instrumental, drums, piano, bass, electric guitar, and other instrumental sounds with a click without compromising quality.
Key features of Lalal.AI
Here is the list of features the AI tool offers that allows you to get any instrumental type from any audio or music file.
Stem Splitter
Using its stem splitter, you can extract any audio element from any audio or video file. You don't have to select anything manually. Instead, you must upload your audio or video to Lalal.ai and select what you wish to extract.
For instance, select vocals and instruments and upload your file to extract only vocals. The tool instantly uploads and processes your file, offering you a preview.
You can also simultaneously extract different elements from the track, such as drums, bass, piano, synthesizer, and more. Once you are done extracting, process the file to download it.
Voice Cleaner
Another feature that Lala.ai offers is the voice cleaner. With this feature, you can extract clear voices from audio and video. Plus, you can use its AI abilities to remove background music and use its noise-cancellation technology. So if your audio has a lot of background noise, this tool can come in handy.
Moreover, this tool can also be used by transcribers. It helps you extract monologues and dialogues from movies, series shows, and video files for speech-to-text decoding and translation. You can also upload 20 files simultaneously and process them for bulk voice cleaning.
Сreate an Acapella from a song
Acapella means music that uses the human voice to produce the sounds of the sound or music. It also means singing without instrumental accompaniment. Lalal.ai also offers this feature where you can upload your audio or video, and then it creates acapella from the file. You can then download the vocal or instrumental part of the audio.
How to use Lalal.ai to separate music and vocals from any song?
First, head over to the Lalal.ai website.
On the homepage itself, you will be asked to upload files. So use the dropdown menu to select what kind of extraction you wish to perform.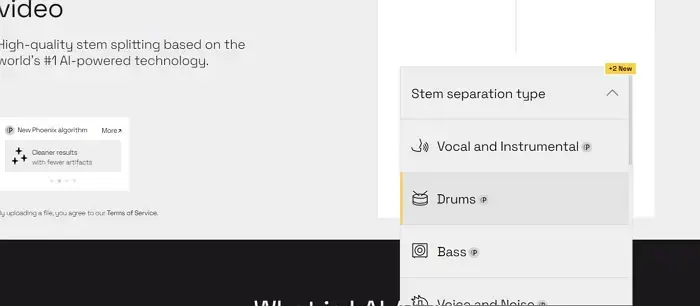 Next, click on Select Files and upload your audio File.
Now Lalal.ai will upload your File and start processing it.
Once the File is processed, it will offer you a preview.
If you are satisfied with it, choose any premium plans and click on Process the Entire File to download the file.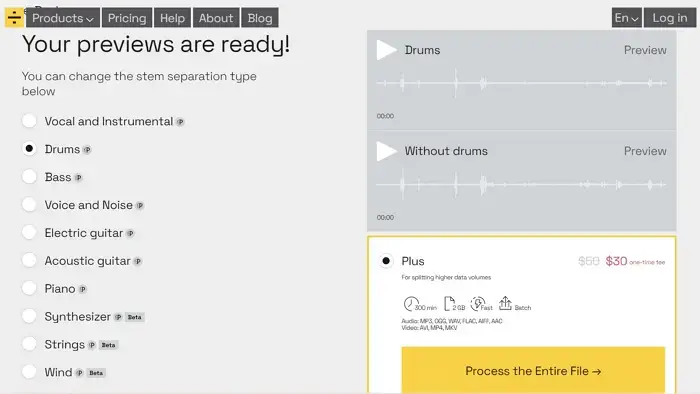 Lalal.ai pricing
Regarding pricing, Lalal.ai has three plan categories – Standard, High Volume and a Free version.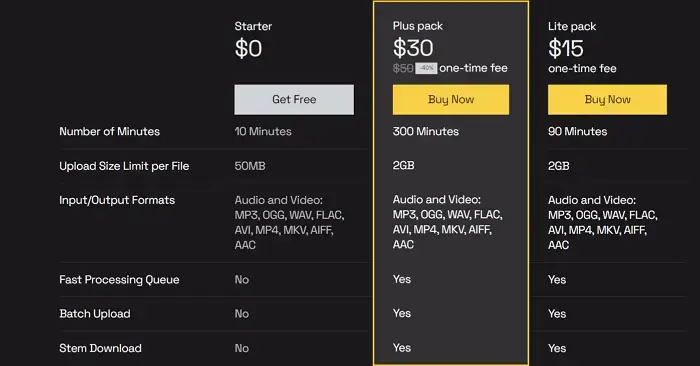 Under Standard Volume, you get different plans, including Starter, Lite Pack, and, Plus Pack. All these plans offer the same features but have limitations on the number of minutes and file size upload limit per file.
The High Volume plan is suited for professionals who need to process a large volume of data. It also features three plans – Master, Premium, and Enterprise. You also see the same features across the plans with slight differences.
The Free plan is good enough if you want to test out the platform without paying. It allows you to upload 10 min/50MB side files and supports popular formats such as MP3, OGG, WAV, FLAC, AVI, MP4, MKV, AIFF, and AAC. However, there will be no fast processing, and you cannot upload multiple files.
Conclusion
Overall, Lalal.ai is a highly efficient and user-friendly vocal remover software for music producers. It makes extracting sounds from an audio and video track super easy and an indispensable tool for music production. Plus, it is super easy to use. Whether you're a professional producer or planning to start with music with AI, it is worth checking out to accelerate your process. So go ahead and check the tool out and see how it is working for you.