Pokemon Go is one of the most downloaded games out there. Like the popular Pokemon series, the game allows you to find Pokemon around your location using your phone's GPS. However, moving around your area to play a game can be problematic for many. Instead, you can use a Pokemon Go location spoofing tool to trick the game and help you find Pokemon.
Now the question is, how to spoof Pokemon Go location on iOS? Well, some tools help you with it. And in this article, I will share a detailed guide with you.
Best way for Pokemon to go spoofing on iPhone- Foneazy MockGo
iPhone doesn't offer you any option to spoof your location for any game or app. Instead, you have to rely on an external tool for the job. And there are many location spoofing apps available out there. However, the most effective and easy-to-use one would be Foneazy MockGo.
MockGo is a computer-based location spoofer tool for your iOS device. The software can switch your GPS location to anywhere in the world. It connects your iPhone to a computer and then changes its location, making it easy to play Pokemon go without walking.
The software helps you quickly teleport your iPhone's GPS location to anywhere in the world. It also allows you to move along real roads and paths with simulated GPS movement. Also, it allows you to change the GPS of up to 5 devices simultaneously.
Foneazy MockGo offers a paid license with multiple plans. These plans are 1-month, 3-month, 1-year, and lifetime plans. And these plans are priced at $9.95, $19.95, $39.95, and $59.95, respectively.
Step-by-step guide to fake GPS location on iPhone
Now the next question is, how to use Foneazy MockGo? Well, below is a step-by-step guide:
First, download and install Foneazy MockGo on your Windows or Mac computer.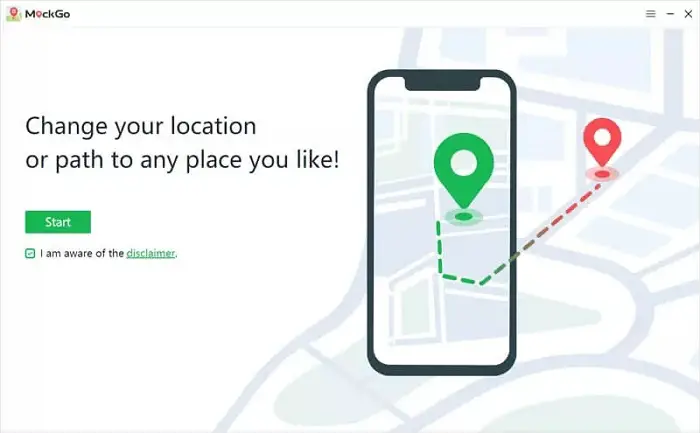 After this, you need to launch MockGo on your PC, connect iPhone to computer, click start, the application will prompt to enable developer mode, then go to Settings->Privacy & Security > Developer Mode > Turn it on. This will restart your iPhone.
Now MockGo will display the current location of you on the map. Click on the first icon in the upper right corner to enable Teleport mode.
Next, you must enter the desired location address or coordinates of the place you wish to visit virtually and click the Go button.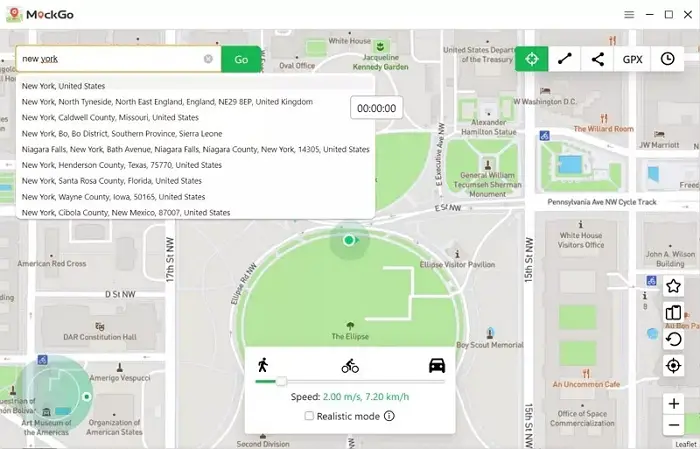 Now MockGo will display the entered location. Also, you will see a pop-up window; click Move here to teleport your GPS location.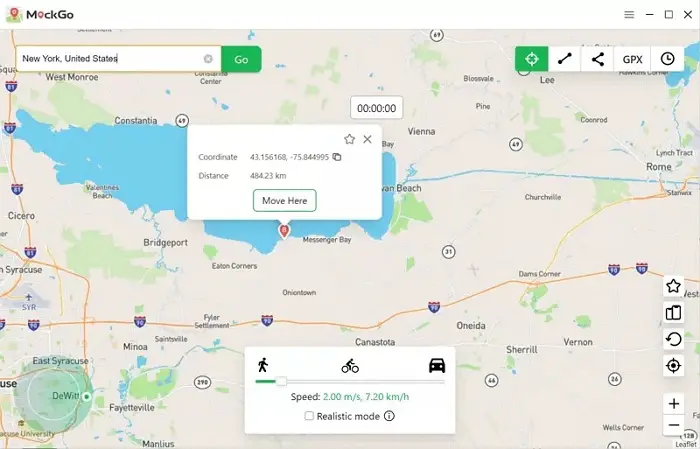 Next, launch your iPhone, and it will have the new location set.
After that, you must travel from one place to another to catch Pokemon. This can be done via the one-stop movement feature on MockGo.
For this, select the Corresponding icon, the second one in the upper right corner menu.
Next, select One Stop mode and choose a place you wish to visit on the map. This will display the coordinates and distance between the start and endpoints. Click the Move Here button to travel to the selected location using the popup menu.
Furthermore, you can also select your moving speed using the realistic mode. So you can simulate the auto walk along the actual road.
Things you need to consider for Pokemon Go Spoofing
Before you go ahead and spoof the Pokemon Go location, you must consider a few things. Such as:
Spoofing your location using software or an app will help you fake your location in the game and catch Pokemon without actually moving around places. So you can save your time and get the chance to catch more Pokemons than other users.
However, you shouldn't ignore that spoofing your location for Pokemon Go goes against the terms and services of the game. Also, it is considered a cheating and illegal activity, which might result in a game ban.
When spoofing location on Pokemon Go, avoid strange location changes. For instance, you cannot switch your location to another country or a location away from your current location. This will help the game to figure out that there is something wrong going on with your account. As a result, your Pokemon Go account might get banned.
FAQs about Pokemon Go Spoofing
Q1: Do I have to jailbreak the device?
It depends on what app or software you use to spoof your Pokemon Go location. Many third-party apps allow you to spoof your location on the game and require you to jailbreak your device. However, if we talk about Foneazy MockGo, there is no need to jailbreak your device. Instead, you must enable developers mode on iPhone.
Q2: Is MockGo Safe to Spoof?
Yes, MockGo is safe to use. It doesn't have any history of security breaches or hack attacks. Also, unlike other apps or software, it works entirely differently. It requires you to connect your iPhone to a computer and change its location.
Conclusion
Overall Foneazy MockGo is an excellent app for changing your location on your iPhone. Using the software, you can spoof your location for Pokemon Go and any other apps like Snapchat. So go ahead and check out the software and see if it's beneficial to you or not.
Foneazy MockGo
Functionality and UI -

97%

Ease Of Installation -

98%

Data Privacy & Security -

98%

iOS support & Legitimacy -

98%