In today's time, AI is changing and disrupting different industries. One such industry is image, photography, or graphics design. Thanks to AI tools, you can generate the images you need for your business, content, or projects.
However, when it comes to AI image-generating tools, there are way too many options. One which stands out is the Freepik AI Image Generator. It can generate some of the best real-looking AI images with just a few clicks. But should you give it a try? Here is our Freepik AI Image Generator review to help you decide.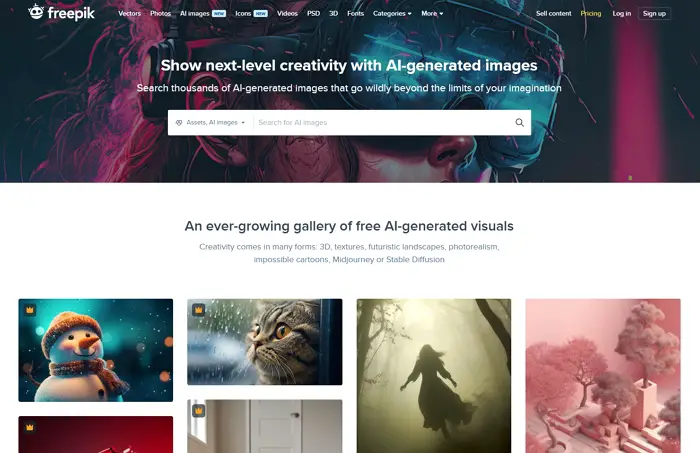 What is Freepik AI Image Generator?
Freepik AI Images generator is an online tool that allows you to generate different types of images using prompts. It can generate 3D images, textures, futuristic landscapes, impossible cartoons, and more. In other words, with your creativity, you can generate amazing images with your words and a few clicks.
It also has a library of existing AI-generated images, PSD files, icons, and more. So you don't have to rely on an AI image generator tool to find suitable images.
For existing AI images, Freepik allows you to view the prompts used to generate the image. This helps you learn and take inspiration on how to develop your own prompts.
Overall, if we talk about Freepik, it is one of the popular websites for downloading stock images, videos, content, and more.
Freepik AI Image Generator review and features
Multiple Styles
Freepik AI image generator offers you multiple style types. So you can use your prompts to generate the specific image you are looking for. These styles include generic, Photo, digital art, painting, or 3D. Depending on your usage, you need to write a prompt and choose the style, and Freepik will instantly generate a few AI images for you.
Check Prompts
You will find various images on the website itself, and when you hover over them, you will see the prompt for generating the AI image. This allows you to learn how to use different prompts.
So you can be more specific and creative and generate the images you want. There is no need to search the internet for different prompts to generate the perfect images. Instead, Freepik made the job easy for you.
Existing library
The platform provides access to a vast collection of free and premium AI-generated images. You can effortlessly search for images that fit your specific needs. As a result, you don't have to generate images from scratch and play around with the tool unless you are looking for something specific.
User interface
The user interface of the AI image generator tool is also pretty straightforward to understand and use. You have a long text field to enter your prompt and choose a style for your AI image, and you are all set. After running your prompt, Freepik will generate a few AI images you can download or edit.
Free to use
Freepik AI image generator is also free to use. However, a limit of 10 images per day should be enough for most users. However, you can always switch to a premium plan to generate more images.
How to use Freepik AI Image Generator
So if the AI image generator tool seems interesting, you must wonder how to use it. Well, using the tool is super straightforward, and you can follow the below steps:
First, visit the Freepik AI image generator page.
Over here, you will see a text box labeled Describe what you want to see. Use this to write a prompt of your own.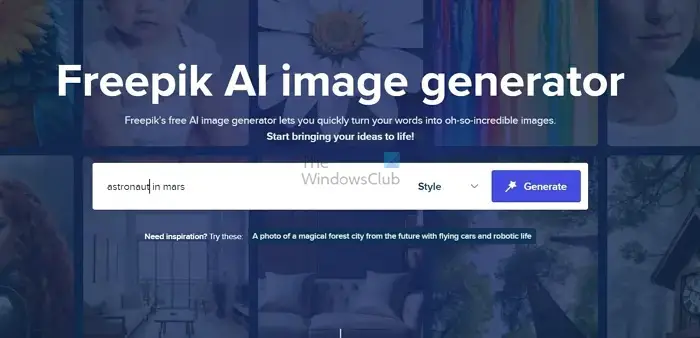 Once done, click the Style drop-down menu and choose an AI image style.
Next, click on the Generate button to start generating AI images.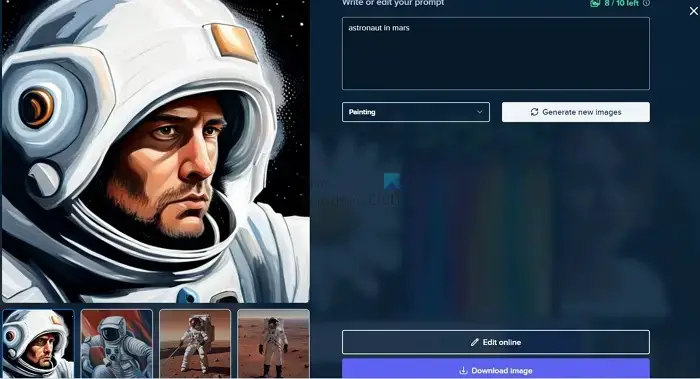 Finally, AI will start generating different images. Simply choose one of them and click on the download button to download it.
If you are unhappy with the results, click the Edit Online button to change your AI image.
Why is Freepik the best AI image Generator?
And Freepik is taking things to a new level with their new AI image generator. Its AI image generator is one of the best in the industry for multiple reasons.
First, with this one, you are getting up to 10 free AI image generations per day, and you can download your images free of cost. Plus, there are no watermarks on your downloads.
Secondly, it is a prompt-based AI image generator. So the more creative you get with your words, the better AI images you get in a few clicks. Also, you can use the online editor to shape your images for your needs.
Finally, you get multiple styling options for your images. This allows you to generate specific types of images that you need. For instance, you should try 3d images if you generate AI images for any product.
The images are copyright-free!
Freepik AI Image Generator Pricing
Freepik has two plans: Free and Paid. The free plan allows up to 10 downloads or AI image generation per day but restricts access to many website features. On the other hand, the premium plan allows for AI image generation and offers access to premium stock images, videos, PSD files, and more.
Are Frepik AI-generated images and art copyrighted?
One of the significant concerns with AI-generated images is copyright. As AI tools are known for taking inspiration from existing data, there is a good chance that an AI image generator tool like Freepik might indulge in copyright infringement activities.
However, depending on your country, the rules and regulations for using AI-generated images can be in your favor. Before using AI-generated images, check the usability and laws around using AI-generated images in your country.
Also, in some cases, it depends on which case one can use AI images without being indulged in copyright laws.
For instance, you might not come under any laws if you use AI images for personal use. But if you are using them for any commercial purposes, for example, online content, you must check with the laws to be safer. Freepik also does not generate NSFW content for safety purposes.
Conclusion
Freepik AI image generator tool is one of the best AI image generators available, offering up to 10 AI image generations daily. The tool offers real-looking images and is super easy to use. Go ahead and try the tool on your own and see how it is working out for you.
Freepik AI Image Generator
Functionality & UI

Image Processing Time

Prompts Help & Suggestions

Quality of Image

NSFW Safe Images