Bad PC performance is often due to obsolete drivers which do not complement with your Hardware resulting in issues such as low picture resolution, poor sound quality, delayed response time, network failure, and PC crash.
As a Windows 10 PC user, it is possible that you may be getting regular OS updates however even that is not enough to keep all drivers in your PC up to date as device manufacturers stop providing new drivers for old devices.
So how to address this outdated driver issue? The solution is to use Driver Booster 7 from IObit. Driver Booster 7 from IObit is one of the best tools to keep your Windows PC driver upto date and this tool not just updates your driver but offers a lot many useful features including gaming performance boost. Let's deep drive more into the tool to find out why it is the best Driver booster in the market.
IObit Driver Booster 7 review
Maintaining your PC in a workable condition for longer periods is always a challenge. With exposure to online vulnerabilities and their respective fixes, you can easily get lost with hidden issues related to the system drivers. Driver Booster from IObit offers a perfect solution for such cases. Its features include the following,
IObit Driver Booster 7 FREE version has a database of more than 3,000,000+ device drivers and game components for top PC performance and 3,500,000+ for PRO version.
The UI of the tool is easy to use, and you can get your work done with just a few clicks
IObit Driver Booster 7 also has a feature for boosting gaming performance by allocating high priority to new gaming drives and other components
If there is an issue with the update, it automatically restores the driver
Feature to automatically scan the PC to find and fix the faulty drivers
Users have the option of Driver backups for additional safety
It also an additional feature to fix all the common drive errors
The freeware version of the tool has most of the high performing features
It updates the driver with precision ensuring there are no half-cooked updates
You can perform manual as well as automatic driver update scans
How to use IObit Driver Booster 7
Downloading and Installing Driver Booster 7
Once you have downloaded DriverBooster, the installation process is straightforward. To get started, visit the official site of IObit and download the installation file. The installation file is around 30MB, which means it does not take much time to be downloaded.
As a default, when you install Driver Booster 7, it is installed as a FREE version which itself has most of talked about features. Once the installation is complete, start the tool by clicking on the desktop shortcut or locating it from the PC's start menu. The main UI window will show up, as shown below.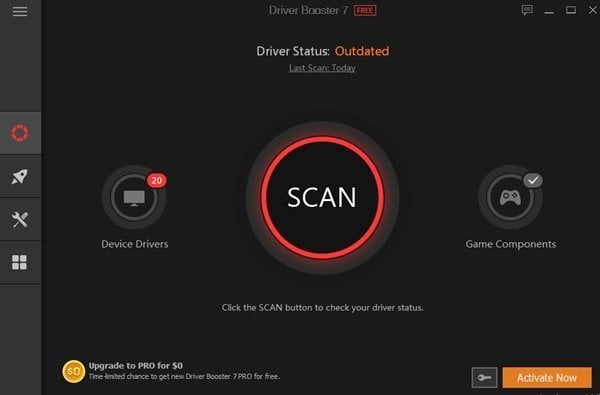 Using Driver Booster 7
Scan
To get started, click on the SCAN button. It will search you PC for faulty and outdated drivers.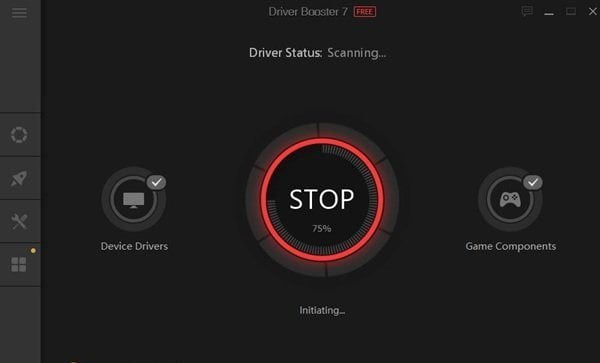 The user interface allows you to click on the STOP button anytime during the scan to stop it and restart it later. If you want to enable automatic Driver scan, go to settings and change it. You can also schedule a scan so that the drivers receive regular updates.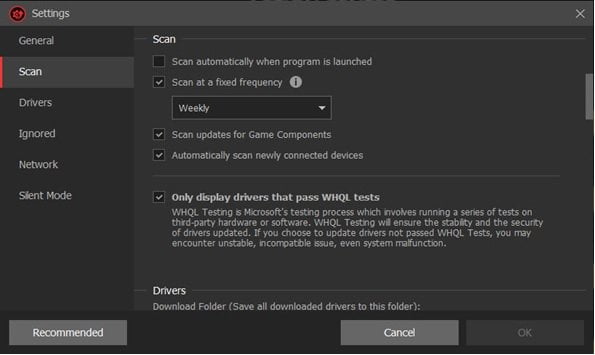 Scan Results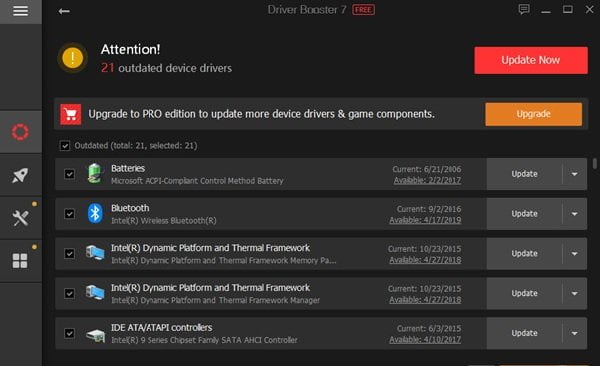 As shown above, Once the scan is complete, you see the scan results on the screen. In the results, you can check the number of outdated drivers (21 drivers in my case) and game components. The scan results show your PC's current condition.
Driver Booster 7 categorizes your PC drivers as either Outdated or updoDate :
Outdated drivers
Driver Booster 7 scans all devices for new drivers. It then lists the findings besides the device name. The drivers found during scan have two dates mentioned. The current version date and available version date.  This allows you to determine exactly how old are your current drivers.
UptoDate drivers
Similar to listing Outdated Drivers, Driver Booster 7 throws up a list showing UptoDate drivers. You will see the current version date against each driver. Hence, this display helps you to determine exactly how old are your current drivers. By clicking on the current date you or right-clicking against the individual driver, you can roll back to an earlier version or uninstall the driver if not needed.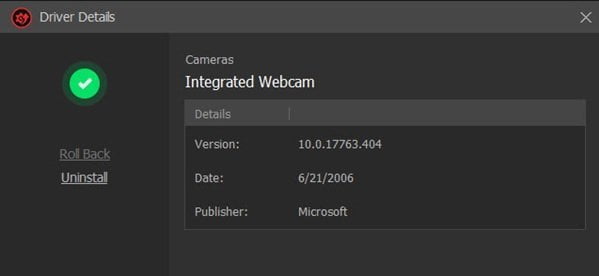 Updating and Downloading Drivers
Once you see the scan results, you can choose to do any one of the following:
Update all Drivers – Click on the 'Update Now' button given on top of the scan results page to update all drivers at once.
Individual Driver update – You can also download the drivers individually by clicking on the 'Update' button available on the right side of each device.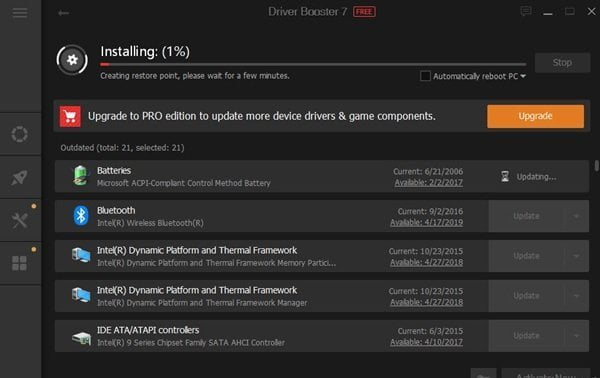 Your drivers start getting downloaded once you hit the update button. You have the option to stop the download process anytime you want and also resume it later. Besides, Driver Booster 7 also creates a restore point automatically before installing the drivers.
Backup existing drivers
With Driver Booster 7, you can also backup and restores your old/existing drivers. To do that, just click on the individual driver and select backup. Note, that this feature is available for Pro version only.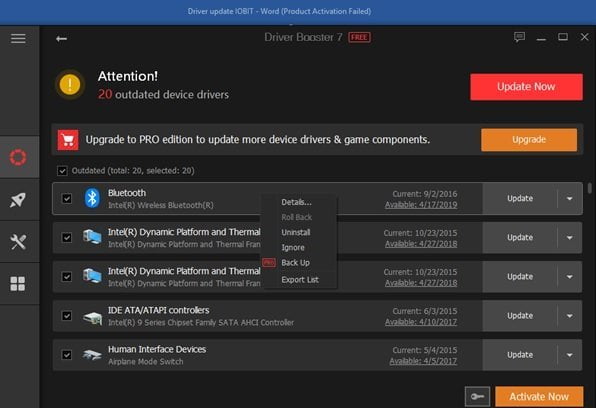 Boost System Performance (Value Added Feature)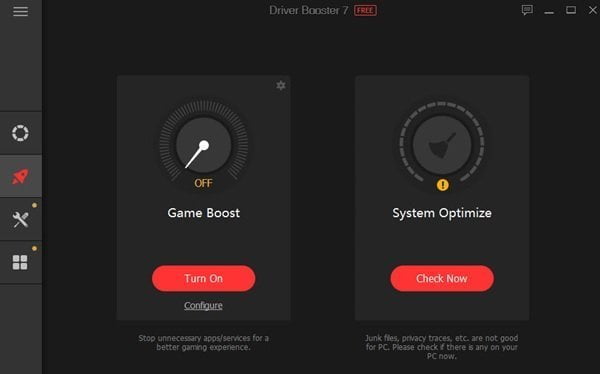 Coming to the list of Value-added features, Driver Booster 7 has plenty to offer through Game Boost and System Optimize.  Both these help in speeding up your system. Let's explore them a bit more.
Game Boost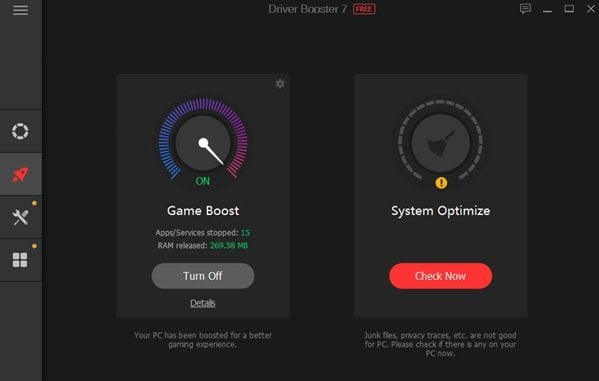 When we are deep into the game, we get annoyed by the sudden lag due to the applications or services running in the background.
System Optimize
System Optimize is a great feature bundled in Driver Booster 7 that allows you to boost your PC by trashing junk files, repeated registry entry, Invalid shortcuts, and privacy traces. It can also help you optimize your PC system and even the Internet speed.
System Optimize leads you to install another tool called "Advanced SystemCare 12.5 version" that optimizes your PC on the above items.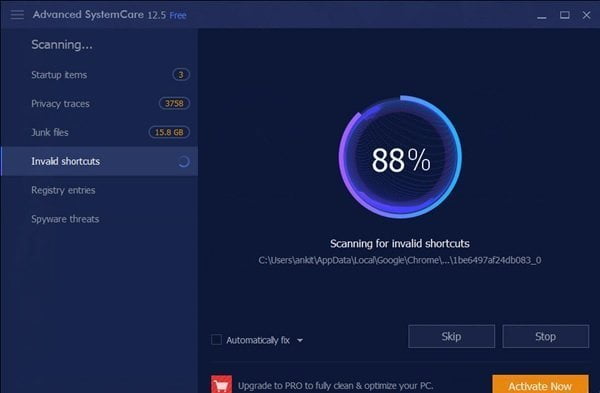 Once the scan is completed, Advanced SystemCare shows up a summary of the items found that you can fix. As shown below, I found 6876 items on my PC to optimize. Advanced SystemCare also throws up a number of not needed files along with the space they occupy that you can clean for better functioning of your PC. Refer to the screenshot below.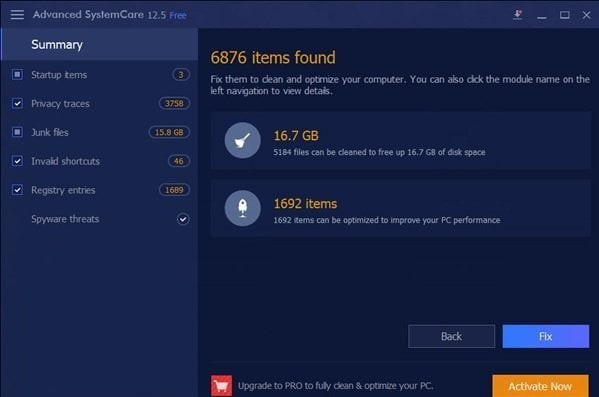 Advanced SystemCare has other useful feature like Speed Up, Protect and more that you can use for further PC optimization.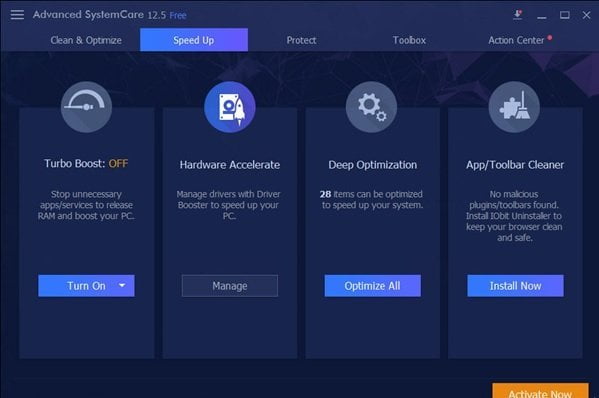 Driver Booster 7 Tools
Navigating to the tool button, you will come across a plethora of features again. Let's briefly look at what each one has to offer.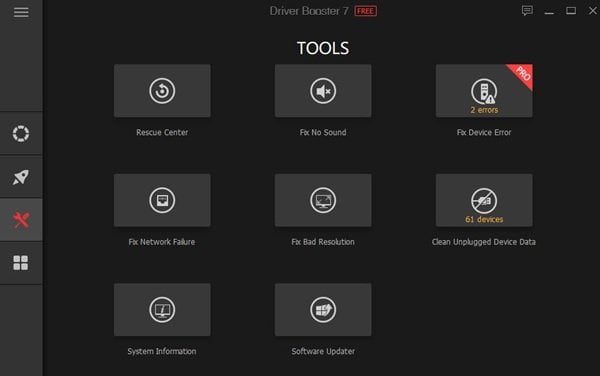 Rescue Center
Rescue Center is for backing up and restoring drivers.
Fix No Sound
This feature tries to detect issues with your Soundcard. Driver Booster 7 works many methods to resolve the problems and asks for your inputs.
Fix Device Error
This feature requires Pro license, and it helps you to detect error flags from the device manager.
Fix Network Failure
You can use this feature to reset the network adapters and check if the network device is working fine.
Fix Bad Resolution
For issues within the software, this features works very well to fix lousy display resolution.
Clean Unplugged device data
This feature requires Pro license, and it allows you to clean unplugged device data on your PC.
System Information
Lets you check out all the information about your system.
Software Updater
Software Updates offers to scan and update all your programs to the latest version with ease.
 System Requirements
It is compatible with Windows 01/8.1/8/7/Vista/XP.
It requires a minimum of 1 GB space on the hard drive.
Screen resolution should be al least 1024×768 and above.
Pricing
The trial offers a lot of features to choose from, however for getting the best PC performance we recommend that you purchase a full version from IObit.com. IObit is offering a discounted price of $23.95 for a 1-year subscription that can be used on 3 PCs. Certainly a bargain price I would say for such a feature-loaded tool.
Driver Booster 7 is the best!
With malware and other security threats revitalizing themselves every passing day, continuous driver updates are only going to increase. Driver Booster 7 helps you keep pace with updates and does its job rather splendidly. The application takes only a few moments to scan and download the updates you need for your system.
Though there are many other Driver booster tools in the market to help you, IObit Driver Booster 7 outsmarts all thanks to the abundance of value-added features it offers.