As we keep using Windows and install software, it tends to get slow. While Windows OS offers the option to uninstall software, it is partly dependent on the uninstallation script provided by the software. The drawback of this method is that not all software components get removed. Every software leaves a trace of files, registry entries, folders and residual junk after an uninstallation. All these results in a slowdown of the computer, and also occupy space. Today, we are reviewing IObit Uninstaller Pro, which can completely uninstall unwanted software & browser Plug-ins. It can deeply remove all leftovers for a cleaner computer.
IObit Uninstaller Pro Review
Its a premium, and professional software which offers clean uninstallation remove toolbars and plugins and uninstall Windows apps. It also comes with two advanced features — Software updater and an Install Monitor. The later is what does the magic.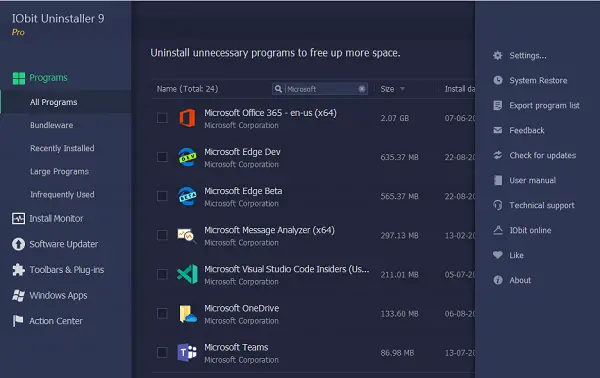 User Interface
Let's go through the software interface first. On the left, you have access to Programs, Install Monitor, Software Updater, Toolbar and plugins, Windows Apps, and Action Center. As you go through each section, you will see the option to remove software, ratings, the option to search, and so on.
Click on the menu icon on the top left to access Settings, System restore, export program list, and other software things.
Programs
It will show a list of all installed software on the computer in chronological order. You can sort them by name, size, check install date. Every program is followed by a delete button which will uninstall it. You can also select multiple software and then uninstall them together using the checkboxes.
There is a details link for each software which reveals Software name, version, installation path, etc. On top of the listing, there is a search box to find an installed software.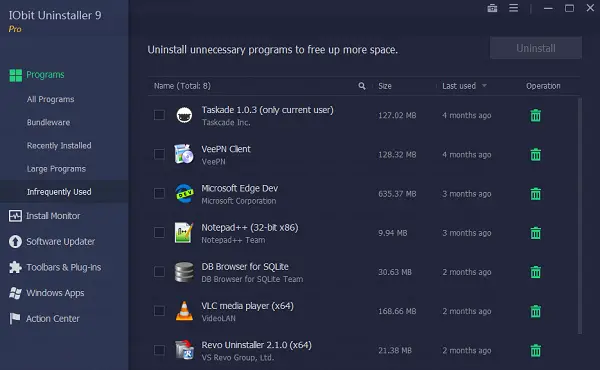 In the same section, there are three beneficial features—Infrequently used, Large Programs, and Recently Installed. Infrequently used can help you figure out programs which are on the computer for a very long time, and you never had time to figure it out.
You can see in the screenshot that I have a lot of software installed which I downloaded to test, and they are still there. Using IObit Uninstaller Pro, I can remove all of them effectively. During uninstallation, you can choose to create a restore point and choose to remove leftover files.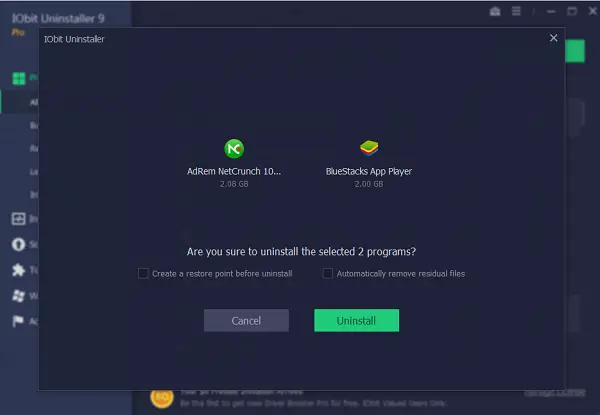 Bundleware is software that includes other software that may be installed alongside the primary application. You can find them and uninstall. Chances are you might not be using it at all, and have unintentionally installed them by clicking Next button all the time. Some software hides it under standard installation, and can only be removed using the custom installation.
Install Monitor
It's my favorite feature of the software. After you install the software, it keeps observing for any new software installation and any changes in the installation.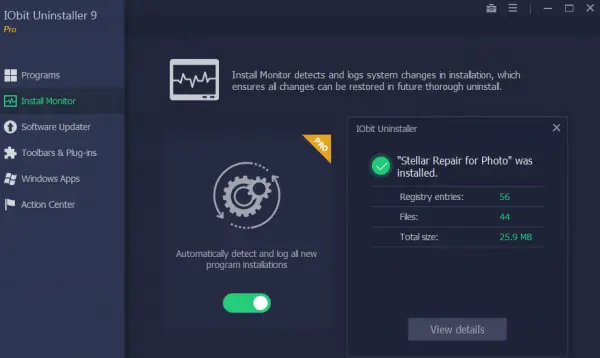 It will track all registry entries, file & folder creation, etc. When you uninstall the software using IObit Uninstaller Pro, it will use this tracking to eliminate everything that was generated during installation.
You can use IObit Uninstaller Pro to install the program, or it will automatically kick start when you install any software directly.
Toolbars and Plugins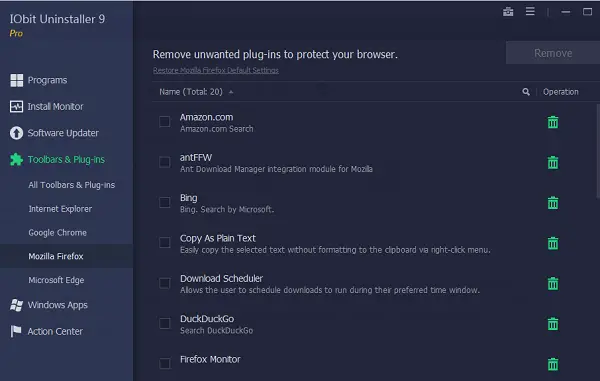 It's an exciting section, and very handy. We all use browsers, extensions, and add-ons. You can use IObit uninstaller to view all the installed add-ons, or sorted by individual browsers. It supports IE, Chrome, Edge, and Firefox. You can choose to uninstall them individually or all in bulk.  You can also rate the addons and software to contribute your experience to the community.
Windows Apps
IObit uninstaller pro can also track Windows App installs and altogether remove it. While Microsoft does it neatly but using its monitoring technique, it can do better. What I like is that it gives you a clear separation between Windows Apps and Third-Party Apps.
Software Updater
This section can figure out which software needs an update. You can use it bulk update all the software.
IObit Uninstaller Pro Tools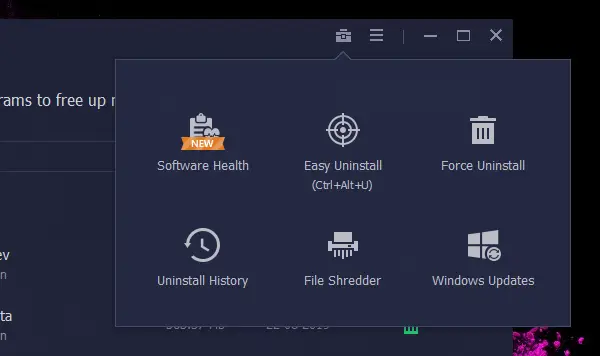 Available on the top right, next to the menu, it offers the following features, and they are handy.
Software Health: Introduced recently, it can scan through all the installed software. The scan figures out how many software leftovers you have, outdated software, and if you had installed malicious plugins.
Easy Uninstall: It launches a floating target board which stays on top of everything. You can point it to any software shortcut or icon, and it will uninstall it.
Force Uninstall: It helps you to uninstall an application which cannot be uninstalled regularly, and cleans up the leftover files.
File Shredder: If you want to erase a file or folder from your computer permanently, use this tool. It makes sure nobody can recover those files using any software.
Windows Update: Displays list of Windows Update. You can choose to bulk uninstall them.
IObit Uninstaller Pro is excellent software which can make sure that software don't keep clogging your Windows with unnecessary files, and slow it down with time. It helps you figure out software which you don't use, can bulk update them. It can also scan your software for any malicious software or addon — all in all, its an outstanding software which offers a lot of beneficial features.
If you want to give it a try, you can download the free version of the software, and see how it works. Some of the features will be limited. I would highly recommend you to invest in it and keep it running all the time. You can download it from iobit.com.