With the increasing complexity in data and its formation, having backups is a necessity. And finding a good and manageable backup tool has become a task to be done. Iperius offers both free and paid backup solutions to cater to all your needs regarding backing up data. IperiusBackup is easy to use backup utility which as a lot of features to offer. You can not just create backups of files and folders but also for Virtual Machines, Database servers, etc. The program comes with all the modern features such as multiple backup locations, backup scheduling, and email notifications.
Iperius Backup Review
Iperius Backup is a backup software for Windows 11/10/8/7 and all server systems, including Server 2012 and Server 2016. It lets you take automatic backups of files & folders, FTP, external USB hard drives, Networked computers, RDX drives, NAS, LTO/DAT tape drives & Cloud storage (Google Drive, OneDrive, Dropbox, S3, Azure) easily. It is an all-in-one backup tool that can back up anything ranging from files/folders to virtual machines, database servers, etc. The tool offers great features and an easy-to-use user interface.
Although the tool is free to download and use, there are a few features that might require premium access. You can also run the tool in the trial mode which makes it free for first 21 days. The best part about Iperius Backup is its user interface and its accessibility. You can easily create backup jobs with a wizard-like interface and then schedule them. The tool also supports uploading backups to cloud storage and FTP servers so your data is secure and accessible everywhere.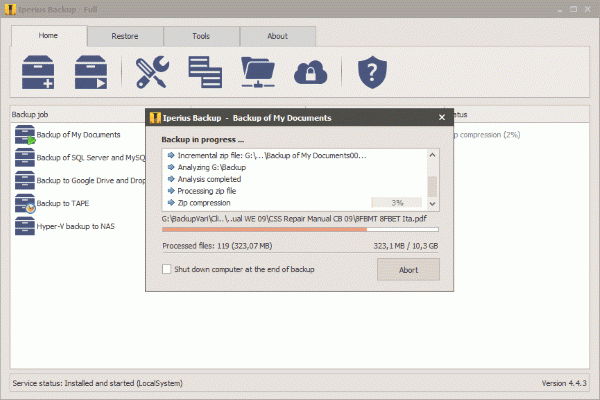 Creating your first backup with this tool won't be that difficult. You need to click on the 'Create new' button and a wizard will guide you through the process of creating a backup profile. In the first step, you need to select the things that you want to backup. By things I mean the files, folders, Windows Drive Images, etc. The tool can also backup ESXi and Hyper-V virtual machines making it one of the best backup tools available. Additionally, the tools also support SQL Server, MySQL, PostgreSQL and Oracle backups.
ESXi/Hyper-V Virtual Machines Backup
As I mentioned this software supports backing up virtual machines, it can be very reliable at this part. Iperius Backup supports both VMware ESXi and Microsoft Hyper-V technologies. The tool ensures quick backups with support to restore on different hosts. Also, you can create full or incremental backups to save some space. There are a lot of features linked to virtual machine backups, all of them are discussed here in this section.
ESXi Backups
Creating an ESXi backup is easy. As a first step, you need to connect to your server. The server can be hosted locally or in the network. The program is fully capable of performing backups on local and network servers. Once you've entered your credentials, you will be connected to the server. Once connected, you can see the list of virtual machines provided by the server. Here, you can select all the virtual machines that you want to backup.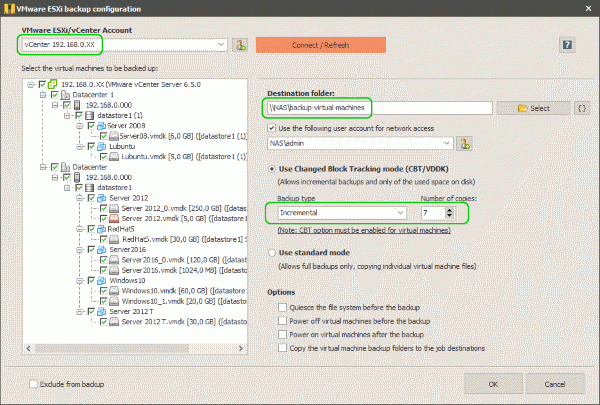 Now you may also specify the destination folder and a few other settings. There are two backup modes offered by Iperius Backup, the first one being the Changed Block Tracking mode and the other one being the Standard mode. The difference between both the modes is that CBT mode allows both full and incremental backups. It works by replacing only the changed parts in the virtual machines. To use this feature, you must have CBT enabled on your server as well. This backup mode can save you some disk space and time spent on backups. The standard mode supports only full backups, and it works by copying individual virtual machine files.
There are a few more options that you can customize. You can power off the virtual machines before backup and power them on again automatically. You can also enable automatic backups for any new Virtual Machine added to the list.
Finally, Iperius also supports the Free version of ESXi and allows to back up and restore unlimited virtual machines and hosts from a single license/installation.
Hyper-V Backups
Hyper-V Backups works similarly. You need to enter your credentials and other details like server address. Then you can select the virtual machines you want to backup from the list of available machines. Again, there are two backup modes available, first being the 'Direct copy of individual disks and configuration files' and the other being 'Single block-level image' which will include all the disks. To use the 'Single block-level image' mode, the program must be installed on a Hyper-V server.
For direct copying, Iperius Backup will let you run Hot backups, but virtual machines should have Integration Services installed. Also, you can automatically put the machines to a saved state while they are being backed up. The program also supports incremental image backup of virtual machines, with the possibility of truncating application logs.
As for ESXi, Iperius allows to back up and restore unlimited virtual machines and hosts from a single license/installation.
Scheduling and other features
Once you've added all the files/folders and virtual machines, it is time to select a destination and schedule the backup. Iperius Backup supports multiple destinations; you can select a folder on your local disk or at a network location. Or you may write backups to tapes. The tool also supports uploading backups to FTP and Cloud Storage. All major cloud storage providers are supported.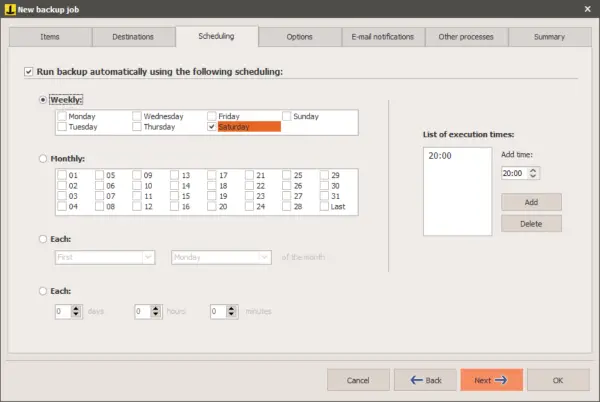 The program offers scheduling features as well; you can easily schedule your backups monthly, weekly or even daily. Using the scheduler is very easy and gets the job done automatically. If you are going to schedule your backups and run this tool in the background, then you will need this amazing feature called 'Email Notifications'. Iperius Backup offers highly customizable email notifications after the backup has completed.
Other than that, you can choose external processes that will be executed before starting a backup and after the backup has completed. This feature comes very handy when you want to carry out a list of tasks every time a backup has completed. You can just write a shell script and link it to your backup here.
Iperius Backup is undoubtedly one of the best backup solutions available out there. It offers a variety of features and great customizability. The ability to backup virtual machines sets this tool apart from most of the backup software available. The tool is fast, fluid and simple to use. Requires no configuration and does not involve complex technical terms. This is indeed a perfect backup tool. You can visit iperiusbackup.com for details.
Iperius Backup & Virtual Machines
Backup Quality -

88%

Functionality & UI -

88%

Data & privacy -

88%

Encryption -

88%