While the iPhone delivers one of the best experiences when it comes to smartphones, it shares its own set of problems, and one of them is where the iPhone keeps restarting and throws an error 9006. The error shows up when it is connected with iTunes, and there is a problem download software for the iPhone. It is a typical software update issue for iPhone. That said, it is possible to resolve the problem in multiple ways. Let's take a look at them.
Fix iPhone problems like iPhone keeps restarting, Error 9006
Like we said earlier, the error 9006 occurs when you connect your iPhone with iTunes on macOS or Windows, and either you are trying to update the software or there is a communication issue.  Along with these, some people have also reported about getting a black screen on iPhone, or it is stuck on restore sync be3cause iTunes failed to complete the process.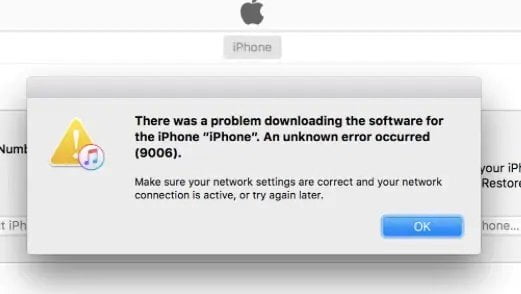 1] Network issue
The error is also known to be connected with network issues, so all you may have to do is try again. When iTunes is not able to communicate with Apple Server, it will throw the 9006 error. If you are connected to a WiFi, you may want to try some other network and check if that resolves the problem. If Apple servers or iOS Software Update are genuinely busy, the best way is to try again after some time.
In case it is working on another computer, then the problem is with your firewall configuration. Windows and macOS offer Firewall settings, which can make sure that the connection to apple software is not blocked, and you can use update and sync.
2] Update iTunes
iPhone updates need to have the latest version of iTunes if they are connected and need to sync or update the software. While it works to an extent, but then the update has to be made to complete the update. Once you update iTunes, you should be able to update or sync iTunes.  You may have to update Windows or macOS to get the latest version of iTunes.
3] Reboot iPhone
If your iTunes is updated, then you may try restarting the phone. Long press the power button and then use the slider to turn off. Press the power button again to turn it back again. If there is a temporary issue that could be blocking the update, then the restart may clear it. Once the phone is back on, connect with iTunes, and try updating the software.
4] Repair iTunes by Dr.Fone – System Repair (iOS System Recovery)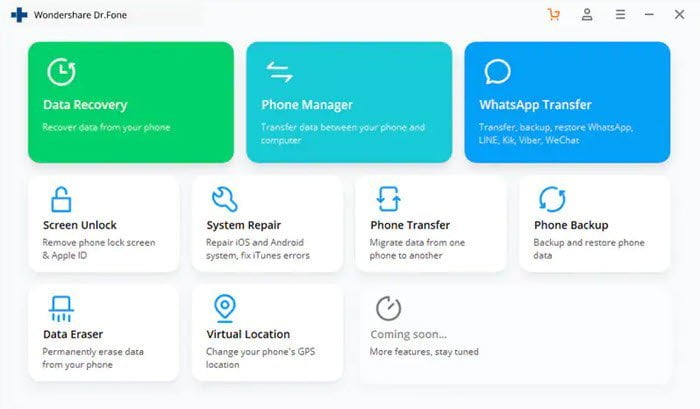 If nothing else works, you can try repairing iTunes using Dr.Fone – System Repair (iOS, which can fix iTunes without causing any damage to the data. The software is typically useful when the iPhone keeps restarting or it won't turn on but stuck on the Apple logo. The software offers multiple tools that can perform iOS System repair, resolve errors, repair connection issues, and sync issues. If you often face a problem with iTunes, it's an excellent software that can save a lot of time for you.
The primary reason why anyone should be using the software is that it gives you a straight forward solution instead of asking you to resolve problems by following random tips. Since the solutions have been tested for various issues, it makes Dr.Fone – System Repair (iOS) a better choice.
Step 1: Download the software from here and then install it on the computer. Once installed, the software will offer multiple modules, one of which is System Repair. Click on it. It will further reveal three more options—iOS Repair, Android Repair, and iTunes Repair. iOS Repair is useful when your phone is having an issue, but if its only iTunes throwing error, then select iTunes Repair.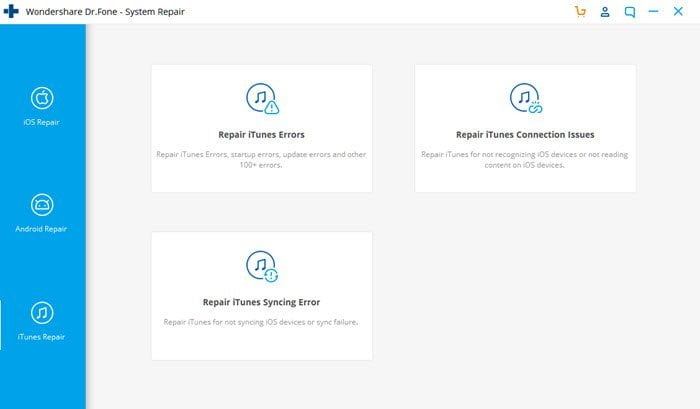 Step 2: Since we are talking about iTunes Error, then select Repair iTunes Error from the given options. It can fix almost all the errors, including the 9006 error code.  If that doesn't solve the problem, then you can always try the Repair iTunes Connection issues and Syncing Errors. That helps to get the problem sorted.
Step 3: Click on the Repair iTunes Error option, and it will perform a full installation of the iTunes components. It checks for iTunes version, mobile device support, and application support. There is also an advanced repair mode which you can follow to investigate and repair further.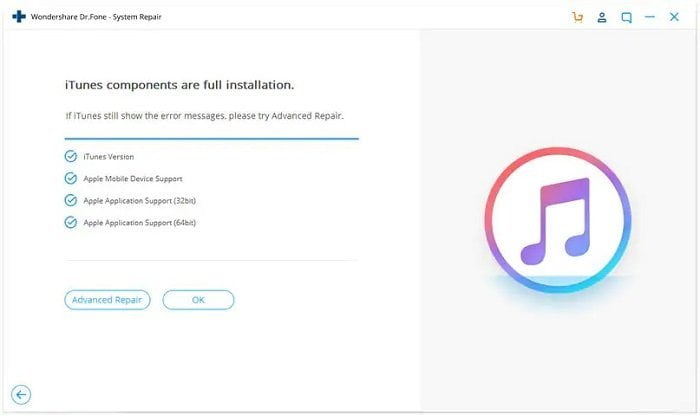 Once updated and resolved, if you connect iPhone with iTunes on PC  or macOS, you should be able to update the iPhone and sync. It will fix iPhone Error 9006, which is also called iTunes Error 9006. You may need admin permission at some places to change a few settings and update the software.
Dr.Fone – System Repair (iOS System Recovery) can resolve and fix a lot of things. It is the ultimate software for both Android and iPhone. While there is a lot of help for Android, iPhone issues are not easy to resolve. However, with System Repair for iOS, you can fix a lot of things around iTunes, and iPhone.
Dr.Fone - System Repair (iOS) -
Freemium
iphone Support -

95%

Ease of use -

96%

Effectiveness -

92%

Value for money -

95%

Quality of Recovery -

90%