Though Apple keeps patching the bugs in their devices, some of them keep annoying us, and the most common one is the one where the Apple Logo is stuck on our iPhone screen. Well, not to worry. We finally have a tool that will help us get rid of this annoying bug and many others too. iTooLab FixGo is the tool I am talking about. Let's learn a bit more about it.
iToolab FixGo review

iToolab FixGo is a modern tool that can help you to fix your iPhone bugs and issues. It is a very simple tool, and anyone with an iPhone can easily use it. There are many iPhone service centers helping us to remove these issues, but none of them guarantee your data safety. This is where iToolab FixGo helps you to repair your iPhone without harming your data. With this tool, you can also restore the previous version of your operating system. Obviously, you cannot get all this for free, right?
Moreover iToolab FixGo comes with a very nominal price that will know at the end of this post.
iToolab
FixGo 

Key Features
iToolab FixGo can fix almost every iPhone issue without losing your data!
The best feature to be mentioned is that this tool can fix almost every issue on your iPhone without risking your data loss. It can fix the issues like freezing/crashing of your phone, the Apple logo stuck on your phone screen, black screen, white screen, stuck in a boot loop, iPhone stuck on preparing update, etc.
Free to enter or exit recovery mode with 1-click
If there is any bug or issue in our iPhone, the first thing to do is to enter the Recovery mode, which is a little tricky. We first need to press and quickly release the volume down button and then quickly press and hold the side button to enter. With this tool, you can enter or exit the recovery mode on your iPhone without pressing the side buttons. In fact, it can take you out if you are ever stuck in recovery mode while trying to fix the issues. In fact, it will help you to resolve your issue without getting stuck in recovery mode while debugging.
Downgrade iOS 16/15 beta to any supported versions without jailbreak
If you do not like the current version of iOS on your iPhone, you can easily downgrade to the previous version. I know there are many tutorials available on the internet for this, but the process is pretty time-consuming. But, if you buy this iToolab FixGo tool, you can roll back to your previous version of iOS easily without any hassles or jailbreak.
Reset iOS devices without entering the password
Resetting the device to the factory setting is something that fixes almost every issue on your iPhone but what will you do if your phone screen is stuck? How will you even reset your device without unlocking it with your password? No worries, iToolab FixGo can do that for you. You can actually reset your device using this tool.
How to use iTooLab FixGo to fix iPhone problems?
Check out the steps to fix your iPhone issues using this tool.
Step 1: You first need to download and install iTooLab FixGo on your computer.
Once installed, open it and select Standard mode.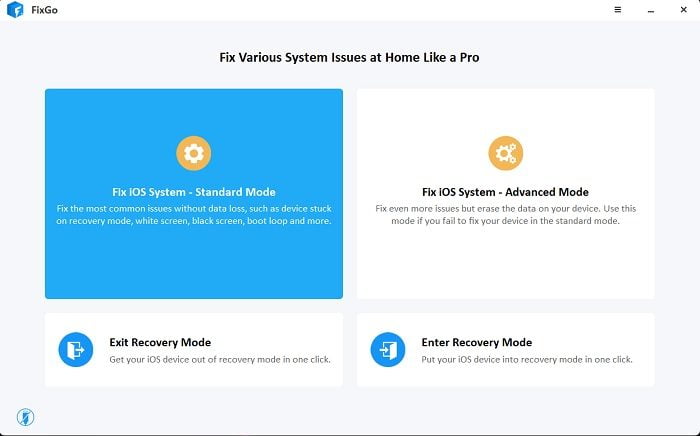 Step 2: Connect your device to this tool using a USB cable. You will get step-by-step instructions on how to connect your device. Follow the instructions and connect it.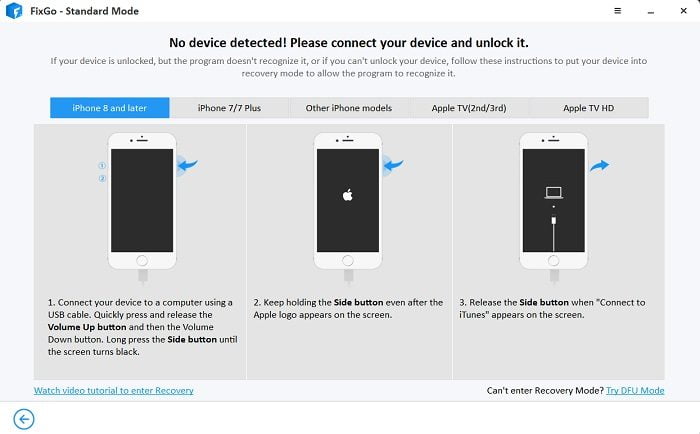 As soon as you connect the phone using a USB cable you will see the option to download the firmware. Follow the instructions and download the firmware.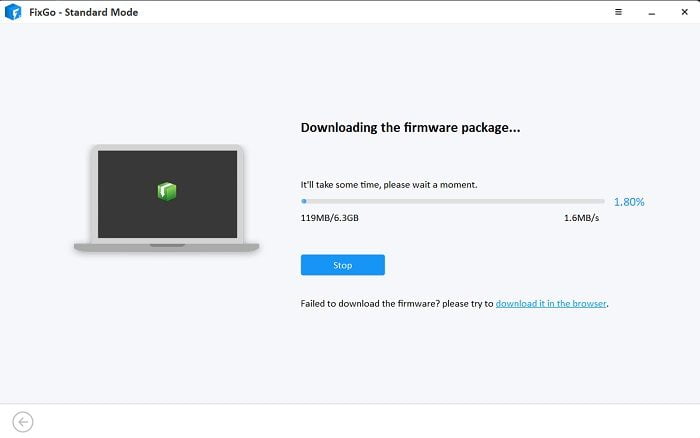 Step 3: It will take some time, so relax. Once the firmware of your iPhone is downloaded on your PC, you can repair or fix any issues on your phone using your PC like a pro.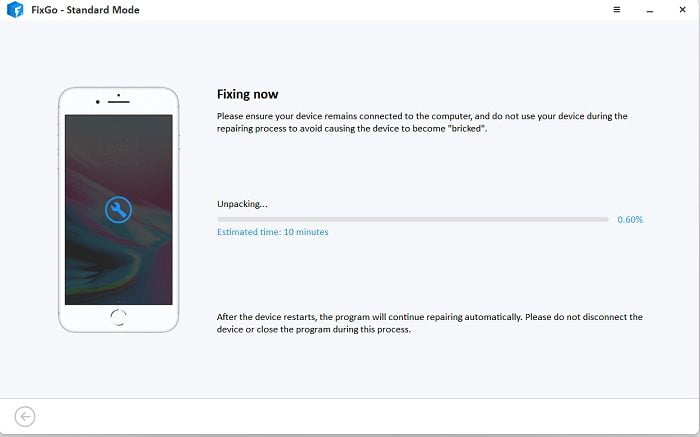 Step 4: Once the firmware is downloaded on your PC, it will automatically start fixing the issues on your iPhone. Easy right? This entire process of downloading the firmware and repairing your device will take somewhere around 10 minutes.
How to fix iPhone stuck on the Apple logo using FixGo

As discussed above, this is the most common error we face with our iPhones. Well, FixGo is for our rescue here.
When your iPhone gets stuck on the Apply logo, all you have to do is to connect your iPhone with your PC using a USB cable.
Now launch the FixGo tool on your PC and the program will automatically start fixing your phone.
The entire process will take around 10 minutes and your phone will also shut down automatically.
Do not disconnect your device until the process is completed.
But once the repair is done, your iPhone will restart and will be fixed.
Please note that you don't have to download the firmware again. If you already have it downloaded on your PC, simply select it and fix your iPhone.
iToolab FixGo Pricing
iToolab FixGo is absolutely affordable. Seeing its benefits, it is certainly a great decision to buy this tool.
1 month:  $35.95
1 Year: $39.95
Lifetime: $49.95
While it is already pretty affordable, we bring you an amazing discount of 20% OFF. Just use the following coupon:
Coupon: LABR8F
Is FixGo free?
There is a free trial version of FixGo available, but that comes with a limited set of features like entering and exiting the recovery mode with a single click. If you want to fix the bugs and issues on your iPhone, you must buy the paid version, which is very affordable.
Is FixGo safe?
Yes, it is an absolutely safe tool to buy. It helps you fix almost every bug and issue you are facing with your iPhone. It is a very simple tool, and anyone with basic computer knowledge can use it.
iToollab FixGo
Functionality and UI -

98%

Process of Recovery -

98%

Speed of Recovery -

97%

Data Safety of iOS device -

98%
Summary
Exclusive Coupon: LABR8F
Pros
Super easy tool to fix your iPhone without visiting the service center.