Did you lose your Windows account password? Is the PIN not working anymore? Then you need professional software that can help you recover the password without deleting or losing any file. While Windows still allows you to recover Microsoft Connected accounts, but local accounts do not have any option unless you have a password reset disk. On top of this, a connected Microsoft account can only be recovered if the PC is connected to the internet else not. But there is an easy way and that is by using iToolab UnlockGo – Windows Password Recovery!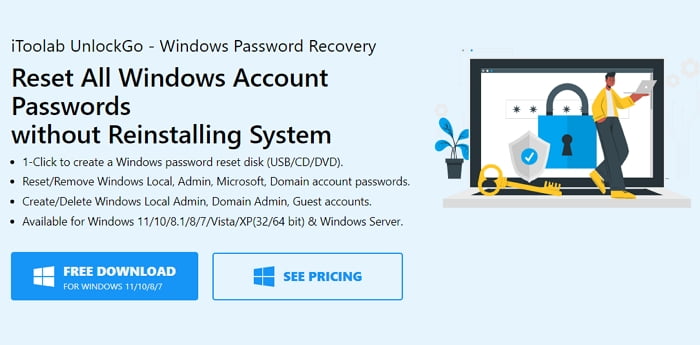 iToolab UnlockGo – Windows Password Recovery Review
If you are in this unfortunate situation where all your data and files are inaccessible, then we recommend using iToolab UnlockGo – Windows Password Recovery to reset the account password. Not only does it ensure you don't have to reinstall Windows, but it also works for Local Admin and Microsoft Domain account passwords.
Features of iToolab UnlockGo – Windows Password Recovery
Create a password reset disk
Remove Password from Windows account
Delete Windows account
Create Windows account
Available for Windows 11/10/8.1/8/7/Vista/XP(32/64 bit) & Windows Server.
Since this software cannot be run from within Windows, you need to boot Windows into a recovery mode using this software. The software offers an easy-to-use interface during recovery, making it easy to use by anyone with basic knowledge of computers.
How to Reset Windows Password using iToolab UnlockGo – Windows Password Recovery
Follow these steps to recover your Windows account.
Create a bootable USB Drive
Boot from USB Drive
Change or Remove Windows account password
Get access to your Windows PC
You will need to use another PC to create the bootable drive.
1] Create a bootable USB Drive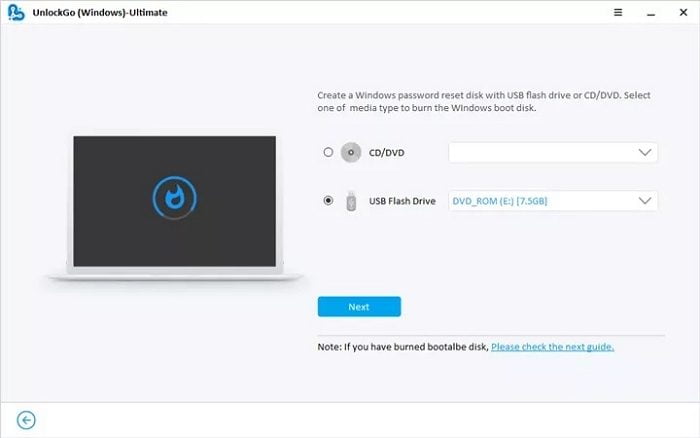 Get access to another Windows PC, download, and install this Windows 10 Password Recovery Tool. Then connect a USB drive, and ensure it's empty as the drive will be formatted. The next step is to launch the software and click on the Start button. You can choose between a CD/DVD or USB drive on the next screen. Select USB, and then click on the Next button. Click next, confirm the prompts, and let the software create the reset disk.
2]  Boot from USB Drive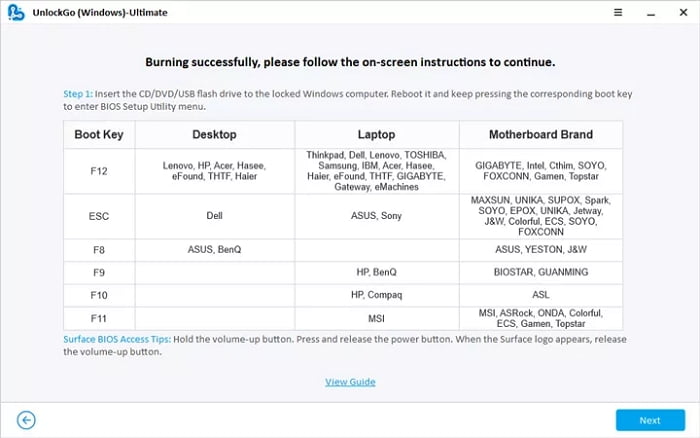 Once done, the application will display a list of keyboard keys to press to boot into the BIOS instead of Windows. Most laptops and PCs are set to boot from the storage, so we will have to change to boot from the USB. It can be done via UEFI or BIOS. Look for the Boot section, and you can change the order of the boot from there. Some modern motherboards can detect the connected USB drive as you change the option. Save the change, and restart.
3] Change or Remove Windows account password
Once you restart, you should now see the iToolab UnlockGo – Windows Password Recovery screen. Select the Windows version your Account is on and click Next. It will then display the list of accounts on the Windows PC. The list will include a list of Microsoft Account status, Admin account status, and so on.
Select the Account you want to reset, and choose from one o the option. The options allow you to Remove, Reset, Delete accounts and create a new account.
Select Reset, and then type the password. And click the Reset button.
If you do not want to change the password using this tool, you can create a new admin account. Once done, restart the PC and then use that Account to change your Account password from Windows.
I would suggest creating another admin account even if you don't need it. If you ever need it, you will have it right away; otherwise, you will have to reuse the software and create it again.
4] Get access to your Windows PC
Make sure to note the password before you leave the recovery. If not, reset once again and record it on paper or your phone. Next, remove the USB drive and reboot the PC using the reset button. Removing the USB ensures the PC does not boot into the recovery mode. Once the PC reboots, login with the new password, or if you choose to create a new account, and then login.
iToolab UnlockGo – Windows Password Recovery Versions and Pricing
iToolab UnlockGo – Windows Password Recovery comes in three versions— Standard, Professional and Ultimate. The Standard version is meant for home users and doesn't unlock Windows Domain Users. It will only work for admin/gues local accounts. The Professional and Ultimate can unlock everything except that Professional cannot reset domain admin, reset raid server, delete Window domain admin account, etc. The Ultimate version is useful for IT admins, while the Professional is for pro users who need more than removing passwords.
The Standard version is priced at $19.95/PC/Year. The Professional version costs $29.95 and Ultimate $59.95. Along with this, you get one year of customer support over email.
Keeping in mind there is no other way to reset, the pricing of the software looks good. Not only will you save time, but it also ensures the files are safe. It is convenient when you do not have any other admin account on Windows PC. iToolab UnlockGo – Windows Password Recovery can be a lifesaver!
iToolab UnlockGo - Windows Password Recovery -
$19.95
UI & Navigation -

90%

Password Recovery Process -

95%

Product Costing -

90%

Usability -

95%