Love using VPN? Want a VPN which can span across multiple devices? Today we are reviewing Ivacy VPN which can fit your budget. This VPN service allows you to use the same account on 5 devices and even better is that they support almost all platforms including Windows, iOS, macOS, Xbox, Kodi, Routers, Smart TVs, Chrome, and Firefox.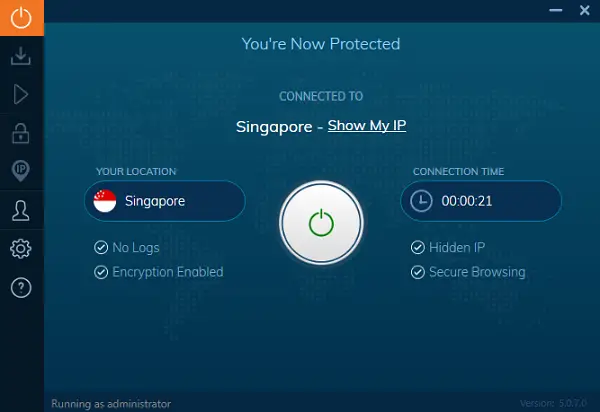 Ivacy VPN review
There are some excellent features with IvacyVPN which I personally liked. Mostly because they are really useful in day to day usage.
1] Optimized P2P Servers: It offers inbuilt P2P file sharing which makes downloads much faster. Consider this as a local network, but for the Internet, and works with Ivacy servers. It also makes sure you get complete anonymity, security, and privacy.
2] Dedicated Streaming: If you love watching US TV series and movies, this got you covered. You can choose services like Amazon Video, Netflix, BBC and many more. The app will smartly select the right country, so your geo restrictions are no longer in effects.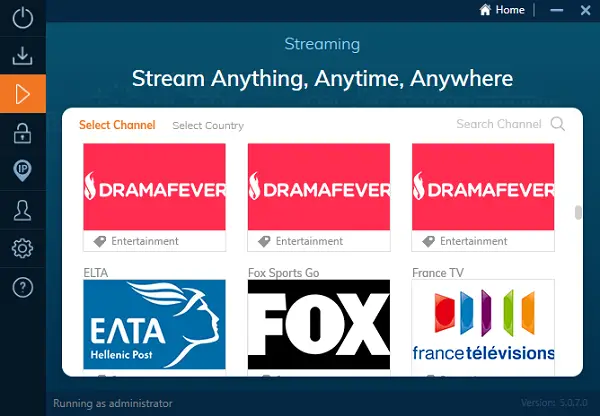 3] Secure Download: Similarly, if you want to securely download files from the server of a particular country, it can take care of that as well. Make sure to toggle on the option to enable virus scanning and malware protection.
4] Multi Logins: VPNs don't come cheap. You and your family want to use it as well. Ivacy allows you to use the same login on multiple devices making it cost effective.
5] Split Tunneling: While not unique, but its important. If you want to use some apps or website without VPN, you can do so. The only drawback here is that you can only select EXE based applications. Apps installed from the website cannot get a bypass which I think is a problem. This is a case with most of the VPNs, and I hope they do support apps from Windows Store as well.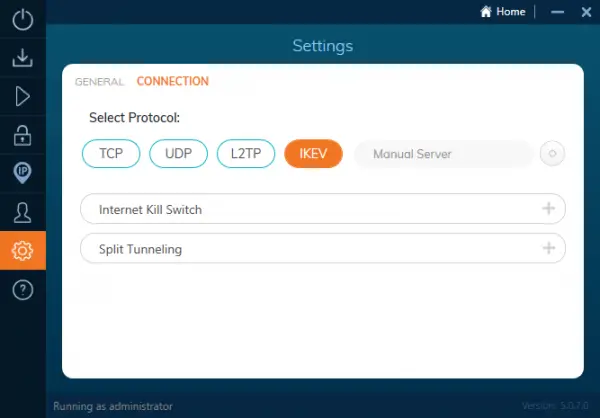 6] Kill Switch: This feature makes sure that if you somehow get disconnected from our secure VPN servers, all online activities are cut off. Useful for those who live their life on VPN.
7] Country Specific unblocking: It also offers you to unblock anything which country-specific. Just select the country, and it assigns up an IP address of that country. This comes in handy when you are working with a client, and you need to use a VPN of their choice. Instead of logging twice, you can just use this.
Lastly, you can also get a dedicated IP. However, you will have to pay extra for this.
Ivacy VPN Interface
I like how the interface is well managed with almost zero clutter. You have options for all the features on the left to switch, and one button to turn it on instantly. When using in Smart Connect mode, you get a NEW IP address everytime you connect. You are given an IP address of the server that is the closest. It also ensures that it has the lowest load to ensure the best performance and speed.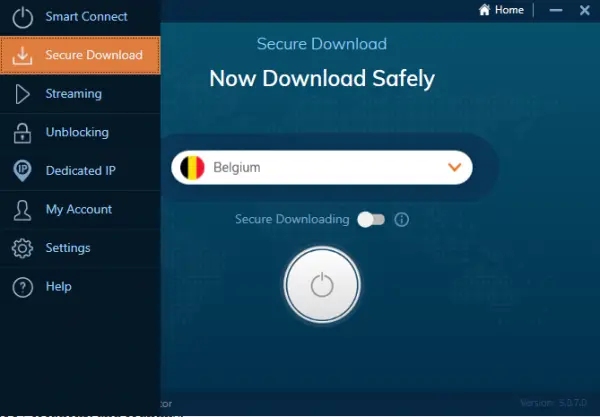 To use modes like dedicated download, streaming or dedicated IP as defaults, you can go to settings, and change the option in "Start App in this mode " under General. This applies if you do the same job every day over VPN, and its an excellent feature.
However, everytime you want to change the mode, you will have to stop, switch and start it again. This is something necessary but could have been automated.
It's important that you choose between App, Extension and any other way to use Ivacy wisely. If you do not want to use it for everything, an extension makes more sense. If you just want to secure it on your mobile device, using an app is better.
Other Features of Ivacy VPN
1000+ Servers, 100+ locations, and counting.
Unlimited Server Switching
Unlimited Data Transfer
Stay anonymous by masking your IP address
Secure your device when connected to Public WiFi
Offers 256-bit encryption
Identity Theft Protection
IPv6 protection, and protocols like PPTP, SSTP, L2TP, OpenVPN, and IKEv2.
Secure DNS
Ivacy VPNs follows the No logs policy on a strict basis. This makes sure that no traffic data, DNS queries or anything else are tracked to identify users.  So is safe to use this VPN, especially with its key features.
Ivacy VPN Pricing exclusive for TheWindowsClub Visitors

If you are looking to buy a VPN, you need to grab their deal right away.

 3 years Ivacy VPN for 54$ i.e (2 years + 1 year free for TheWindowsClub users only)
All these come with a 30-day money back guarantee assurance.
Overall Ivacy VPN service offers rock-solid features at great prices. It is ideally placed to protect & secure your devices as well as access blocked content.
Ivacy VPN -
60$ for 5 years
Multi Country Servers -

90%

Connection Reliability -

90%

Kill Switch -

90%

Auto Connect when Switching Network -

95%

High level encryption -

95%