iPhone users generally have a hard time working with their phones on Windows PC due to both devices belonging to different ecosystems. And if you are facing a problem on your iPhone, it gets even worse. But not anymore as the tool that we are going to discuss in this post lets you fix some common and advanced problems with your iPhone and that too from a Windows computer. Joyoshare UltFix is an iOS System Recovery Tool for Windows that let you recover your iPhone from most of the common problems and that too without losing any data.
Joyoshare UltFix Review
This is an ultimate tool for iOS users as it offers recovery from more than 30 problems and that too, without any data loss. It works with most of the iOS devices including iPhone, iPad, and iPod touch. We have discussed the issues that this tool can resolve later in the post. All you need to know is that you do not need to carry out any complex operations to fix your phone, UltFix can do it for you.
UltFix iOS System Recovery Tool
The tool divides the iOS system problems into two modes:
Standard
Advanced.
The Standard Mode covers all the basic system problems such as iPhone won't turn on, stuck in recovery mode, black screen, etc. You can fix any of these problems without losing any data from your device. Whereas the Advanced Mode is for some of the serious problems that are not covered in the Standard mode such as forgotten passcode. The program might have to erase the contents of your device to fix these advanced problems.
The program makes it very sure that you are not unknown to what you are going to do. The UI is very informative, and you are provided with ample information about the steps you are going to take.
Steps to fix your iPhone problems
UltFix takes a 4-step approach to fix your phone. The wizard-like interface makes it quite easy to fix your phone without much hassle. The steps have been discussed below.
1: Download, install, and run Joyoshare UltFix on Windows and connect your iOS device to it. Don't worry if the device is not responding or is stuck on a black/white/Apple logo screen. Hit the Start button to start recovering your phone.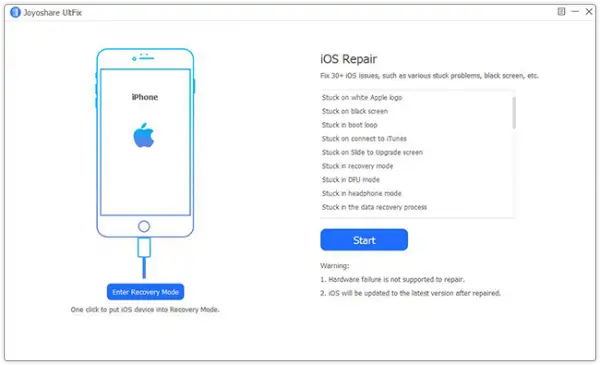 2: In this step, you must choose a recovery mode between Standard and Advanced.
Choose Standard if it is a minor issue like Apple logo, black screen or phone won't turn on, etc. Choosing this mode will not delete any data from your device. If Standard mode does not fix your issue, run the tool again in Advanced mode. Your data will be erased in Advanced mode, and you will have to restore it from iTunes Backup.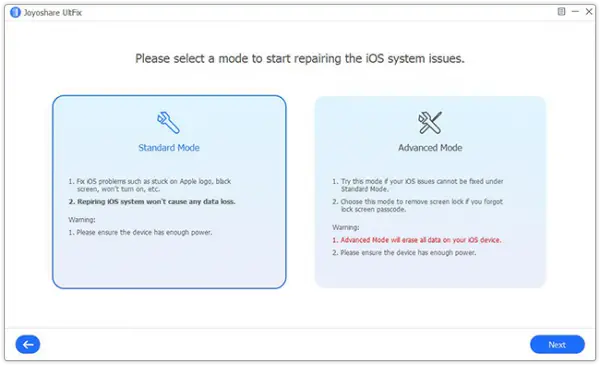 3: This step downloads the firmware package for your device. Just confirm your device on this screen and click on Next to download the required firmware package. It may take a little while to download the package depending upon your internet connection.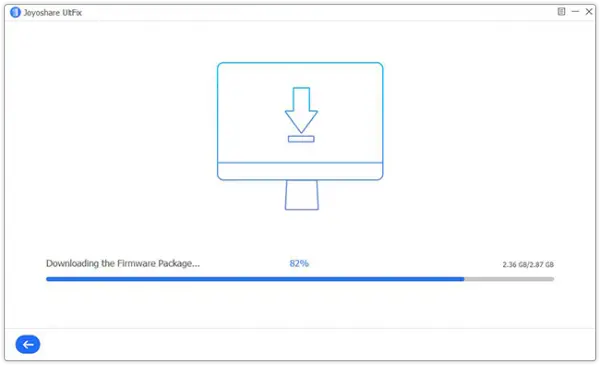 4: Once downloaded, you are all set to start repairing your iOS system.
Click on Repair button to start the repairing process. Remember not to disconnect your iOS device during this entire process. Once it has finished, verify if the issue has been resolved by powering on your phone.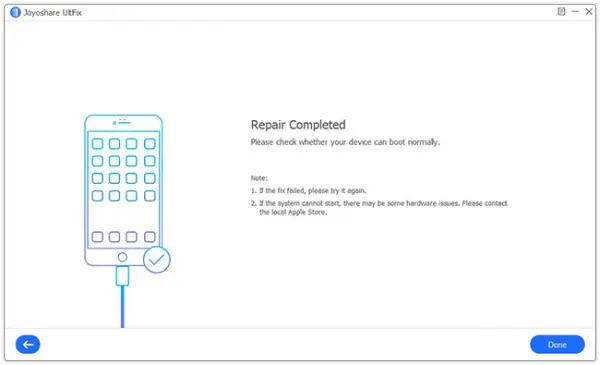 Recovery Mode
Another outstanding feature that this tool has to offer is One-Click Enter/Exit Recovery Mode. Even unregistered users of Joyoshare UltFix can use this feature. It lets you enter Recovery Mode on your device with just tap of a button bypassing all iTunes errors and no data loss or damage. Conventionally, it would take a few complex steps to reach Recovery Mode on an iOS device. Plus the steps are different for all devices. So, this one tap feature can help you enter or exit the recovery mode on your device.
List of supported iOS issues that can be fixed
The following list of issues has been confirmed to be solved by Joyoshare UltFix. Since the tool is flashing the firmware on your device, it is possible that it can solve a quite a lot of other issues too.
Stuck on white Apple logo
iPhone Stuck Apple Logo
Stuck on a black screen
Stuck in a boot loop
Stuck on connecting to iTunes
Stuck on Slide to Upgrade screen
Stuck in recovery mode
Stuck in DFU mode
Stuck in headphone mode
Stuck in the data recovery process
iPhone frozen
iPhone disabled
iPhone bricked
iPad Bricked
iPhone boot loop
iPhone crash
iPhone blue screen
iPhone keeps restarting
iPhone activation error
iPhone won't turn on
iPad won't turn on
iPhone red screen
iPhone won't turn off
iPhone keeps turning off
iPhone won't update
iPhone failed to update
iPhone stuck on the loading screen
iPhone is disabled connect to iTunes
iPhone won't restore
iPhone won't charge
iPhone no service.
The majority of fixes apply to iPhone, but there are fixes for any iOS device in general. Even if the issue that you are facing is not on the list, you can give this tool a try. Flashing the firmware might fix it. The 4-Step wizard can handle it all. It is generally advised to try to fix an issue using the Standard mode first and if it fails to fix the issue then move on to Advanced mode. Also, make sure you have all the data backed-up if you are going to use Advanced mode.
Joyoshare UltFix is the most convenient iOS system repair tool for Windows that I have seen. It can bring your phone back from various unlikely situations. Make sure you have iTunes installed on your computer to use this tool.
UltFix is available for a nominal price of a $39.95 and can be downloaded from joyoshare.com.