Many a time, we all need to rip and convert Blu-ray to video and extract audio. In this age of high-quality multimedia, we have started shooting everything in 4K, and for that Blu-ray is the perfect solution. That said, if you have a lot of Blu-ray discs, and you want to copy it to your computer or media server, you need a software. In this post, we are reviewing Leawo Blu-ray Ripper.
Leawo Blu-ray Ripper Review
This feature-rich Blu-ray ripper that can handle both Blu-ray and DVD conversions. You can watch, share and save Blu-ray/DVD content. On a border level, it can convert to MP4, MKV,  AVI,  MP3, AAC, FLAC, and other 180 video and audio formats. It is also possible to export videos in 4K, 1080P, 720P which makes it possible to use the media anywhere you want.
Best Blue Ray Ripper software
Once you download & install this software (comes with a 31-day trial), the interface is very straightforward. The dashboard offers options to Rip, Copy, Burn for both DVD and Blu-ray. The second set of tools is the video converter and downloader.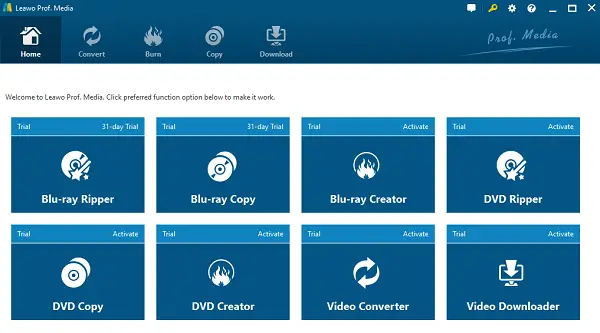 This tool supports BD25/BD50 disc, folder (in BDMV and BDAV), DVD-5/DVD-9 disc, folder (DVD Video only), and ISO image files.
Features of Leawo Blu-ray Ripper
Convert protected disc
Commercial Blu-ray and DVD are locked so the content cannot be copied. It is possible that you may lose them, and it only makes sense to convert and copy to your computer.  Leawo's Blu-ray DVD can decrypt discs protected with AACS, BD+ and the latest MKB protection, and CSS-DVD discs.
That said, the software speed might not impress you much. I guess supporting so many encryptions is not easy either. However, if the conversion is taking very long, and you need to leave, you can pause the whole process and resume back later.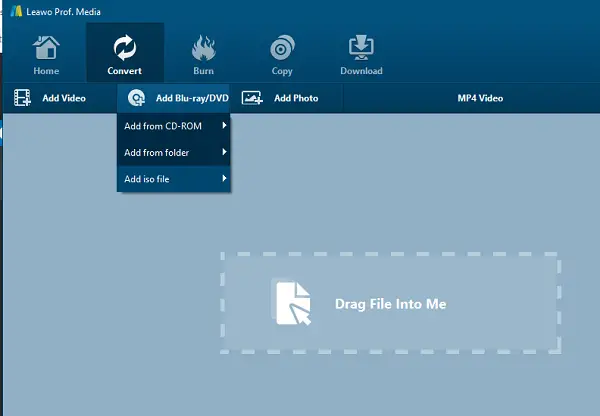 Convert disc of any region:
Some content is regulated to be available and work only for certain region. This software can even rip that content, and remove region restriction upon Blu-ray and DVD discs. Supported set of regions are  A, B, and C, and convert DVD from region 0 to 6.
You can also choose post conversion action. You can open the destination folder, shut down the computer, and so on.
Rip Blu-ray/DVD disc, folder, iso
The content of Blu-ray discs is structured into different folders. That's the primary reason why it's difficult to extract content from here. Leawo's Blu-ray Ripper can read that kind of folder structure and extract content from anywhere inside it.
Supports Ripping from all movie studios
If you bought a movie DVD or Blu-ray disc, it can rip content from any Studio. Every company put in their own protection level, and this ripper can handle that. The studios included are 21st Century Fox, Columbia Pictures, MGM, Paramount Pictures, RKO Radio Pictures, United Artists, Warner Bros., Disney, Universal Pictures, etc.
Another available module -BluRay Copy
If you are looking for a Blu-ray-to-Blu-ray copier, this software doesn't support it. However, you can use their Bluray Copy Software which can do the job for you. It offers 1:1 Copy of Blu-ray & DVD Movies in forms of Disc, Folder, and ISO Image files.
Create your Video with content you like
When converting a video or creating your own video, you can add photos and videos. This comes in handy when you want to create a mashup of your home videos or want to use part of a movie in that. Here is the list of features:
Remove the video frame to clear off the unwanted edges, change brightness, contrast, and saturation.
You can add your own introduction, end, add subtitles, take screenshots and so on.
Add custom watermarks and effects to make it totally personal.
Real-time preview of the converted files.
Lastly, the splitter function allows you to trim the Blu-ray disc.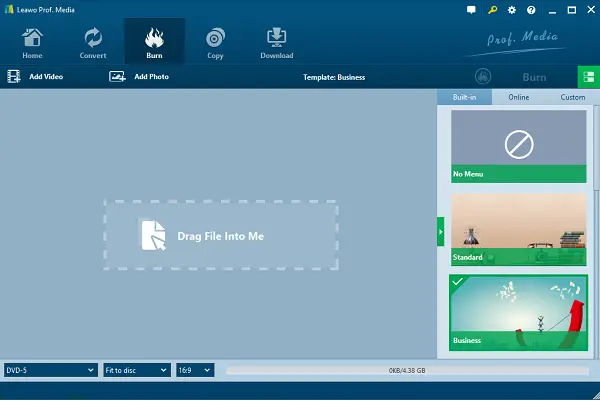 Another available module -Download Online Videos
Apart from these, you can use the Download section to download videos from any website. Just type in the URL and when the page loads, you can click on the download arrow next to the video to download it. It also offers added functionality like Start All and Puse All.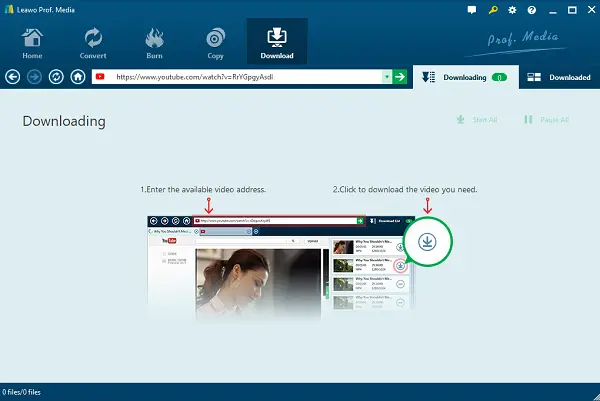 Quality vs Speed
What really matters when you covert is quality. Even though the software is slower comparatively, the wait is worth for the quality it can produce. There is almost zero loss converting with almost no skips and distortions.  The same goes for the audio quality.
Leawo Blu-ray Ripper allows you to rip Blu-ray DVD to over 180 video/audio formats in original quality at blazingly fast speed.
That said, while it supports PCs with very basic hardware (1GHz Intel or AMD CPU / 512MB RAM ), you should know that ripping needs lot of processing power, and RAM. If you have a lot of RAM and a better processor, the overall conversion will be much faster.
Overall, Leawo Blu-ray Ripper looks like excellent software. It can rip videos from DVD or Blu-ray disc. It also helps you to download videos from sites like YouTube and other similar websites.
Leawo Blu-ray Ripper Pricing
The price of the software is completely value for money. You can get 1-year of subscription for around $44.95 or you can go for a Lifetime subscription for around $99.95. You can download it from leawo.org.
Special Christmas Offer
On the occasion of Christmas, they are offering 30% off the original price as a part of Christmas promotion activity.
Note:  You can download and try it 31-days for free.
Leawo Blu-ray Ripper -
44.95$
File Format Supported -

88%

Batch Processing -

90%

Quality of Output -

90%

Video Editing & Speed -

95%