For many, editing videos can be challenging. Thanks to the learning curve to the video editing software and the requirement to have a high-end PC for the job. But thanks to online video editing tools, editing video is now more efficient and easy to start with. There are not many good online AI video editing tools available out there. However, among them, Lumen5 stands out to be the best one. So what is this Lumen5 all about? If you are wondering the same, then here is a Lumen5 review.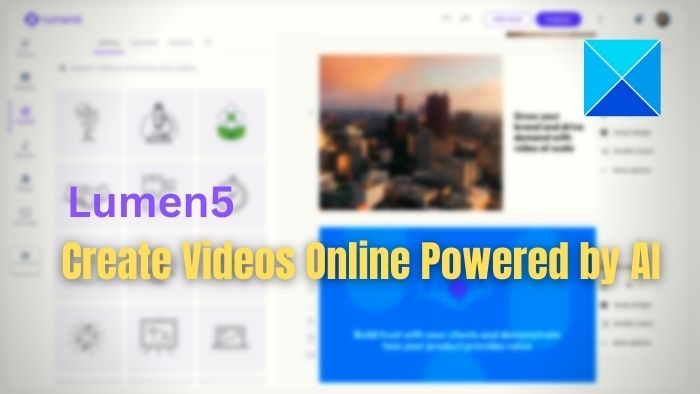 What is Lumen5?
Lumen5 is one of the popular online video editing tools backed by AI. It comes with a simple drag-and-drop user interface. So you can easily create professional videos within minutes, and that too without knowing video editing at all.
It stands out to be one of the fastest video creation tools that give you access to millions of media files. So use its existing library to choose stock photos, videos, or music to create a video.
Also, it offers AI capabilities, and the tool allows you to turn your blog posts into videos or transfer zoom recordings into engaging clips with just a few clicks.
Lumen5 online video creator & editor backed by AI

Here is the list of key features of Lumen5 where we discuss about its premium features and how AI video features will help you out when using this for video editing.
Media Library
With Lumen5, you will access a vast media library with everything from stock footage to photos and music tracks. As a result, you don't have to download photos or videos from third-party sources. The media library will do the job for you. Additionally, you also have the option to upload your content and use it in your videos.
Templates
Lumen5 comes with a bunch of pre-made templates for all your needs. As a result, you can choose any of the existing video templates and edit them for your needs.
Apart from this, you can also create your video template and use it repeatedly. If you are someone who creates pretty much the same content, you want a specific logo and other elements in all your videos.
Then you can create a video template and save it. This way, you don't have to start working on a video from scratch.
Convert article to video
You can easily convert any blog post or article into a video. It gives you two options – first, you can paste an URL, and it will fetch the details and help you to create a video. Alternatively, you can write or copy-paste a script for your video. Additionally, you can also use its AI to generate a summary of your script and use it for creating shorter videos.
Multiple formats support
These days, there are multiple platforms out there. Each platform has its screen ratio. However, Lumen5 allows you to choose the proper format for your videos. You can choose formats like 16:09 for YouTube videos. Or choose 9:16 for Instagram stories or Instagram reels, or YouTube shorts-type content.
Video editing tools
Also, with Lumen5, you will get all the essential features a video editing tool should have. It allows you to cut, merge, compress, and resize your videos. You can also adjust videos, add text, videos, or photos to your videos, add subtitles, and more.
How to use Lumen5?
First, you have to sign up on Lumen5 and create an account.
Next, from the Lumen5 dashboard, click on the New Video button.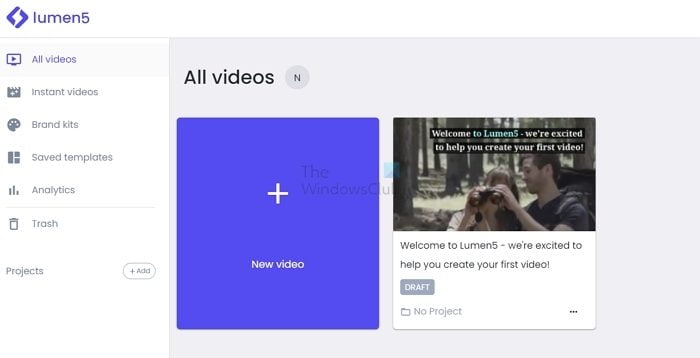 After that, it will ask you to choose a template for your video. Or you can click on the skip button to start from scratch.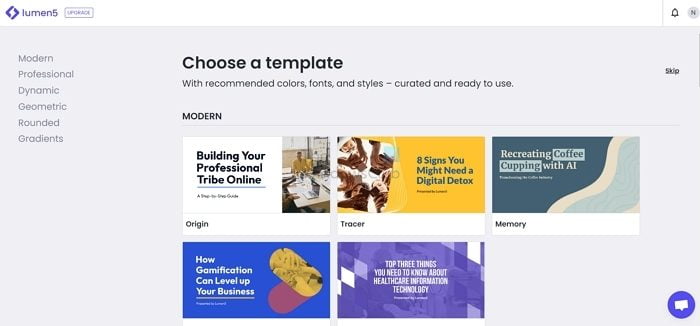 If you choose a template, it will show you the format option right below the preview. Select the suitable format and click on USE THIS TEMPLATE.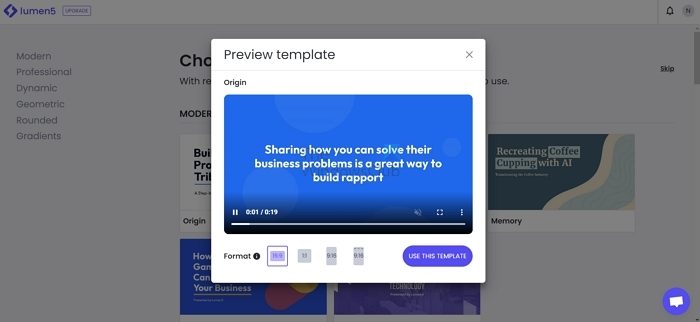 Now you can import a blog post to create a video or type your script to create a video.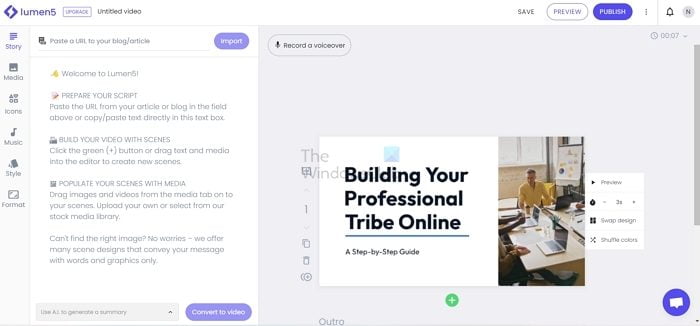 Also, the media, icons, and music library are on the sidebar. Use them to import content to your videos, and you are good to go.
Once done, click the Preview button to know what the video will look like.
Finally, click the Publish button to create and download the video.
Lumen5 Pricing
Lumen5 is a free-to-use video creation tool. However, the free version has a lot of limitations. For instance, you can only create 720p videos with a Lumen5 watermark. But if you upgrade your plan, you can access stock photos, videos, custom colors, icons in 1080p resolution, and more.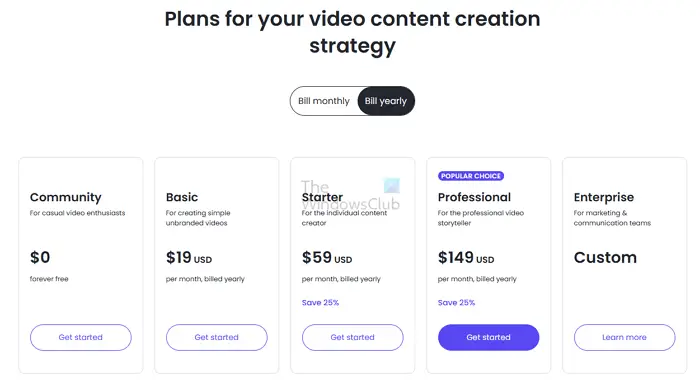 It has four plans – Community, Basic, Started, and Professional. Along with that, it also has an Enterprise plan that lets you choose custom features.
Conclusion
Lumen5 is a feature-rich powerful online video creator & editor backed by AI capabilities. It great video tool for anyone who wants to create quick videos with lesser effort. If your goal is to create short, simple, and engaging videos, Lumen5 offers real value for money!