Skylum's Luminar photo editing software keeps getting better and better. Not only is it one of the most affordable photo editing apps of its class, but it also has a number of filters that simply can't be found elsewhere, or if they can, the process is far more complex. Here are six that stand out.
Luminar photo editing software for PC & Mac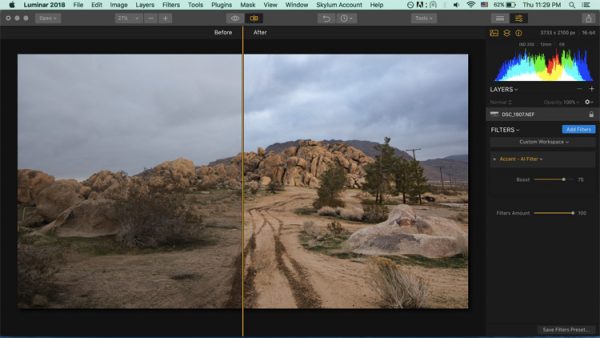 1. AI Accent
The Accent AI editor uses artificial intelligence to immediately assess your image, link up to other Luminar filters, and then make enhancements. It's controlled by a single slider—all you have to do is decide on the amount. It's perfect for novices who aren't sure what aspects to change in a photo. It's also a great option for photos you don't want to spend much time on. It's simple—open in Luminar, choose the AI filter, adjust, and then export.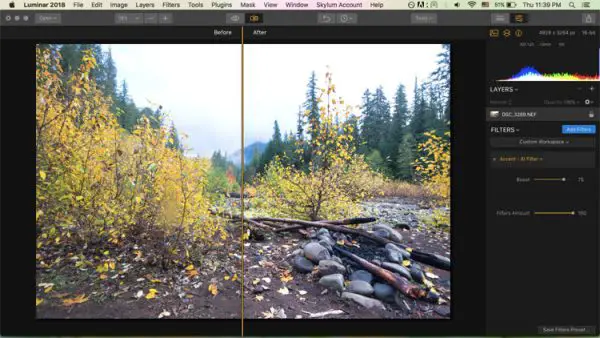 And the effects work well on a large variety of photos, but really shine on those that want the foreground lightened and the background darkened. Other changes include contrast, clarity, and overall tone.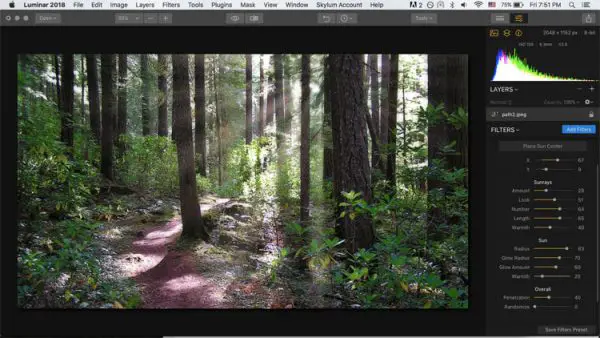 2. Sunrays
The Sunrays filter is a Luminar exclusive. Part of their creative suite, it allows you to add both the sun and directional rays to any part of your photo. The filter perceives darkened pixels in your image and has the sunshine around them, so you get a realistic effect. And the amount of precision you get with this filter is astounding—you can control the sun's position, the amount and length of the rays, how much the rays penetrate. You can even combine the filter with different blending modes.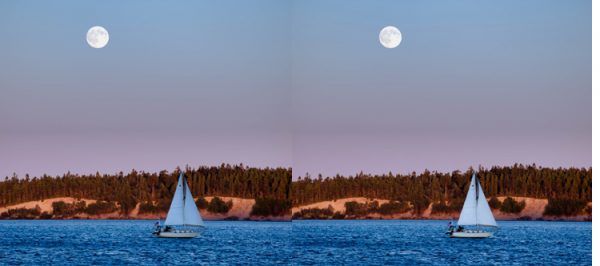 3. Dodge & Burn
Dodging and burning used to be the prevue of only the more advanced photographers, those who knew how to work complex adjustments in editors like Photoshop. Luminar, in contrast, makes the process super simple. You simply paint over the spots you wish to dodge or burn and then adjust the amount. Both effects are commonly used to help a subject stand out better. For example, in the photo above the sailboat has been "dodged" in order to lighten it up a bit and better offset the moon.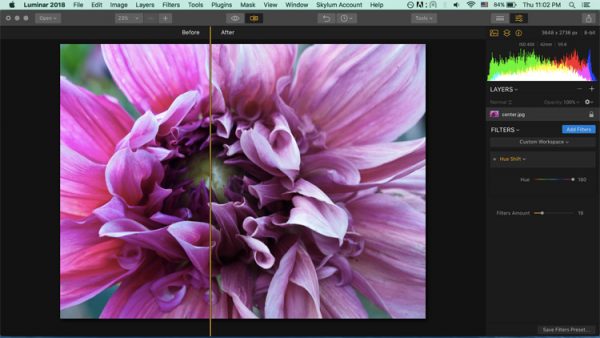 4. Hue Shift
The Hue Shift filter is another part of the Luminar creative suite. It allows you to change the hue of an image by simply choosing the hue and the amount. You can go for a subtle effect (like the one above) or a more dramatic effect (like the one below).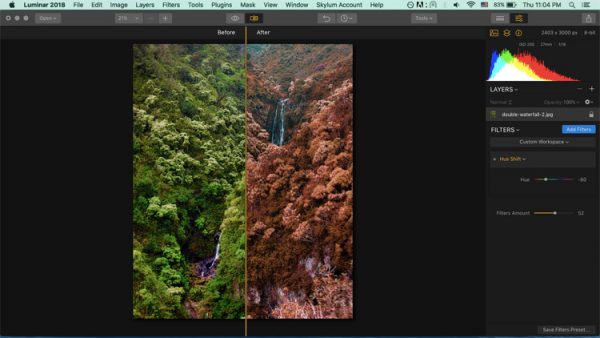 If you'd like more creative options, try working on different layers and changing the blending effects.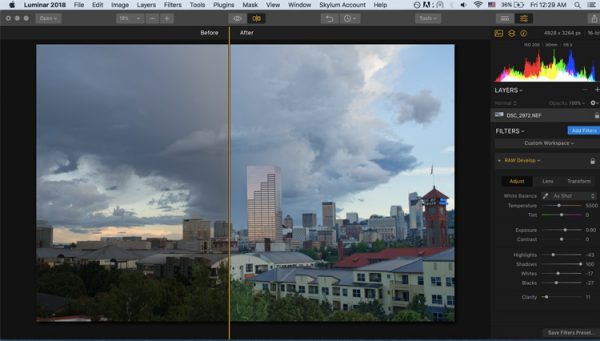 5. Raw Develop
Perhaps one of the more significant upgrades in Luminar 2018 is its Raw Develop editor. It's now faster than ever and includes just about everything you need to start your image off right. The adjustment panel has everything you'd expect—white balance, exposure, blacks, whites, etc. And if you're not sure where to begin, Luminar offers a number of presets to get you started.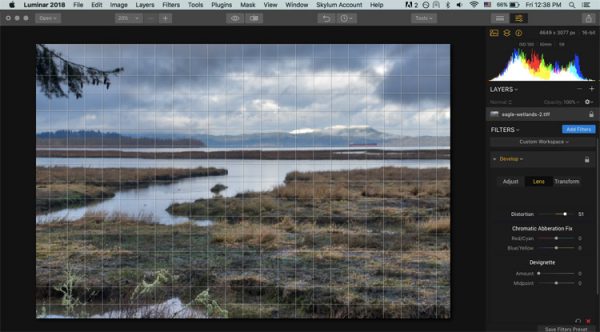 The lens corrections are all currently manual, but the next update promises to have automatic corrections options, complete with lens profiles. And while you may not feel the need to use the transform panel often—when you do, it will save you loads of time in perspective shifting.

6. Structure
Adjusting "structure" used to be available only to HDR photographers, yet it can create an amazing effect in single-exposure photos as well. It brings out detail in a way that can't be replicated with any other filter—even a detail enhancement filter. It's especially good for bringing out the drama in skies, but can be used for just about anything. What's more, because Luminar has both masking and layers, you can choose precisely where and how you apply the structure.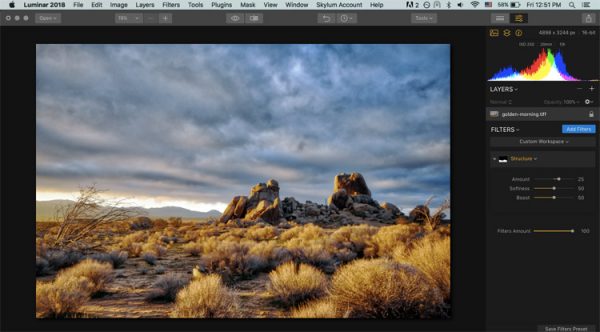 These are just among the many amazing filters Luminar offers. The other filters range from standard editing tools like curves, tone, HSL, and contrast, to more creative ones like the Orton effect and Image Radiance. You can even work with LUTs. You can try it out for free, both as a stand-alone program and as a plugin for Photoshop and Lightroom. And if you're looking for a Lightroom alternative, Luminar will soon have a data asset management system (i.e., catalog) which will put it truly on par with Lightroom—but without the subscription. So whether you want just a few effects to add to editing workflow, or you're looking for an easy-to-use yet powerful photo editor, Luminar is definitely worth giving a try.
Exclusive deal for THEWINDOWSCLUB users:

$10 OFF discount on Luminar, CouponCode: WINDOWSCLUB
You can download it from the Luminar website.
Luminar 2018 Best Photo Editing Tool -
69$
Application Installation -

90%

Functionality & UI -

88%

Photo Enhancing Quality -

90%

Image format supports -

88%