Recovering lost data is not easy. Even with backups, at times, it becomes impossible to look for a while which you might have deleted. The problem? If you deleted a file that was never backed up, you could not recover, right? Not really! If you have a professional recovery software such as Magoshare Data Recovery,  you can recover files that were not part of the backup. The software can recover data lost formatted partitions,  deleted files, desktop, recycle bin, USB drives, and more.
Scenarios when you can lose data:
These are some common scenarios that result in data loss. The good news is that it is possible to recover these data if you act fast.
Permanent deletion of file directly or from recycle bin
Removal of a partition without taking backup
Accidental formatting of partitions or hard drive
Recover data from lost and formatted partitions
Every file created on a drive is recorded in a master table. This master table keeps track of the physical location of the file. When a file is deleted, its record from the master table is removed, but the actual file stays on its physical location. Magoshare Data Recovery uses this as one of the pointers to find deleted files.
It scans through the hard drive sector by sector to locate such files, and then recover it. That is the reason it can recover lost data from inaccessible, unrecognized, or lost partition.
Magoshare Data Recovery review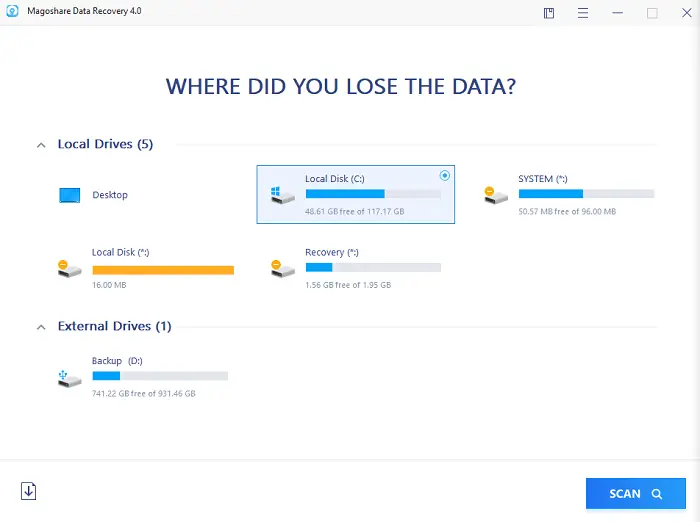 The software displays a list of all connected drives as soon as you launch the software. It includes both internal, external, deleted, and hidden partitions. The external drives will be listed under the external section, and the primary partition where the Windows is installed, it will be marked with a  Windows icon. The dashboard also offers quick access to the desktop as a search location.
If you accidentally formatted a storage device, you can unformat hard drive to recover files using this recovery drive.
Scan for lost files
Select one of the partitions and click on the scan button. It will instantly start the search for lost data, and display the result in a tree format. You also have the option to change the view to Type and Time quickly. Each of these categorizations has its importance and come hand in different situations.
Path:  When the location of the deleted file is known
Type: When the file type is known, i.e., image or document and even outlook emails
Time:  If you lost a file a month ago, this is your best bet.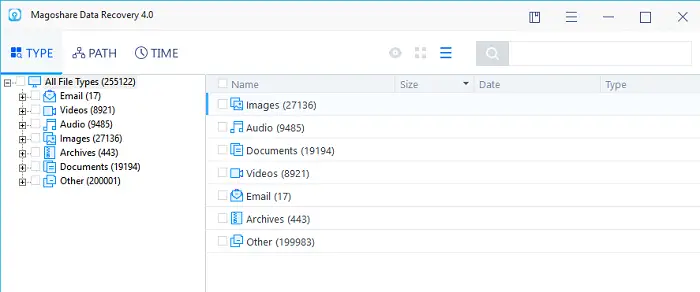 Recovering lost files
The next step is to select the mode, and then select the file you want to recover. An easy way to understand if the file can be recovered is by looking at the size of the file. If the file size is too small, then chances are low. However, for images, this can be an exception.
Select the image and then click on the preview icon (eye). It will open in the previewer, and if the image renders completely, then it can recover it. If you see distortions such as lines, solid colors, partial output, then the file cannot be recovered.  As you can see in the image below, I was able to find some of the delete files.  The reason I was sure that I could because of its size. The video files are usually significant in terms of size.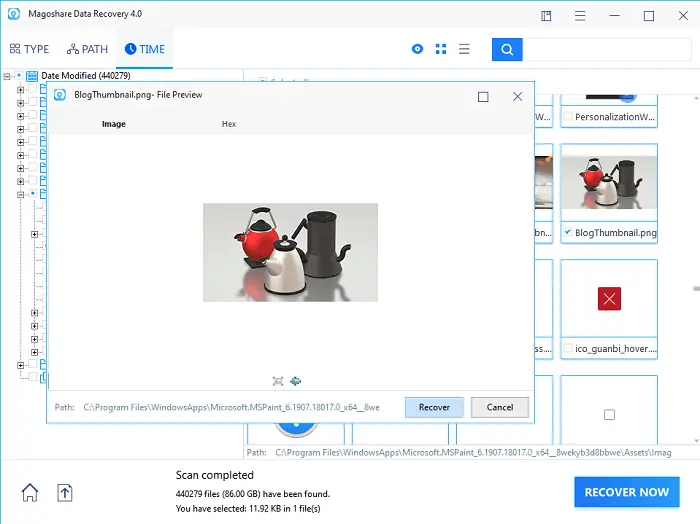 The reason some files can not be recovered because their space has been taken up some other file. The recovery software reads the metadata of traces of the data that is in the drive, and list them as general files most of the time. If the preview is not working, then it's because the file is beyond recovery.
When saving files, make sure to save them on external storage or a drive from where you do not plan to recover anything. The new files will reclaim space taken by some other deleted files.
It is impressive to see that it was able to recover files from a very long time ago, in my case, it was 2008, though it only had some system files.
Save Scan Sessions
You can save the search or scan results, so you don't have to spend time scanning everything again. If you need to shut down the computer or hand it over to someone for emergency work, you can stop the partial or full scan, and then save the session. Later, you can start exactly from where you left, by importing the file again. It is typically useful if you are trying to recover data from a slower hard drive, and scanning it again could mean a lot of time and resources.
Overall, Magoshare Data Recovery is one of the most promising file recovery software that works. The software was able to recover files from last year. If you are looking for a user friendly, easy to use recovery software, Magoshare Data Recovery is on our list.
Magoshare Data Recovery -
69.95$
UI & Navigation -

90%

Recovery Speed -

90%

File Format Supported -

85%

Quality of Output -

95%

Memory Optimization while Recovering -

95%