MasterClass is a powerful online training platform that is revolutionizing the world of online education. Through a combination of beautiful and engaging video lessons, a highly simplified and effective interface, 20 Lessons on an average per class, and 10 minutes on average per lesson makes it engaging and not boring. It caters to all categories of people, not just beginners. So, if you are a beginner, you can learn from the best pros in the world. But, if you are already a pro, you can learn from others' experiences.
The service also caters to Business people where teams can learn from the masters of business. Whether you want to learn from Presidents, CEOs, or even venture capitalists, you can. It is great if you are part of a large group as you can learn and extend it or buy it for everyone, and learn in a group.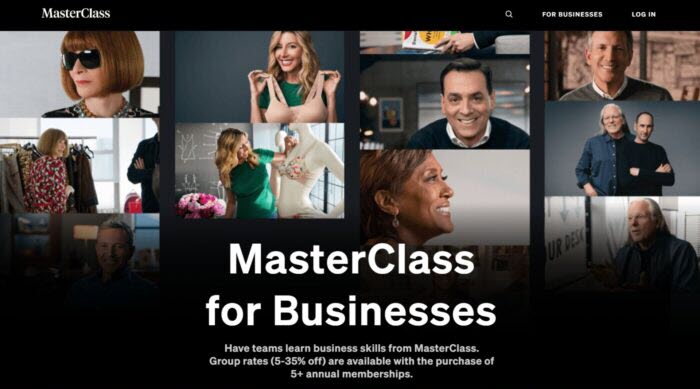 MasterClass Review
MasterClass is one of the best online education services which goes beyond the textbook and delivers an experience. If you love binge-watching, you can do it here, except that you will get closer to reality than fantasy this time.
Use cases and the ability to share what you've learned with others will make this a service that's worth a monthly subscription.
If you have been craving to learn some new skills or learn how to play an instrument, MasterClass.com is the course you need to take. It is a great way to hone in on a craft or get a piece of solid advice from an industry expert. You'll love MasterClass.
How does MasterClass work?
Compared to other platforms such as Skillshare, Linkedin Learnings, MasterClass is superior in many aspects. One of the main reasons is that the selection of courses offered by MasterClass is much more diverse. Another is the pricing. You get access to all of it at $180 per year, which is way cheaper compared to other online courses. You get to learn from the best teachers in the world, and you get to learn in an interactive way.
MasterClass Live is another feature that the service has to offer. The service offered several live online events, and the paying members were able to converse and participate. The events were also made available later to the public for free, which adds on as an attraction for the future consumer base.
Lastly, the videos are well organized, and the quality is top-notch. You aren't paying for a well-shot YouTube, but you are paying for the video which tells stories, shares experiences and helps you learn from experts which you have no access. When we talk about learning, it is worth noting that the videos are the product, not the sales pitch, not the bonus content,
Who can use MasterClass?
MasterClass is a platform for creators to teach their craft. If you have something you are strong at and would like to teach, MasterClass is perfect. But then it is not limited to teaching. It is also about sharing your experience. If you want to learn to be a professional in your field, this would be an excellent choice to take lessons.
The platform is built for both starting artists and those who have been in the industry for a while. You can watch videos one-on-one with the teacher or watch in a group and share ideas.
Categories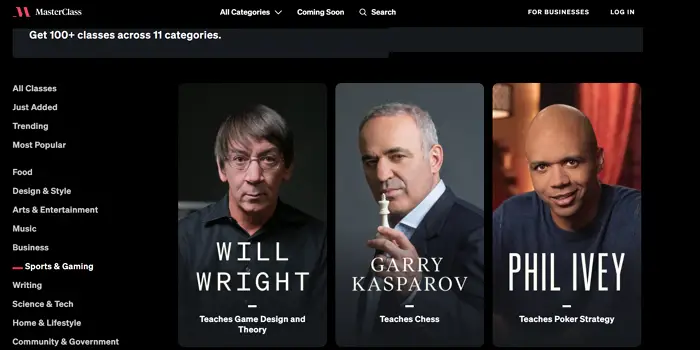 One can explore eleven categories, and since the subscription model doesn't restrict what you can watch, you are only limited by how much you can consume and learn.
Arts and Entertainment
Home and Lifestyle
Writing
Business
Food
Music
Design and Style
Sports and Gaming
Wellness
Community and Government
Science and Tech
There is also a coming soon section that you can keep an eye on if your category is unavailable. You can always subscribe when it becomes available and then start learning.
Specialty
What makes it outstanding is both qualities, and making sure people don't get bored watching it.
The services have recruited A class instructors, which includes right from Steve Martin (Comedy) to Serena Williams (Tennis) to Frank Gehry (Design). When it comes to business, you have classes from former Disney CEO Bob Iger, and you can learn about business strategy and leadership.
Most of the lessors are 6-20 minutes long, and they are broken into lessons, and there are around 18 lessons on each. It is almost like a series that you watch on Netflix or Disney+, or Hulu. Some courses also offer bonus content which comes as an excellent surprise.
Coupon Codes
While there are no official codes available, but you can subscribe to the newsletter to get offers. Again there is no guarantee, but it might work.
Free Trial
While the subscription is billed on a yearly basis and paid monthly but there is no free trial. Instead, you can avail 30 days money-back guarantee policy to decide if the service is worth it. This is more than enough to give you a flavor of how it works. This is something that separates MasterClass.com from other online services and makes it a valuable choice.