Transferring files from iOS to Android has still not become an easy task. The two systems use different platforms to operate and connecting the two has been a problem ever since the inception. AnyTrans has already scored as an iPhone manager, that too at a professional level and now with its data transfer mechanism; it is here to make its presence felt. It has now introduced a new feature that is free to download and easy to use.
AnyTrans review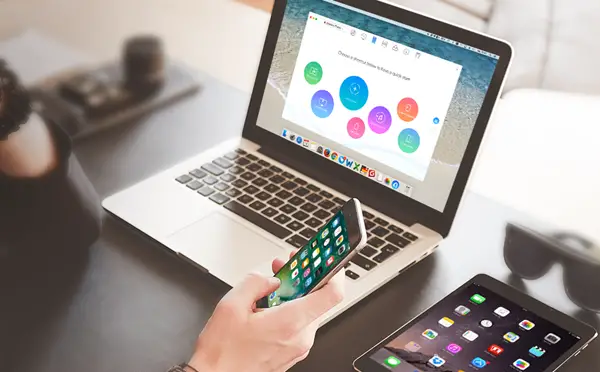 AnyTrans allows you move your data from Android to iPhone and manage iPhone, iPad, iPod, iTunes and iCloud content. While AnyTrans has already proved itself to be a professional manager for iPhones, it has something new to offer to its customers. With its new feature, iOS mover, you can transfer files from Android devices to your iOS devices. This was not easy before as iTunes and Android don't really gel well and it becomes difficult to transfer files. The best part is that this iOS mover feature is free to use in the latest version. All you need is two devices one being android and another being iOS. Connect them to your PC, run the software and you are good to go.
Move your data from Android to iPhone
Once you download the app on your Android device, you will get several options. You have to download your iTunes driver in order to complete the task of transferring the data. It should not be difficult to understand the process. This comes with a free and a paid version and for full version you will get all the required features. Now there are different heads in the window namely iTunes library for songs, backup manager, device manager, iOS mover, iCloud manager, and media downloader. However, the iOS Mover is absolutely free for all the versions. If you have still not downloaded the software, you can do it just for the sake of it.
How to use iOS Mover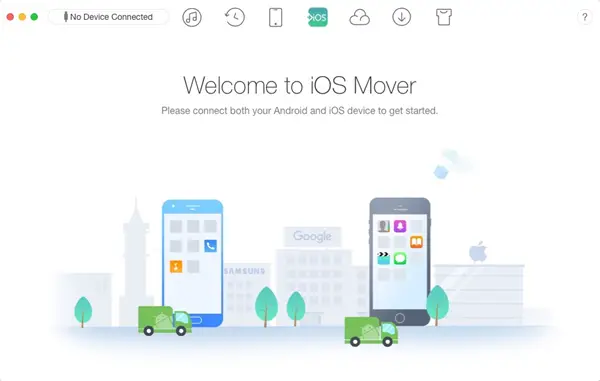 Firstly you need to download AnyTrans for your Windows computer or Mac from imobie.com. Then connect both the Android device and your new iPhone via USB cables. Once successfully connected, you will see three buttons – Content to iCloud, Content to iOS, and Content to iTunes, which respectively enables you to transfer data from Android device to iCloud, transfer data from Android device to iOS device, transfer data from Android device to iTunes.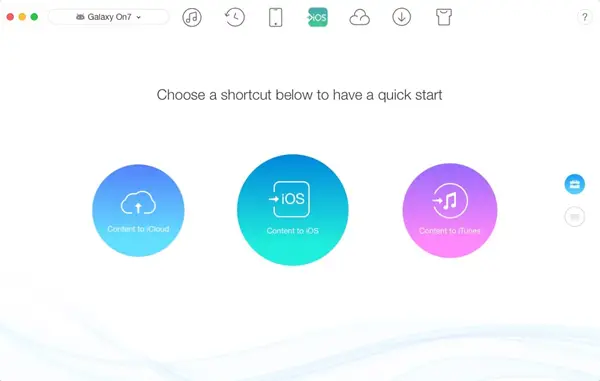 So, to move data from Android device to your new iPhone, you can click the "Content to iOS" button, and then you will need to choose what you want to transfer from your Android device to your iPhone.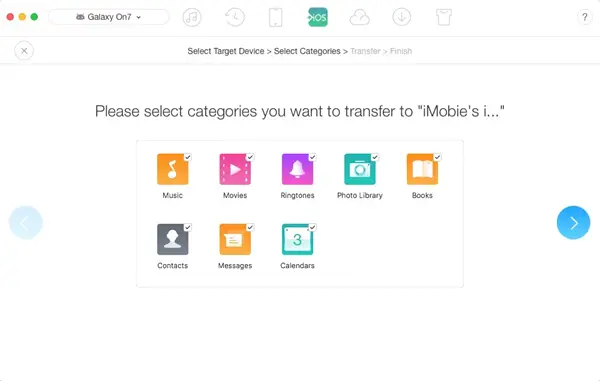 Once confirmed, the transfer will get started. It may take some time for the transfer process to be done. But how long it will take depends on the size of data you have chosen to transfer. During my test, it performed quite fast.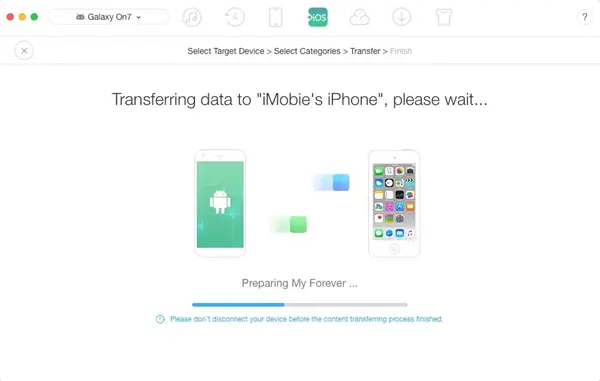 Some Important Features
We will now go into the details of AnyTrans that will come in handy. You may have heard a lot about it already but this will just sum it up to let you know why you shall use the software. This will also give you reasons to give it a try over some other same kind of software available in the market.
Transfer Any File Types
AnyTrans, as its name suggests, can transfer anything. It can transfer music, playlists, videos, and much more from your iDevice to your Mac, PC and iTunes. This seems cool but it is actually cooler than that due to the details it provides. You can check the app anytime to see which file was transferred, from where and at what point in time.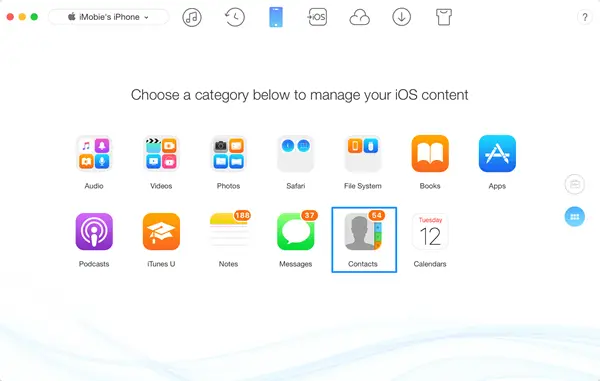 Keep Only Important Files
Apart from providing the users an option to transfer files it also gives the option to transfer files back to the iDevice in question. In many cases, you have tons of pictures and videos on your iPhone or iPad but you don't see them all the time. At the same time, you don't want to delete them either as they are memories you want to keep. Scrolling to find the important picture every time can be a gruesome job and that is the reason why you need to make the transfer. Just keep what you actually need and transfer the rest to your Mac or PC. That sounds really cool, isn't it?
Contact Backup
Apart from the transferring part, backing up contact is one more feature that it offers. So you can back up all your iPhone contacts and never worry about losing any of them. You can also backup the SMS/MMS or iMessages in your PC. One more thing is you can change the theme of the software as per your liking.
The Bottom line
AnyTrans is a self-explaining software and you can get help at every stage of operation. There is a Help section on the top right corner which will answer all your questions while working with the app. There is a FAQ section to in order to guide the user about its usage. Check out here to know more information about AnyTrans.