NAKIVO Backup & Replication has been designed with loads of attention to offer image-based, application-aware, and forever-incremental backup software for VMware, Hyper-V, and AWS EC2 VMs. This product is particularly popular because of its ability to capture all VM data, ensure consistency of applications and databases running on VMs, and transfer only changed blocks of data to the backup repository.
NAKIVO VM Backup review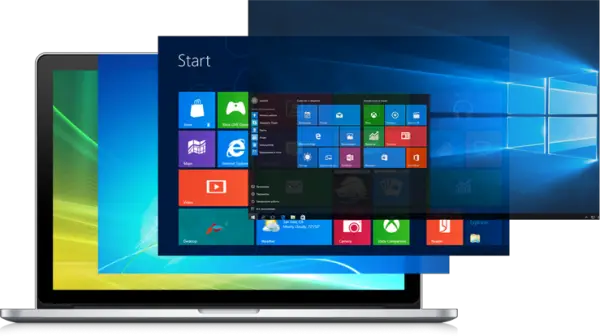 Let us take a look at some of the important features of NAKIVO VM Backup.
Backup Copy Offsite and to Cloud
VM backups can be accidentally deleted, damaged, or become unavailable. The NAKIVO Backup & Replication Backup Copy feature offers a simple, yet powerful way to generate and maintain copies of VM backups. You are also free to configure backup copy jobs to fit your needs.
Screenshot Verification
NAKIVO Backup & Replication features an automated option to near-instantly verify VMware backups. After a VM backup is completed, the product can instantly recover the VM, make a screenshot of the OS, wait until the OS has booted, discard the test-recovered VM, and send a report with the screenshot attached to your e-mail. 
VM Replication
As the name implies, VM replication creates and maintains identical copies (replicas) of the source VMs on the target hosts. If anything goes wrong, you can always power on the VM replicas for a near-instant disaster recovery.
Automated VM Protection: NAKIVO Backup & Replication ensures that your important VMs are always backed up and replicated by protecting the entire containers like resource pools, hosts, folders, and clusters. All new VMs, which were created in or moved to a safe and protected container, can be automatically added to your VM backup and replication jobs.
Network Acceleration: NAKIVO Backup & Replication uses compression and traffic resolution techniques to speed up the data transfer if you have a low-speed network or limited bandwidth. Data compression results in reducing network load by 50% and accelerating data transfer by up to 2X.
LAN-Free VM Backup and Replication: NAKIVO Backup & Replication automatically uses the Hot Add and Direct SAN Access features in order to bypass LAN, offload the production network, and thus measurably increase the VM backup and recovery speed. 
Skip Swap Files and Partitions: Contents of swap files and partitions change all the time, and when you back up VMs, the swap data is included, causing this unnecessary data to be processed, transferred, and stored in the backup repository with each VM backup. NAKIVO Backup & Replication comes with a unique technology to skip swap files and partitions in VMware and Hyper-V VMs resulting in quick data transfer and free storage space in the backup repository.
Automatic SQL and Exchange Log Truncation: Microsoft SQL Server and Microsoft Exchange keep on tracking and recording all transactions in transaction log files. These log files increase in number every day and take up a significant amount of storage space. NAKIVO Backup & Replication can automatically remove transaction log files after successfully backing up or replicating VMs together with these files.
Instant VM Recovery: Flash VM Boot allows you to boot VMware VMs right from compressed and deduplicated VM backups. This process helps you recover your VMs within seconds, minimizing the waiting time for restoring data from VM backups. By using Flash VM Boot, you can also verify VM backups, perform disaster recovery tests, and check system updates and application patches.
Instant Granular Recovery: NAKIVO Backup & Replication offers browsing, searching, and recovering files, Microsoft SQL Server objects, Microsoft Exchange objects, and Microsoft Active Directory objects directly from deduplicated and compressed VM backups, without restoring the whole VM first. This feature is completely agentless and does not require creating a special lab or running a special type of VM backup.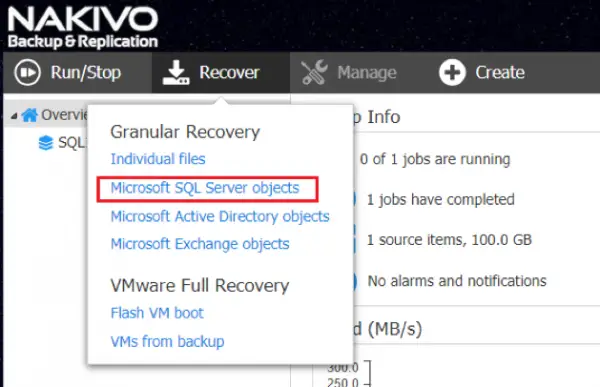 Hyper-V Backup based on your NAS: With NAKIVO Backup & Replication, you can design a high-performance VM backup appliance by installing the product directly on a QNAP, ASUSTOR, Synology, or Western Digital NAS. Thus, you can separate VM backups from your environment, offload backup workloads from your Hyper-V servers to NAS, and also combine backup software, data deduplication, backup hardware, and backup storage in a single device.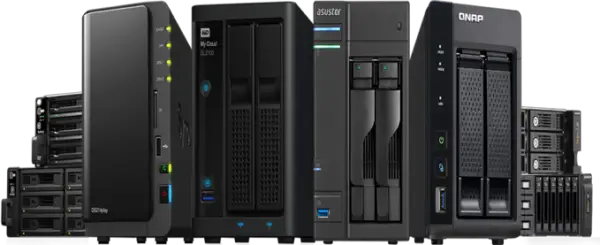 Full VM Recovery from Backup: In case a backed up VM is accidentally deleted or damaged, it is possible to recover the VM from its backup in just a few clicks. The VM can be recovered exactly in the same state where it was during the backup creation and then appear on the host that you have selected for recovery.
Installation and Configuration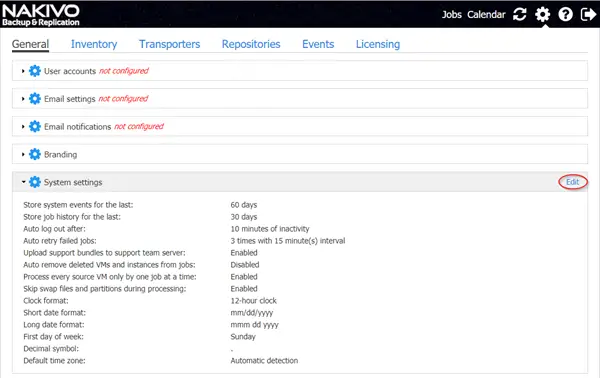 To install NAKIVO Backup & Replication with default options, you need to simply run the NAKIVO Backup & Replication installer for Windows and then click on the Install tab. After that, installation of NAKIVO Backup & Replication with all product components like the Director, Backup Repository, and Transporter will be initiated. After successful installation, you will be able to use all product features with ease.
After installing NAKIVO Backup & Replication in your system, you can configure its settings at any point in time. There are a variety of options available with NAKIVO Backup & Replication for creating customized system settings. You can edit or change settings of user accounts, e-mails, e-mail notifications, branding, and system settings along with system migration. Here is the link to the articles providing details about configuring the product.
Deployment Options

NAKIVO Backup & Replication comes with numerous deployment options as follows:
Install on a NAS: You can create a high-performance VM backup appliance by installing NAKIVO Backup & Replication directly on an ASUSTOR, Synology, QNAP, or WD NAS. 
Deploy as a VMware VA: You can simply download the application and import a pre-configured VMware Virtual Appliance.
Deploy as an AWS AMI: Instantly deploy NAKIVO Backup & Replication in Amazon cloud from a pre-configured Amazon Machine Image.
Install on Linux or Windows: NAKIVO Backup & Replication can be installed on Windows with a single click. You can also install the product on Linux by running a single command.
Download backup software for VMware, Hyper-V, AWS EC2 VMs
To feel the power of NAKIVO Backup & Replication, download the full-featured free trial. There is also a free edition available. The free ddition of NAKIVO Backup & Replication is absolutely Free, forever! The Free Edition includes a license for 2 VMs. You will get the link for the free edition under the Resources tab there.
UI & Navigation -

90%

Backup Process -

95%

Network Support -

95%

Recovery Performance -

95%