NordLayer is a new business-level virtual private network (VPN) that differs from the regular consumer VPNs. Aside from the standard capabilities such as connecting to multiple locations and high speeds, NordLayer VPN includes several additional tools for managing user groups and allowing remote employees to access intranet resources from anywhere securely. This post will take a look at NordLayer, its features, pros, cons, and more.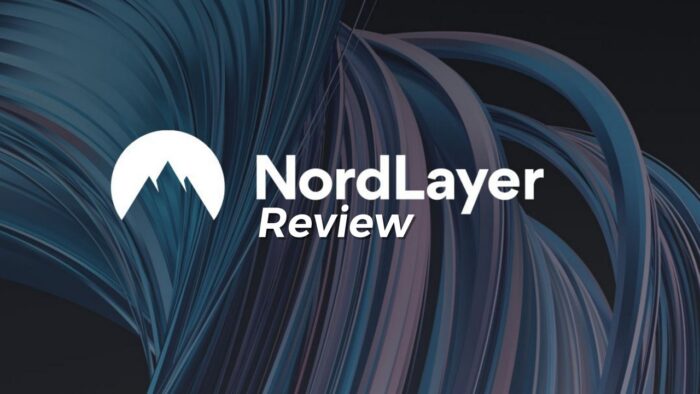 NordLayer Review
NordLayer is not just a VPN, but it's a complete, dynamic, secure network access solution. Team members can safely access the company resources from anywhere in the world. It means you don't need duplicate resources for each location. Let's take a look at all the features tailored for business consumers.
NordLayer Features
One of the most important aspects of a good business-grade VPN service, encryption. The primary purpose of a business VPN is to provide security. NordLayer encrypts all internet traffic with AES 256-bit encryption. With NordLayer, administrators have complete access to workers' VPNs remotely using the Control Panel. For example, you may use it to control permissions, create gateways, reset user passwords manually, and more.
Security and Businesses go hand in hand. NordLayer ensures that everything is secure when using the VPN as it protects the team's device and networks without depending on their location. It ensures that valuable assets and sensitive data of the company are always secure.
Apart from AES 256-bit encryption, there is 2FA, Single Sign-On with Gsuite, Okta, Azure Ad, and the option to create a private gateway.
Adding to this, you can also choose to create dedicated servers. It allows the team to have their dedicated IP address only they can use. It also helps to whitelist IPs to access remote resources and set up a site-to-site connection.
The kill switch will turn off all internet activity on your device if your connection fails even for a second, ensuring that none of your personal information is ever exposed online. With two-factor authentication, users may add an extra layer of security to their accounts. Use Google Authenticator, Authy, or phone-based authentication to get into the app. The solution works as advertised.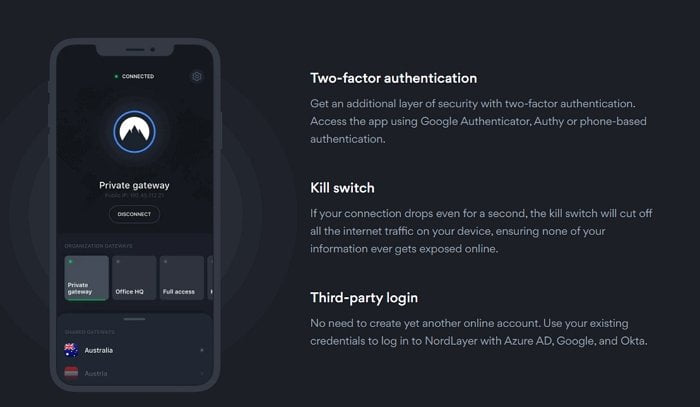 Businesses may audit activities for different actions, such as deploying or removing gateways and view reports. NordLayer provides a variety of servers in 33 countries worldwide, including Sweden, Spain, Slovakia, Singapore, Serbia, Switzerland, Romania, Portugal, Norway, Japan, Italy, and more.
The Windows client has an elegant design, which at first glance looks highly familiar. The location selector is primary; users get a list of countries to choose from – it's straightforward to use. The mobile applications (for Android and iOS devices) offer less functionality. However, they offer a very similar interface to desktop editions and are pretty simple to use.
There's support for custom portals and license transferability too. Custom portals help create portals for specific teams and corporate divisions; determine which team members have access to certain gateways, assign specific corporate servers, and pick virtual locations. Furthermore, NordLayer business accounts can be added, removed, or transferred. In the event of a personnel change, Enterprise doesn't have to worry about losing a user license since it can be transferred to the new person.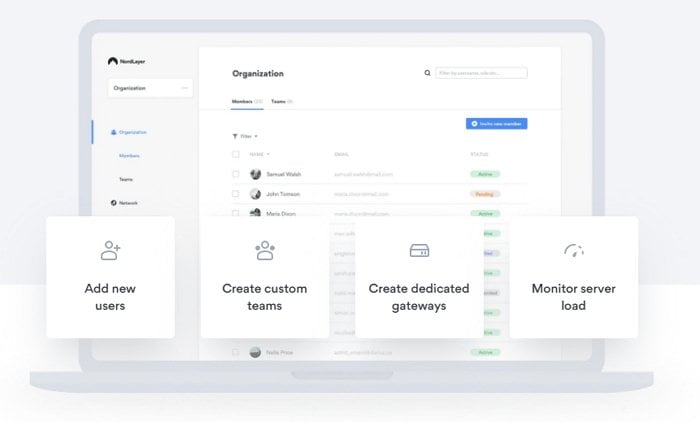 Guides, tutorials, troubleshooters, and documentation are all available through NordLayer 81's support center. You can find tutorials to guide you through the process of installing the client, changing protocols, fixing errors, and more.
If you run into problems later on and need to talk to someone, the basic plan includes 24/7 customer support, while the Advanced plan includes Priority support 24/7. All options, however, offer in-app chat assistance 24 hours a day, seven days a week, and Enterprise levels also include phone help. If you are not able to find a feature and you need to enable or disable anything, it would be best to connect with support, and they should be able to do it for you.
NordLayer Setup and Installation
One of the best things about setting this up is that you don't need any infrastructure, nor do you need to invest in any of them. Everything is on the cloud, and all you need is a couple of clicks to go through.
Once you enter your Organization ID and authenticate it using the six-digit pin, you will have to create a strong password. Done that, you can start with the onboarding process using the invitation method for members and teams.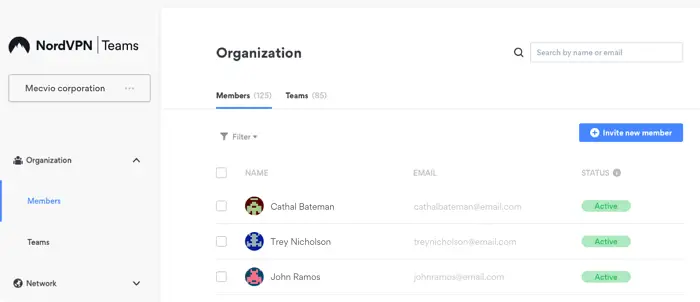 NordLayer's' subscription can be scaled as your organization grows. You can add user licenses, dedicated servers, and company gateways as you go. You can also activate, suspend or delete the users from here.
Apart from this, you have other options as well. It includes setting up teams, private gateways, dedicated servers with or without fixed IP.
Lastly, NordLayer is a scalable platform. You can add more users, dedicated servers,s and company gateways as you need them. It helps in a lot of savings.
NordLayer Plans and Pricing
NordLayer offers two standard plans: Basic and Advanced, with a customized Enterprise bundle available if you'd' like to build a fully customized network security system. There's no free trial option available, though.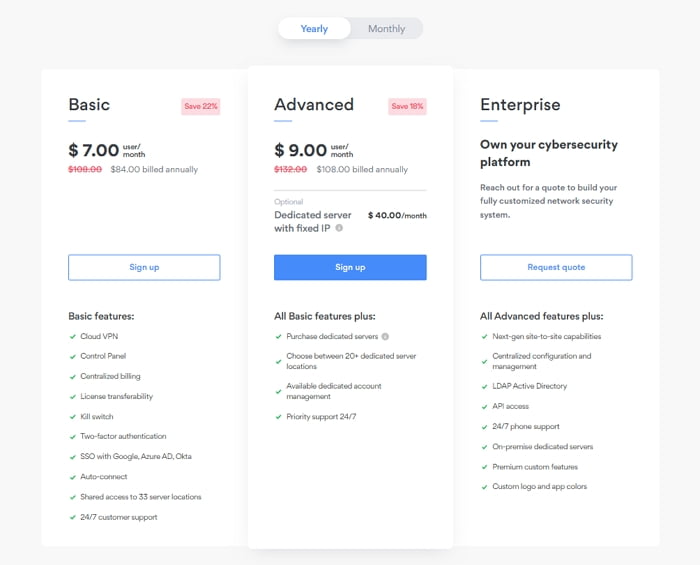 When invoiced monthly, the Basic plan costs $9 per user per month, but when billed annually, it costs $7 per user per month. It has all the essential features but misses out on dedicated servers, priority 24×7 support, and more. The Advanced package, which provides access to purchasing dedicated servers, will be chosen by most organizations. This service costs $11 per month when paid monthly and $9 per month when billed yearly.
The billing process is centralized, so there is only one invoice generated for your entire organization. You can also set up dedicated account managers, so the IT admin doesn't have to deal with the billing department.
A VPN is a simple method to safeguard your online privacy while bypassing annoying internet limitations. NordLayer is a handy, dependable, and reasonably priced business VPN service that comes as part of a suite of outstanding utilities. It is perfectly tailored for Enterprise, and if you want all your employees to use it with the right set of security, manageable features, and scalability, this is what you need to get!
Data Integrity and Privacy -

92%

Functionality & UI -

91%

Organization based Performance -

91%

Enterprise configuration -

95%

Remote Device Configuration -

92%