Disclaimer: We receive payment for purchases made through the links below.
Browsing on a public Wi-Fi network is a risky affair. The Internet Service Provider (ISP) can see the sites you visit and compile anonymous browsing data and could sell them to advertising companies. The public Wi-Fi networks can also expose you to Man-in-the-Middle or MITM attacks, where cybercriminals get in the middle of your computer or mobile device and the website you are trying to reach, intercepting your communication to eavesdrop or even potentially manipulate it. All this can lead to cybercriminals gaining access to your online activity and valuable information, like personal documents, login credentials, or even credit card numbers.
So, how do you keep your behavior private and away from the prying eyes of the cybercriminals? The best solution is to use a VPN or Virtual Private Network. VPN is a network, that established an encrypted tunnel between you and your VPN Provider. All your internet traffic is routed through this tunnel, so your data is secure from prying eyes along the way.
If you are looking for an effective, trusted and easy to use VPN, then Norton Secure VPN ticks all your requirements. Norton Secure VPN secures the private information you send and receive like your passwords, bank details, and credit card numbers when using public Wi-Fi on your PC, Mac, or mobile device.
Disclaimer: We receive payment for purchases made through the links below.
Norton Secure VPN Review
Norton Secure VPN, also formerly known as Norton WiFi Privacy, is a VPN, solution offered by Norton, one of the world's most trusted cybersecurity brands. The VPN is also available as a part of Norton's premium software package. It helps protect your security and online privacy when using public WiFi networks.
Norton Secure VPN Features:
Norton Secure VPN changes your IP address and encodes your online activity, thus offering protection for your online privacy
Helps protect your information while using public Wi-Fi networks, like your credit card numbers and passwords
Offers protection against online advertisers as it includes an ad tracker blocker
Compatible on multiple platforms like Windows, Mac, Android, and iOS
Installation
Before the installation, you would need to purchase the Norton Secure VPN plan. Follow the next steps to purchase it and download the required plan.
1] Visit the VPN page on  Norton.com
2] Select your device count and entitlement. Please note that the monthly billing options are available in the US only.
3] Now click Subscribe Now and then Checkout.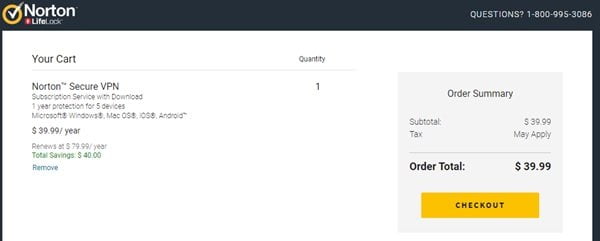 4] If you have a Norton account, you can Sign In. If not, then create a Norton account. Fill in the required details and click the Create Account button.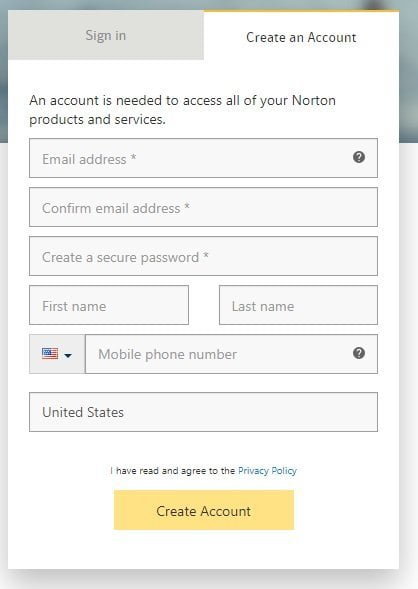 5] Now you need to enter the Payment Method. You can choose the Credit Card or PayPal payment method. Fill in the required details and click Continue.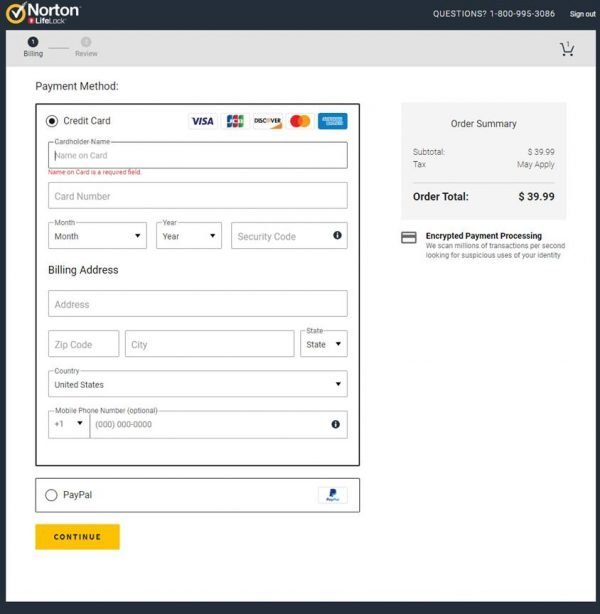 6] After this, you can review your order and payment details. To confirm your order, click the Place Order button at the bottom.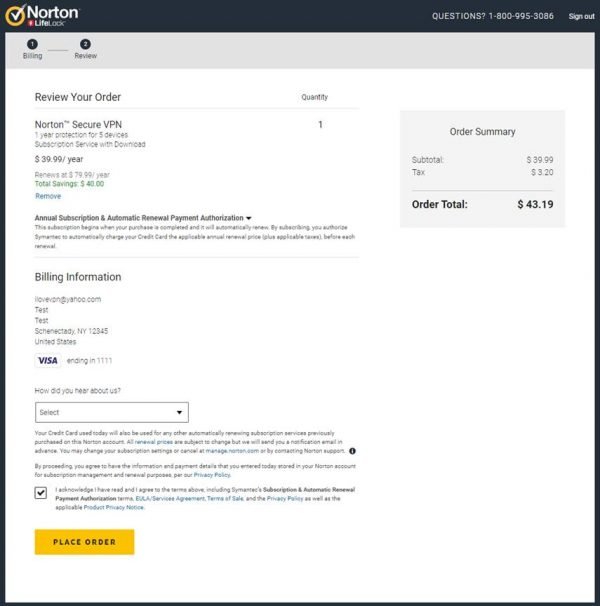 7] Once you place the order, you can see a message stating your subscription is confirmed. You can start downloading the Norton Secure plan by clicking the Get Started button.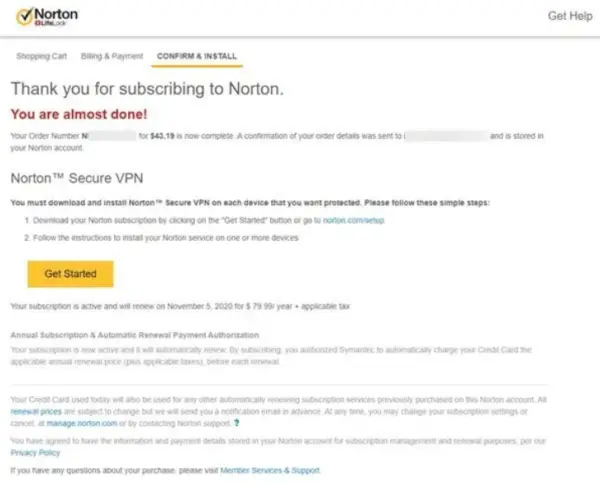 8] You can now download Norton on your device.
As shown below, you can either choose to install on your current device to get a link to install on another device.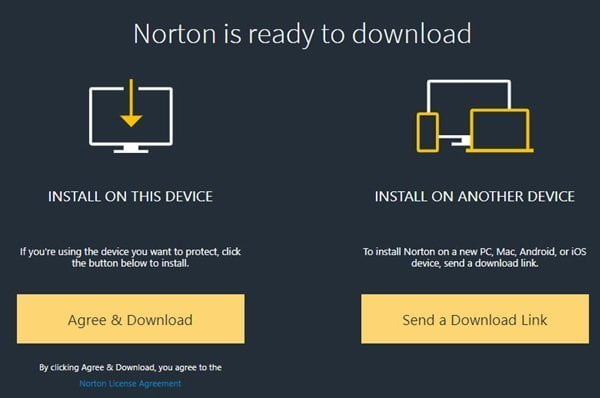 The installation file for the PC version is about 92 MB. Once you have downloaded the .exe file, click on it to install the application as shown, below.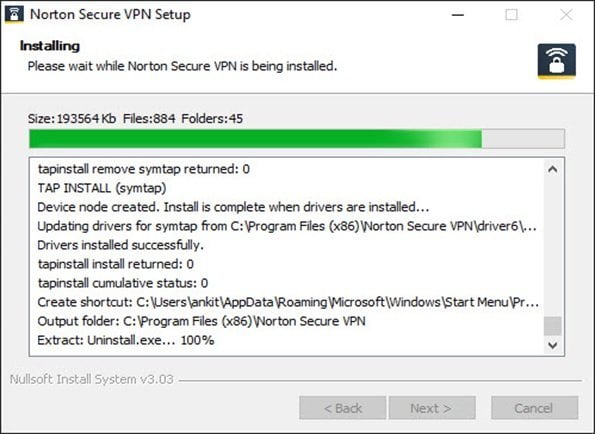 Select "Allow Access" to complete the installation process.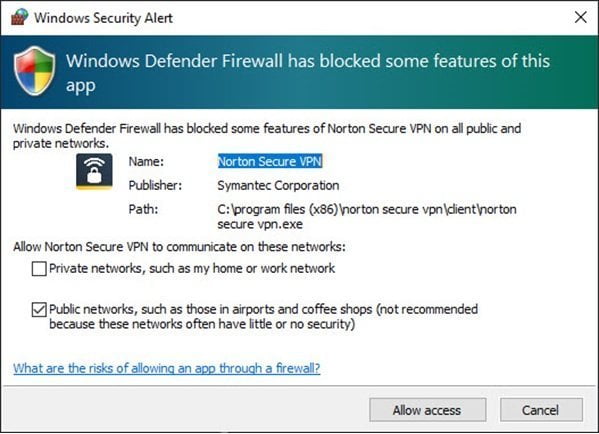 Interface
The user interface of Norton Secure VPN is simple and easily understood even by the first time user. You can open it by clicking on the tray icon in the taskbar.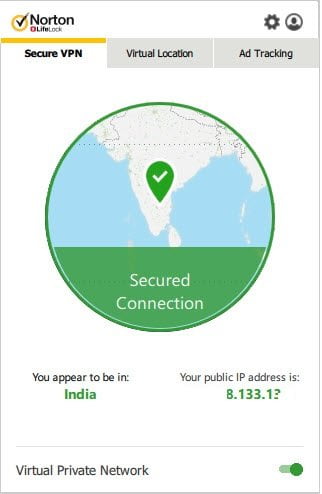 As shown above, there are 3 tabs, which can be used for the following functions.
1] Secure VPN – You can use this tab to connect to the VPN service and see your currently selected server and public IP address. It also tells you the status, as you see in the above screenshot displaying a message of "Secured Connection".
2] Virtual Location – The second tab allows you to choose your virtual location.
You can either use the Auto-select option to connect to a server or you can select one from a list of servers as shown below. Currently, it shows servers from 6 countries – Australia, Austria, Belgium, Brazil, Canada, and the Czech Republic.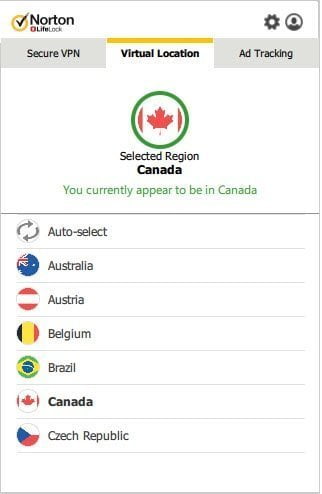 You can change your Virtual location anytime. Just click on the country of your choice.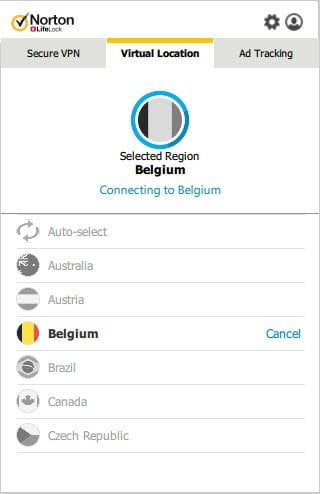 3] Ad-Tracking – This tab lets you enable ad tracker blocker and view ad tracker data.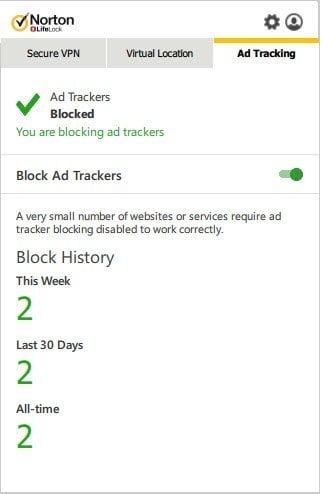 Norton Secure VPN Settings
Through the Settings tab, you have access to the following features,
Install Norton Secure VPN on another device
Enable / Disable Application Launch at Startup feature
Enable / Disable Autoconnect feature
Quit Norton Secure VPN
For now, Norton Secure VPN does not have a killswitch or any of the other advanced features that you may be accustomed to other top-tier VPNs.
Norton VPN Secure Connection Speed
Norton Secure VPN currently has servers in 30 countries across the world. The current server locations include the US, Australia, Canada, Japan, Mexico, Brazil, Singapore, South Africa, Turkey, United Kingdom, France, Germany, and other European countries. In total, it has servers distributed on 6 continents.
Although Norton's VPN network is still small compared to other popular VPN providers in the market, it does not have any bearing on the speed. During the review, we found Norton Secure VPN serving above-average speeds with a good and stable connection. During our evaluation, the service worked extremely well with streaming services such as Amazon Prime and Netflix. There were no DNS or WebRTC leaks during our review, which is essential for online privacy.
Platform Compatibility
Norton Secure VPN provides dedicated clients/apps for Windows, macOS, iOS, and Android.
Depending on the subscription plan you choose, you can use Norton Secure VPN on 1, 5 or, 10 devices at the same time.
Mobile App Feature
With the mobile app feature, you get additional protection from unsecured networks. You can choose to receive warnings or enable the option to automatically turn on the VPN when you connect to an unsecured network.
Encryption
Norton Secure VPN makes use of AES-256 encryption (typically the same level that banks use) with OpenVPN and IPsec protocols to deliver privacy and protection of user's data. While Android devices use IPsec protocol, Windows and macOS utilize OpenVPN technology.
Norton Secure VPN does not store user's data or logs of VPN usage. It collects only subscriber information for communication purposes, mobile device data and aggregate bandwidth usage. No logs are kept of the user's originating IP address and Internet data traffic to ensure that 100% privacy is maintained.
System Requirements
Norton Secure VPN is compatible with PCs, Macs, Android smartphones and tablets, iPads, and iPhones. It is compatible with the following versions of Windows.
Microsoft Windows 7 (all versions) with Service Pack 1 (SP 1) or later
Microsoft Windows 8/8.1 (all versions)
Microsoft Windows 10 (all versions)
Subscription
You can choose a subscription plan for 1, 5 or 10 devices. The monthly subscription costs $4.99, $7.99, and $9.99 for 1, 5, and 10 devices, respectively, while, a yearly subscription costs $39.99, $39.99, and $59.99 for 1, 5, and 10 devices, respectively. The subscription automatically renews after the first term and the price is subject to change.
Additionally, for $9.99/month or $59.99/year, you can purchase Norton Secure VPN as a part of Norton 360, which is a comprehensive security package that can be used on up to 5 devices. To make the purchase, visit the product page at norton.com.
With Norton's yearly subscriptions the company is offering a 60-day money-back guarantee. Also, there is a 30-day refund guarantee for monthly subscriptions. To buy, you can use your credit card or PayPal account. Other payment options are currently not available.
Conclusion
Norton Secure VPN is an easy to use application that helps protects your privacy and security. It comes equipped with top-notch encryption, allowing you to browse safely and protect your data, even on public Wi-Fi hotspots and unsecured networks. You can use Norton Secure VPN to effectively bypass geo-restrictions and access your favorite online services, apps, and websites from anywhere in the world.
Not to forget, Norton has an effective built-in ad tracker protection, which prevents advertisers from following your online activity. Therefore, with Norton Secure VPN you can browse the web freely without getting worried about being followed by anyone.
Highly recommended!
Norton Secure VPN -
39.99$
Countries Supported -

90%

Server Connection Quality -

90%

Data & privacy -

90%

Encryption -

95%

Parental Controls -

95%