Not everyone wants to buy a Chromebook run Android Apps on the big screen. Nor everyone wants to be hooked to their phone to play games, and use apps. That's where the Android Emulator comes into the picture. Today, we are reviewing NoxPlayer, which is a fantastic free Android emulator for Windows 10. It supports multiple Android versions and is compatible with X86/AMD. So if you are looking for an alternate emulator, especially compare to Bluetstakcs, you should take a look at Nox Player.
Nox Player Review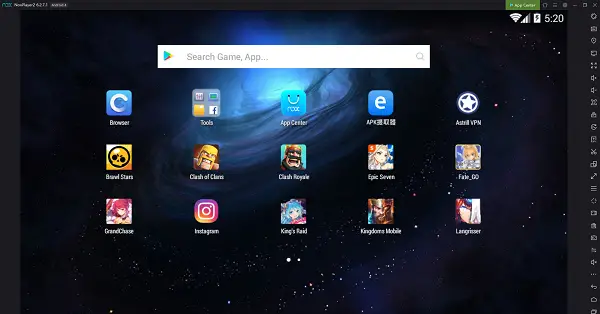 Built by the guys at Bignox, this Android Emulator to play games like Clash of Clans, PUBG Mobile or Ragnarok M Eternal Love by having a bigger screen and full support over your keyboard or controller. If you have a decent PC rig, you will be able to tweak CPU, RAM, switch between DirectX and Open GL graphics. All this delivers an experience as if the Android was built for Windows.
Free Android Emulator for Windows PC
Let us take a look at the features of Nox Player.
1] Keyboard mapping makes it possible to use the WASD key in ARPG, i.e., Action Role Play Game. It also gives you an advantage over other players as response with a keyboard is much faster. It is also possible to configure or set other keys to release skills or take shots.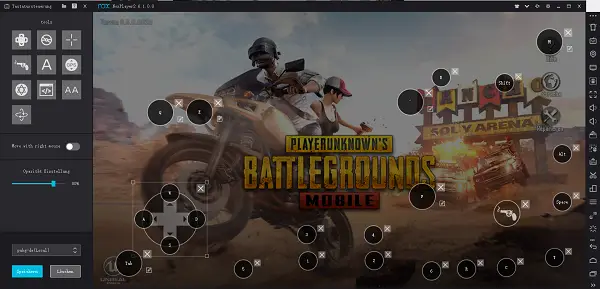 Like you can see in the screenshot, the controls and triggers can be placed anywhere you want. If you perform well with different placement, this makes it all possible.
2] It also works with a gamepad and controller in supported games. Many like to play games on the PC using a controller, and if you have a controller that worked with your phone, it will work here over Bluetooth. If you have an Xbox controller, it works with Nox Player.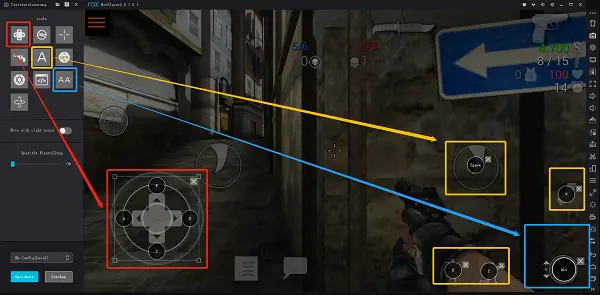 3] Native support for keyboard typing, camera, and microphone. So if any of your apps need a camera, and microphone, especially video calling apps, this will be useful. You will need to have a webcam and microphone on your computer.
4] Supports multiple Android version which includes Android 4.4.2 & 5.1.1 & 7.1.2. It is the only emulator which makes it possible to play old games which were not updated for the latest version of Android. It makes it possible to play old games which were not updated for the latest version of Android.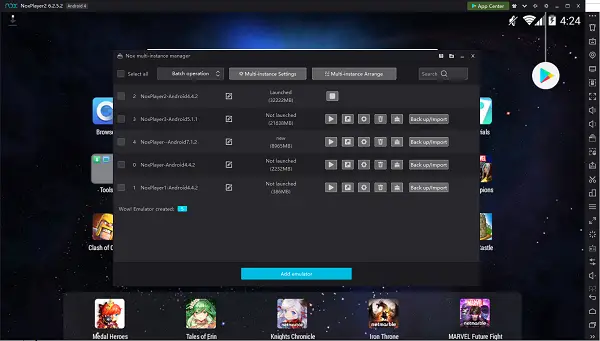 Before playing a game, you can choose the version, choose settings and so on. Select a game, choose a release, and add emulator for that. The option to backup and import makes it possible to save all settings.
5] Multiplayer mode makes it possible to run several games in different windows. It makes it possible to switch between the games on your computer. Unlike in Android where you can run only one game at a time, here you can play multiple games if that's yours especially.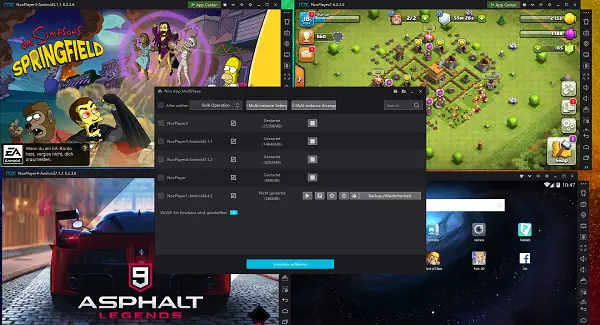 Apart from these, it also comes with "Shake" function and option to Capture video and images on the app and then save them to your PC. If you love sharing games on video streaming services, and on social media, this comes in very handy.
6] Root access: If you install the Superuser app, you will get access to the Root user. It makes it possible to access files from PC on your Android. There are tons of apps which work only with root access, and it doesn't void your phone's warranty as well.
Once you install the Nox Player, and launch it, sign in with your Google Play account. If you wish to continue with previous games and apps, makes sure to use the same which you use on the phone. Post that, you can start to install the apps, especially the games.
Gameplay Experience
One of the best parts of using Nox Player is you can decide how much of your hardware Nox can use for gameplay. You can choose several CPUs and amount of memory it can handle. While 2-3 cores will do, but you should experiment a bit to figure out the right settings. If you plan to use Nox along with regular usage of PC, then find balanced settings.
I played a couple of games, and they worked well. If you have a high-end Windows 10 computer, you are going to love the edge you get with powerful hardware and keyboard/gamepad combination. However, there is one thing you should know. Many games do not allow users to play games like this as it's not fair. It is possible that if you are marked, you may not be able to play the game at all.
NoxPlayer free download
Nox Player is a free download from bignox.com, and use on Windows 10 and also on Mac. It makes it a crazy combination for many users, especially with powerful hardware. The installation process is simple. Download, and install it like any other software. Once installed, launch the emulator, and follow through the initial setup process.