Modern cloud storage solutions and document management systems provide users with plenty of useful features to boost their productivity and get their job done faster. However, not all of them come with document editing capabilities, so it's necessary to use an external software tool for document editing and collaboration, like Google Docs or Microsoft 365. In this case, switching between the main app and office programs might be irritating.
If you use a file-sharing platform, an e-learning solution or a DMS, you might be interested in integrating it with a powerful office suite so that all the required features can be always accessed in one place, within a single interface.
If this is the case, you can give a try to the cloud-based version of ONLYOFFICE Docs, a collaborative office suite for all popular platforms, to enable document editing and co-authoring within your platform. Here is an ONLYOFFICE Docs SaaS review.
What is ONLYOFFICE Docs SaaS and what features does it offer?
ONLYOFFICE Docs is a web-based office package that was initially available as a self-hosted solution only. However, now there is a cloud-based version that allows you to enjoy all the benefits of real-time co-editing and collaborating without having to set up a local server and manually install the office suite on it.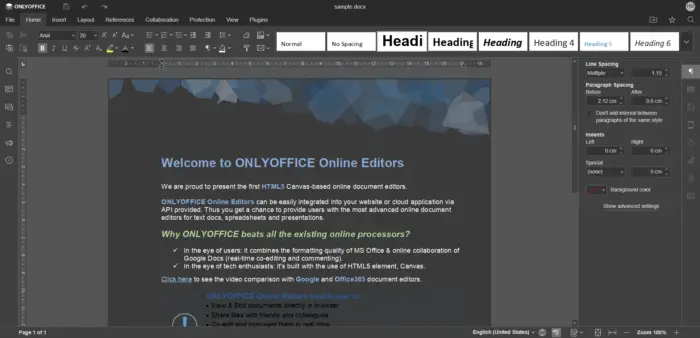 With ONLYOFFICE Docs SaaS, you can create, edit, share and co-author text documents, spreadsheets, presentations and fillable forms in any web browser. This office software is a good alternative to Microsoft 365 because it's completely compatible with Word documents, PowerPoint presentations and Excel sheets. For PDF files, there is a built-in viewer and converter, simple but convenient.
The ONLYOFFICE online office suite has included the following features.
Onlyoffice vs LibreOffice features :
Text processor comes with a full set of editing and formatting tools to make it possible to create all kinds of documents, from briefing notes to academic papers.
Spreadsheet editor is designed for online calculations and supports more than 400 formulas and functions, allowing you to work with data in pivot tables and use conditional formatting.
With Presentation editor, you can create presentations and separate slides with autoshapes, charts, tables, TextArt objects, animations and transitions effects.
Using Form creator, you are allowed to create interactive documents with fillable fields that can be filled out online or saved as fillable PDFs.
PDF viewer allows you to open and view PDF and DjVu files using an-easy-to-use navigation panel as well as convert such files to editable formats, like DOCX.
Collaborative functionality embraces Track changes, Version history and control, document comparison, comments and user mentions, and two co-editing modes, Fast and Strict.
Access permissions allow other users of your platform to perform certain operations — they can view a document, edit it without limitations, review it, leave comments or fill out the required fields in digital forms.
Enhanced security due to JSON Web Token. This will prevent unauthorized access & HTTPS protocol. Due to this, your traffic will get encrypts in transit.
With third-party plugins, you can make audio and video calls, chat with friends and colleagues in Telegram, translate words and phrases, create bibliographies, insert YouTube videos and even edit images and photos.
Free desktop clients for Windows, Linux and macOS as well as free mobile apps for iOS and Android.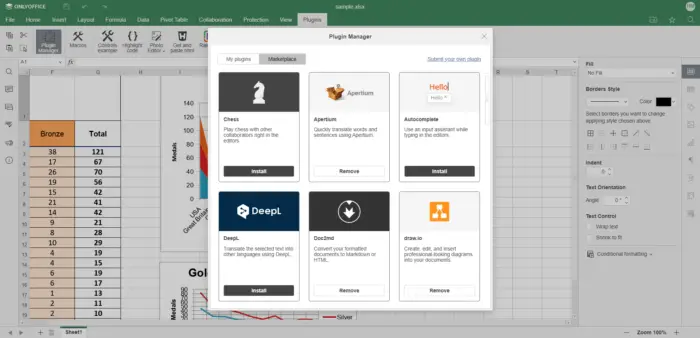 Integration options
If you are planning to use ONLYOFFICE Docs SaaS, you need to make sure that your platform is supported. Integration with ONLYOFFICE Docs works through integration apps. Currently, there are official integration apps for the following software:
File storage platforms — Nextcloud, ownCloud, Seafile, PowerFolder, Pydio, FileCloud
Groupware and document management platforms — ONLYOFFICE Workspace, Alfresco, Confluence, SharePoint, OpenKM, ONLYOFFICE docusign.
E-learning solutions — Chamilo, Moodle, OpenOLAT, WebWeaver
Content management platforms — Drupal, Nuxeo, Plone, Strapi, WordPress, XWiki
Issue and project tracking software — Redmine, Jira
Social network software — HumHub
Enterprise software development platforms — Liferay
If you work with any of these platforms, you just need to get the corresponding app, register an account in ONLYOFFICE Docs SaaS to get access to the ONLYOFFICE editors, and make some configurations in the settings.
Cost & Pricing of ONLYOFFICE SaaS
Unlike its self-hosted version that comes with free Community Edition, ONLYOFFICE Docs SaaS offers two paid tariff plans: Business and VIP. The VIP plan is available upon request and involves the deployment of the ONLYOFFICE editors on a dedicated server.
When it comes to the Business plan, you pay at the end of each month for the actual number of users, 8$ per user/month.
How to get started with ONLYOFFICE Docs SaaS
First of all, you need to register by entering your full name and email address in the corresponding fields. Don't forget to choose the required tariff plan.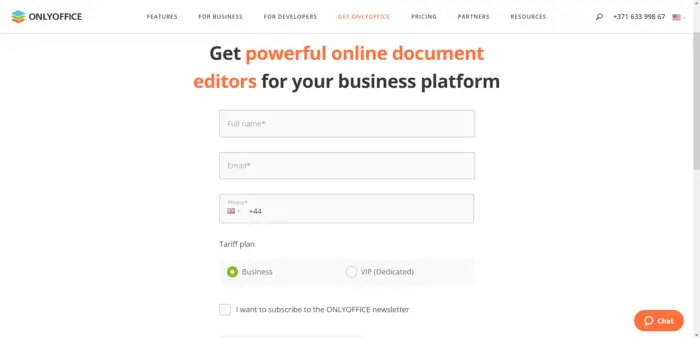 If you choose the Business plan, you will be redirected to a new page where you will have to enter your payment details and create a personal account.
After successful registration, you will receive an email with the following information:
Document Server address
Document Server JWT Header
Document Server secret
These parameters are required to connect ONLYOFFICE Docs (ONLYOFFICE Document Server), and you need to specify them in the ONLYOFFICE settings page within your platform.
On the ONLYOFFICE Docs welcome page, you can choose and install the corresponding ONLYOFFICE connector.
If everything is done correctly, now you should be able to create and edit documents using the ONLYOFFICE online editors within your platform, whether it be SharePoint or WordPress.
Conclusion
ONLYOFFICE Docs SaaS is one of the best, if not the best, collaborative office suites out there, with a wide range of editing features, affordable pricing and seamless integration with the most popular business platforms. We hope you have found our review insightful and now you have all the important information to make a wise decision on your own.
ONLYOFFICE Docs SaaS
Functionality and UI -

96%

Realtime editing & collabration -

97%

Ease of Integration in other platforms -

98%

Security & Cost -

98%