Microsoft Office has a security option that allows it to password protect a document. The same feature will enable you to protect the current sheet, workbook structure, add a digital signature, and more. Once protected, it cannot be opened or edited unless this correct password is provided. Now it may so happen that you have a critical document, and you have forgotten the password. You have an idea of what was the password, but not the correct password. That's where Passper Excel Password Recovery from iMyFone comes into the picture.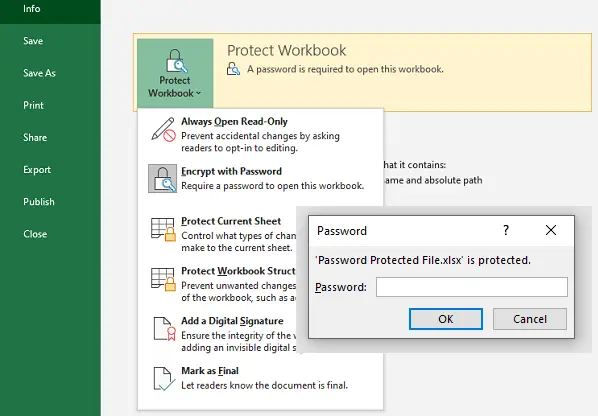 Passper Excel Password Recovery Tool
Passper Excel Password Recovery will help you remove lost or forgotten Excel passwords without affecting the original data in the worksheet/workbook. It offers two types of solutions. First is opening password recovery, while the second is removing any kind of restriction applied to the document. We will talk about both of them.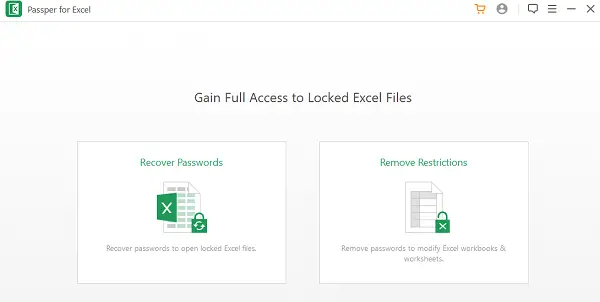 Recover Excel Password
Click on the Recover passwords option and select a file. What is crucial is the next option where you choose the kind of force attack you make to find the password associated with that Excel file. That said, I would suggest you work on a few things that can help recover faster.
Find out a possible password that was used to lock the file.
If the password has numbers, special characters set of alphabets, etc.
And if you happen to use a custom dictionary for passwords, that can be handy as well.
Once you have the information, it will become a lot easier for the software to crack the Excel file. Click on one of the methods of under-recovery methods. You have the following options-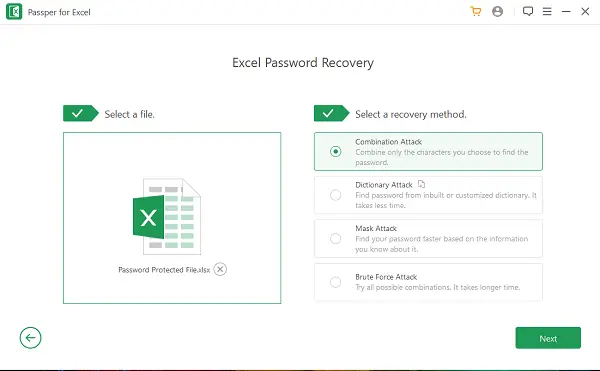 1] Combination Attack
It is to combine all the characters you choose. This will narrow the scope to the characters you choose, not all characters. For example, you don't know the password but you may know the characters you use, such as certain numbers or letters. After you select them, the software will start to combine only these characters.
Password length
Prefix & Suffix
Lowercase & uppercase letters
Symbols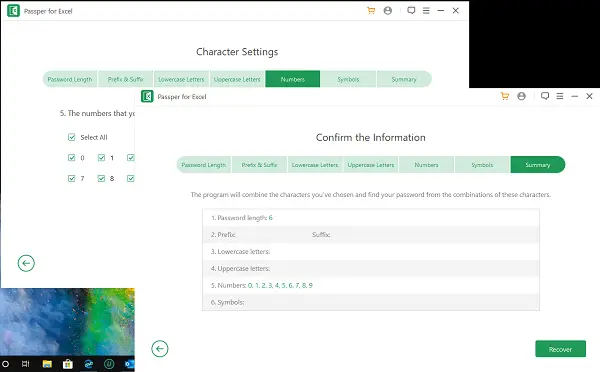 If your password guesses are close to the actual password, the recovery will be a lot faster. In addition to this, if your computer has multi-core CPU and GPU technology, increase the recovery speed. For example, when you do a heavy load work on a slow PC, it will take days compared to hours on a powerful computer.
2] Dictionary Attack
The software has a default dictionary with millions of passwords that people use, including words, numbers, special characters, uppercase, and lowercase letters, and combinations of these.
3] Mask Attack
Exclude some characters that you don't use (for example, I don't think I have ever used uppercase letters, so I exclude all the uppercase letters), and then enter the characters you think will appear in the password. So this attack mode is based on the characters you enter and combined with all other possible characters (except those excluded characters).
4] Brute Force Attack
While in mask attack, some characters can be skipped from guess, Brute force attacks with everything. That's the reason it takes a lot of time because there are too many wrong guesses.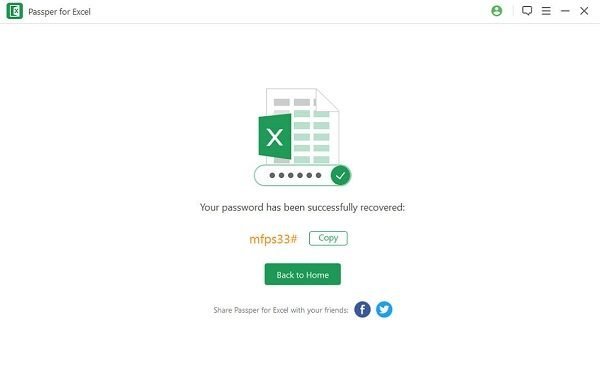 Once the software can crack the password, it will reveal the password. You can copy it and open the Excel file, which was password locked. Make sure to either note it somewhere or remove the password restriction by going to File >Info > Protect workbook, and disable it.
Excel Restriction Removal
Many clients will send a document that will have restrictions. It is useful in many cases because any changes in formatting or modification in the data confuses. However, if you want to customize it further, the restrictions need to be removed, and that's where the Remove restriction features come into the play.
Launch the software, select the restriction removal mode, and click on remove. It will remove any kind of restriction that is placed on the file. It includes read-only, protected Excel sheets,  cannot copy the worksheet or workbook, unable to print the worksheet or workbook, and so on. Once they are removed, you can edit as if you own the file.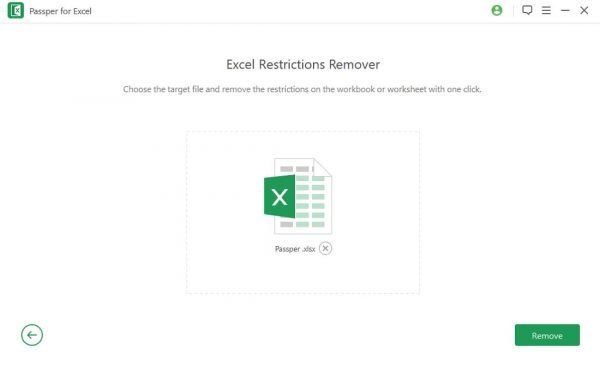 Overall, anybody who is in dire need of recovering an Excel file that is password-protected, Passper Excel Password Recovery is a great solution. It can recover Excel opening passwords and unprotect Excel sheet without affecting the original data.
Requirements
Support *.xls, *.xlsx, *.et, *.ett, *.xlt, *.xla, *.xlsb, *.xlam, *.xlsm, *.xltm, *.xltx file created by Microsoft Excel 2019, 2016, 2013, 2010, 2007, 2003, 2000 and 97
1GHz or more
NVIDIA G80+ (GT8600 to GTX1080 TI)
and works on all version of Windows
Buy Passper Excel Password Recovery
Passper Excel Password Recovery offers flexible plans because this is one software you may not need often. If you had been in a problem like just now, you can choose for a monthly plan, and recover the file. However, if this is something that happens too often in your business, you can choose a lifetime plan. You can recover unlimited files, but the license is valid for one Windows computer only.
Passper Excel Password Recovery -
19.95$/M
File Support -

90%

Recovery Time -

90%

Seed of Recovery -

90%