Windows tends to go slower with time. There is a huge difference in performance on the first day and after a month. If you ever wondered why then it's because of all the unnecessary things that keep piling up. Software installations, downloading files, Windows update, everything makes window slow overtime. While restarting, removing the files, and following what Windows has to offer helps a bit, but not in the long term. That's where you need a software which excels in it. In this post, we are looking at professional software PC Helpsoft PC Cleaner. 
PC HelpSoft PC Cleaner Review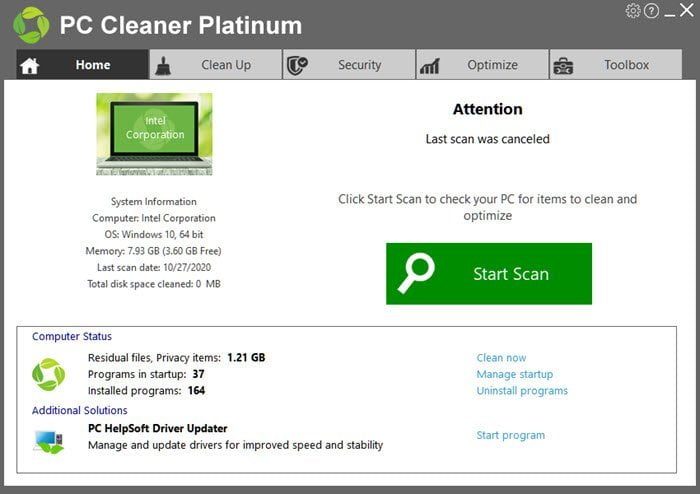 When you launch PC Helpsoft PC Cleaner, the first thing it will display on the dashboard is your PC configuration, along with the count of installed programs, startup apps, and last scan status. The first scan is performed as soon as you set it up for the first time, but you can cancel it.
You have different sections on top of the application—
Clean UP,
Security,
Optimize, and
Toolbox.
The dashboard also offers the option to Manage a startup, which is useful if you need to wait to start using the computer after you login. Let's take a look at what it offers under the subsection.
Clean Up—Registry Scan, Manage Startup, Uninstall, Privacy scan, Residual files, Find Large Files, and Delete Duplicate Files.
Security— Scan for Malicious programs, Check security (AV and Firewall), ID Scan, Shred files(delete files without a trace), Device wiper, and Optimize Privacy Settings.
Optimize—Windows Repair, Advanced Scan, Memory Boost, Optimize SSD, Analyze Disk, System Monitor Log, and Windows tools.
Toolbox— Manage License, Device Drivers, pop-up notification, Data Recovery, Cleaning Report, Automatic scan, and system monitoring
That is a lot! This software offers a one-man-army solution almost to fix everything on your computer. Right from finding rouge files on your computer to optimizing the performance of the computer. It also offers a link to download the PC HelpSoft Driver Updater which comes in handy if you are still running on the older version for download, and it's blocking Windows Feature Updates.
How does the scan perform?
Since there are too many options, it might not be very clear for some, and that's where you need to press the Start Scan button on the dashboard. As soon as you do that, the software does an extensive scan of the computer. It scans through Registry, Internet, Privacy issues, Chat history, system clutter, find invalid shortcuts, empty recycle bin, block popups, boost startup, and Security check.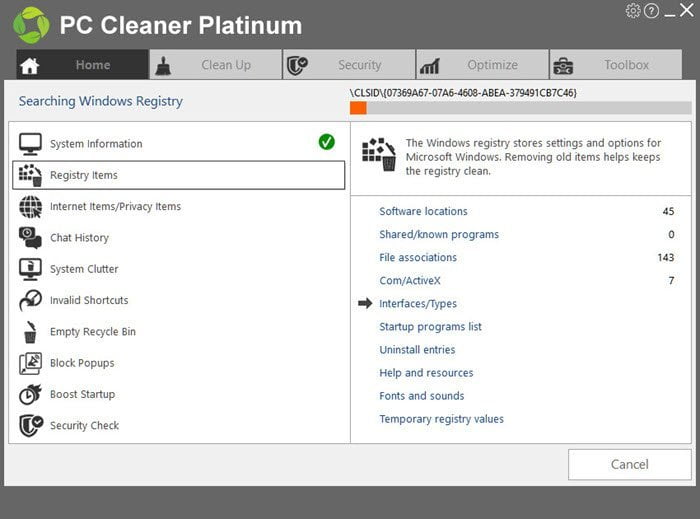 That's a brilliant list, which will take a lot of time for the general user, and it can complete the scan in a few minutes. Once the scan is complete, it gives a one-click button to fix all of them. If you are doing it for the first time, it is recommended to review each, and then choose to clean.
As an example, it was able to find a lot of space gets occupied by Memory dumps, Windows Logs, and residual files to clean. Similarly, you can easily find a list of programs that start with a computer and slows down the login experience. Disable apps that you don't often use from Startup and even those which are scheduled run later.
Advanced Features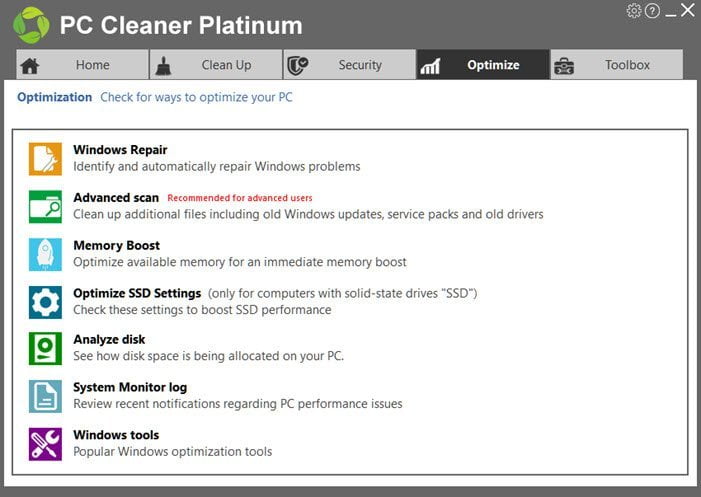 That said, you can also choose to run individual features available under different sections. Some of the notable are:
Optimize includes Advanced scan, Windows Repair, and Analyze Disk. All these are essential for those who deal with storage daily.
Security offers features such as ID Scan to remove personal ID information trackers and delete files forever. The latter makes sure that your files are not recoverable, which is essential when you are heading over the storage to someone else.
The Toolbox offers to manage pop-up notifications for all the browsers in one place. It also includes a list of blocked popup notification if you need to review it. It also includes License keys, which help you collect all software keys and save it in one place. That saves a lot of time if you ever need to reset PC and activated all of them.
Useful Features for Regular Users
Even if you are not technically sound, some of the tools are very useful for everyone. Large Files and Delete Duplicates are two powerful tools you can use to eliminate files that take up too much space. Similarly, the Uninstall option makes sure there are no leftover files on the computer, and any related entry from the registry is also removed.
How is the performance of the PC Cleaner?
Both regular and advanced are smooth on the computer, and they don't slow down the PC. You can keep running the scan in the background while doing the regular work.
The overall experience of PC Helpsoft PC Cleaner is great, and the feature it offers is extraordinary. It's all-in-one useful solution for many things that PC users face daily. The Oneifix button works most of the time, but you can always try the advanced solutions. We recommend you do it with complete awareness, so you know what you are doing.