Talking about Portable Document Format (PDF) files, today's browsers are more than capable of opening them for viewing or sending to the printer. However, challenges arise when you have to edit the PDF's or perform actions such as merging, extracting or converting to other formats.
Although Adobe Acrobat remains the dominant player when it comes to managing the above operations, it comes at a considerable investment. On the other hand, there are equally good adobe acrobat alternatives that you can choose from with much lesser investment and one of the best among them is PDFelement.
PDFelement is a powerful and easy to use PDF tool that helps you to create, organize, and secure your PDF files. Owned by iSkysoft, PDFelement offers flexible pricing, fully-featured modules, and perfect performance. The tool already has several Fortune 500 companies as satisfied customers.
PDFelement – Best Adobe Acrobat alternative
User Interface
The User Interface of PDFelement is among the very best in the industry. You don't need to tickle your brain cells much to get started. The navigation to different features and tabs is simple and straight forward.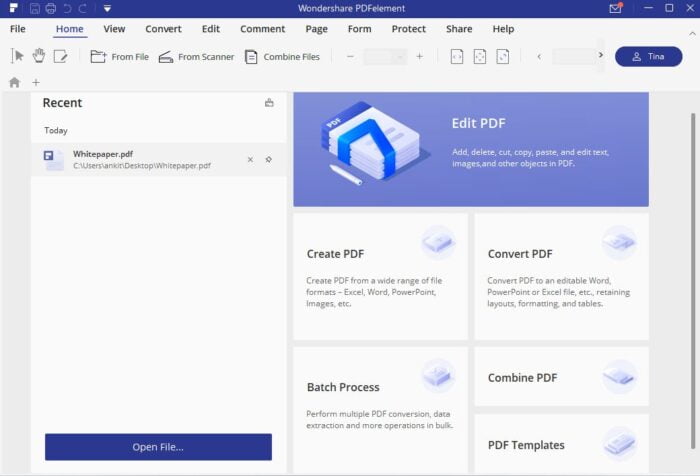 The screenshot above is from the latest version 7.4.5 and it has all the program's main functions on its Home screen in large clickable tiles, namely, Create PDF, Convert PDF, Batch Process, Combine PDF, PDF Templates and more.
You can easily perform tasks such as creating, editing, combining, converting or batch processing PDFs. A separate tile on the left shows you the most recent documents. Also, a big blue button is easily visible on the bottom left-hand side to open documents for processing.
Top of the interface screen reminds you of Microsoft Word and it contains master functions such as File, Home, View, Convert, Edit, Comment, Page, Form, Protect and Share. A second toolbar opens up showing sub-features as soon as you click on any of these.
Features of PDFelement for Windows 11/10

Create, Convert and Combine PDF files
So, lets first talk about the most standard and useful features, i.e Create, Convert and Combine PDF files. PDFelement convert over 300 file formats into professionally-looking PDFs. Some of the popular documents that you can easily convert include,
Office Documents to PDFs
Word to PDF
Excel to PDF
PPT to PDF
iWork Files to PDFs
Convert PDF to pages, PDF to keynotes, and PDF to numbers
Images to PDFs
JPG to PDF
PNG to PDF
BMP to PDF
GIF to PDF and more
Other type files
Print Email to PDF
Convert RTF to PDT
Convert HTML to PDF.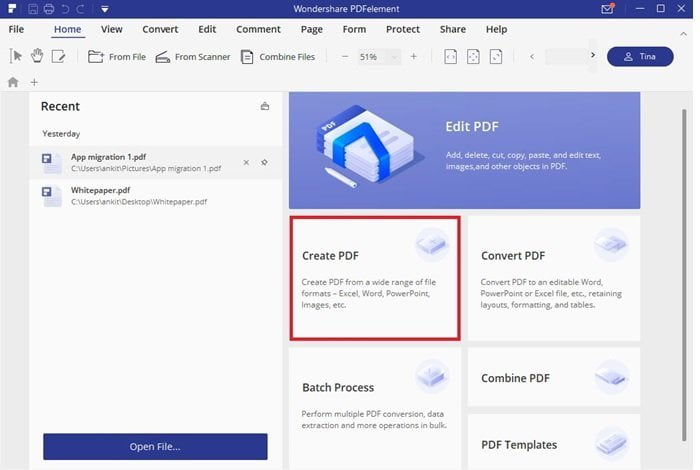 To create/convert PDF, just click on the "Create PDF" / "Convert PDF" tab and select the file format.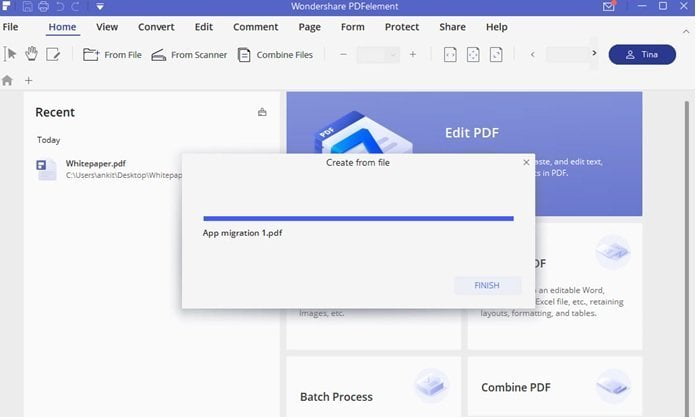 Combining PDFs is even easier, you can merge whole files and reorganize pages regardless of the original setting.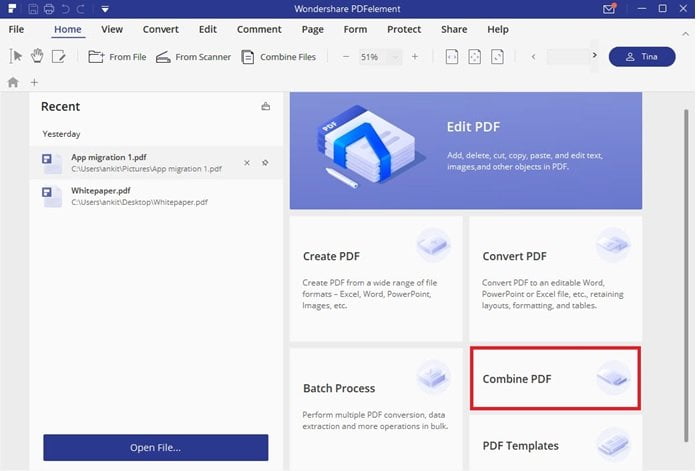 You have the option of batch PDF creation, and the tool easily triggers an easy and convenient indexing method to organize files.
Under Batch Process, you have access to a number of features such as,
Convert
Data Extract
Batch Numbering
Watermark
Optimize
OCR
Encryption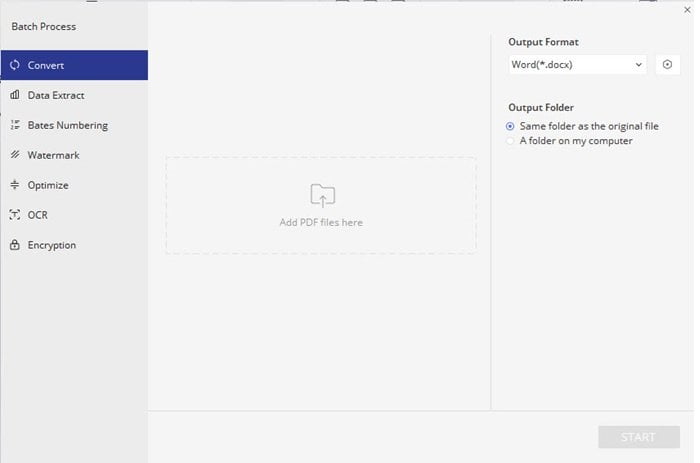 Readymade PDF Templates on Offer
PDFelement offers a readymade library of PDF templates arranged by industry that you can download for instant use. To download or view, click on PDF Templates > choose the template to view or download.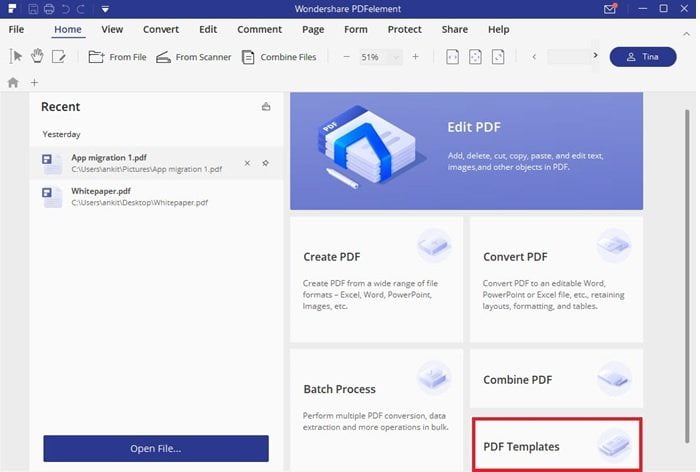 Edit PDFs
PDFelement lets you make documents highly professional and usable. You can edit PDF files, including links, text, images, backgrounds, watermarks, footers, headers among others.
The easiest way to get started is to use the Open File (Blue Tab) to open the PDF you want to edit. Click on "Edit text and image object".

You can edit links, text, images, backgrounds, watermarks, footers, headers among others.
Robust editing and Optical Character Recognition (OCR)
Using PDFelement you can adjust anything from fonts to styles without upsetting the original formatting of the document. You can also edit scanned files, using the system's Optical Character Recognition (OCR) which makes documents searchable and selectable in more than 20 languages. You also have access to correct small mistakes and typos.
For scanned documents, where data extraction is not possible, OCR technology from PDFelement can help to eliminate manual work and analyze the data from their files at their original form.  All custom field data on your scanned docs can be extracted easily.
Create and fill PDF Forms
With PDFelement you can easily fill forms without altering the overall layout of the file. This is important for your bank forms and other legal requirements. Key features include,
Easily create and fill PDF forms
Import and Extract PDF Forms Data freely
Combine multiple files into PDF and split PDF into several files
1. How to fill pdf form?
If your PDF file is with an interative form, it will have blue notification after open your PDF form and you can fill in the blue text field directly.
If your PDF file is with non-interative form, you need to click "Form">"Form Recoginition" to make it fillable. Then, click "Close from Recoginition" to fill in your form directly.
2. How to convert pdf to fillable form?
PDFelement can convert PDF fillable form from word, excel or blank document etc.
To do this, click the "Convert" tab then choose the format to which you wish to convert the file. Default options include MS Word, MS Excel, and MS PowerPoint among others. You can refer to this guide for more information
Comment
With PDFeditor you can comment, mark and highlight documents, add stamps and annotations, and add a familiar set of shapes and arrows to distinguish a document.
Create Fillable Form
PDFelement gives you the chance to create your own forms with buttons, checkboxes, and text fields, but also makes sure you will have a list of premade templates by hand to facilitate this process. On top of that, this system makes it possible to turn scanned documents into operable and fillable files which you can then export in the preferred format.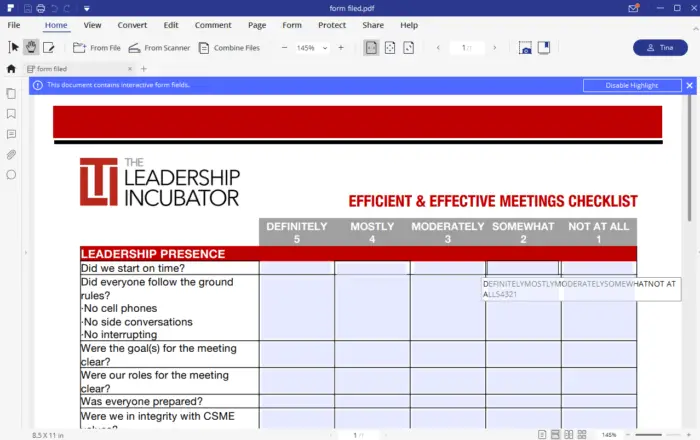 Updated Features
PDFelement improved their user interface, making it more minimalist that's easy to use even for novice users. In addition, its writing and editing tools are user-friendly so you can quickly create your documents. Converting PDF to office files is also streamlined by retaining layout, formatting, and tables. Its intuitive user management console simplifies provisioning, monitoring and managing licenses across teams and groups. In turn, team collaboration is further improved with tools for commenting and markup
Subscription
You can choose a subscription plan between PDFlelement and PDFelement Pro. While PDFelement is the starting plan billed yearly at $69, it offers basic features like view and read, review and markup, edit, fill out PDF forms, convert and export. PDFelement Pro though is the real deal.
PDFelement Pro offers PDFelement features plus OCR Function, Batch Process, Support PDF/A, Redact PDF, Data extraction, Create Fillable Forms and PDF compression. It cost $89, just $20 more than PDFelement.
If you are looking to use this tool for the team then the company is offering custom pricing for 20+ users.
To make the purchase, visit the product page at pdf.iskysoft.com.
The company is also offering an Education discount for students and teachers.
Conclusion
PDFelement is a great adobe acrobat alternative and is simple, easy to use and fully loaded with features. It gives you full control over your PDF content and a suite of almost unlimited transformation possibilities. It works extremely well and at the same time provides everything that the expensive Adobe does.
Highly recommended!
PDF Editing Functionalities -

90%

File format Support -

90%

Data & privacy -

90%

Encryption -

95%

OCR & PDF Optimzation -

95%