A new player on the block is the new HP Spectre x360 13! Not only it boasts of the new borderless display, but it has several new features that make it the finest laptops of its genre.
HP Spectre x360 13″ laptop features & specs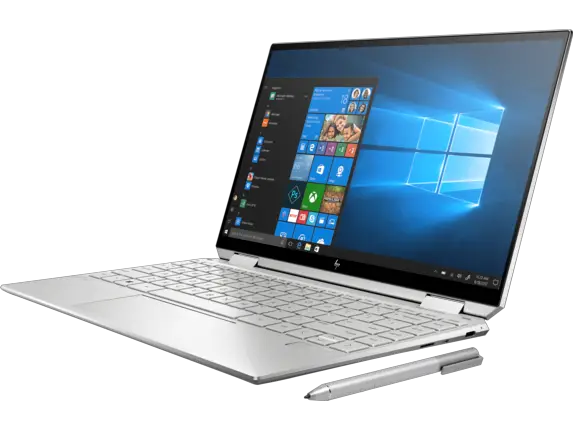 HP Spectre x360 was launched previously a few years back. Now HP has launched the convertible with stunning gem cut design. Though the size of the new HP Spectre x360 13 is smaller than its predecessor, it is packed with a lot of other interesting features. Let's look at a few of these features.
Borderless display: HP Spectre can be called as the world's smallest convertible with 90% screen-to-body-ratio. It boasts of big power, great performance in a small and sleek package. The AMOLED display comes with a protective layer of Corning Gorilla Glass NBT.
22 hours of long battery life: HP Spectre certainly outperforms others with the help of its 22 hours long battery life. The laptop comes with a 4-cell, 60Whr battery.
Sturdy hinges: HP Spectre x360 13 laptop comes with a steadfast hinge built to stay in any position that the user puts in it.
Gem cut design: The new design makes the laptop look stunning and stand out.
Other specifications of HP Spectre x360 are as follows:
Two USB 3.1 Gen 2 Type-C ports with Thunderbolt 3
DisplayPort 1.4
USB 3.1 Gen 1 Type-A port
Headphone and microphone combo
HDMI 2.0 port
MicroSD card slot.
Not all laptops and desktop devices of today's generation are equipped with built-in security measures. Most of the laptops ask you to install some or other security applications or software. But cybersecurity takes center stage in HP Spectre.
What makes HP Spectre x360 13 stand apart is its commitment to cybersecurity. It has partnered with market leaders in their respective fields, viz ExpressVPN, a VPN provider, and LastPass, a password manager. Both ExpressVPN and LastPass software are pre-installed on the HP Spectre laptop and come with a 30-day free trial.
How does a VPN help protect your data?
Since this VPN software is a part of HP Spectre, it is important to know how ExpressVPN can offer security for your PC.
It hides your IP and location
It encrypts your connection
It encrypts your communications
You can watch content from anywhere
You can watch your favorite content
You can avoid unwanted spying as it offers no surveillance feature.
How does a Password Manager help in security?
LastPass is a password manager that stores your password. Thus, you don't have to remember it or even save it on your PC.
Other features that empower the laptop for cybersecurity
A tiny camera that comes with a switch: Since this convertible is made with a smaller size, to offer a better and larger view, it comes with a very tiny camera. Unlike any other laptop in the world, HP Spectre has the tiniest 2.2mm web camera. Besides, it also comes with a physical switch, known as Webcam Kill Switch, that lets the user know clearly whether the webcam is ON or OFF. Peace of mind, for sure!
Mic mute shortcut key: Now no need to look for a mute button on the screen with an HP Spectre x360 13 laptop. The shortcut key is right in front of you (F12), which mutes the mic with just one press of the key. This also helps in protecting your privacy during an online conversation.
Windows Hello for authentication: HP Spectre x360 13 offers Windows Hello, a biometric-based authentication technology. The laptop also comes with an IR camera for dual authentication, making it highly secure for its users.
Final verdict for HP Spectre x360 13
It seems that HP Spectre x360 13 has undergone quite amazing changes since its last launch. So far, the features look impressive, and the laptop looks perfect for those who want to own a convertible. Moreover, the fact that it comes pre-installed with a VPN and a password manager makes it even more attractive. The only issue users may find that it is slightly overpriced. Besides that, it looks like a perfect choice for those who own it.