Businesses need a complete overview and analytical viewpoint of their data to stay relevant and ahead of the competition. This requires BI tools. Many tools are available for businesses, but Qlik Sense is one of the best Business Intelligence [BI] platforms available for for complex projects.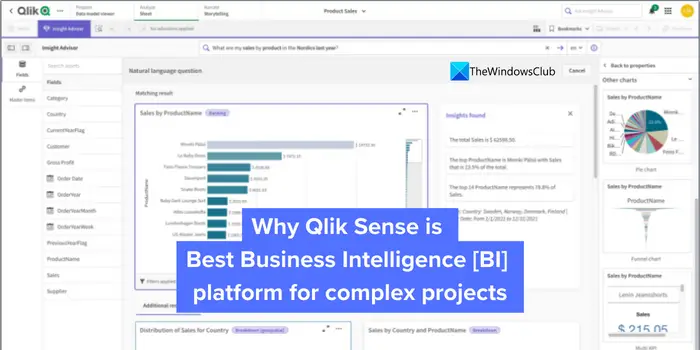 What is Business Intelligence and its need in Complex projects?
Each business has some data and employees to process and make reports. The reports might be inaccurate and biased, which may misguide the management in making decisions. Then arises the need for Business Intelligence.
Business Intelligence (BI) is a process that collects, stores, and analyzes data produced by the activities of a business or company. BI involves data mining, process analysis, performance benchmarking, and detailed analytics of the business. BI helps the management in making decisions with easy-to-understand reports, performance details, and metrics along with the trends in the business.
Software companies provide companies with BI platforms that help them carry out the entire process involved in Business Intelligence and make reports. The key benefits of Business Intelligence platforms in complex projects are:
Track the statuses of each project involved in a complex project
Speed up the processes and improve decision-making by the management.
Enhance the business operations and internal processes.
Increase productivity of the projects.
Find the issues or problems in the project and address them.
Helps align the complex projects with the market trends.
Make strategies to develop business.
Make a mark among the rivals with sales, revenues, and optimizations in various aspects of the business and projects.
Gain competitive intelligence
Qlik Sense is the best Business Intelligence [BI] platform for complex projects
There are many Business Intelligence platforms available to use. Among them, Qlik Sense is the best Business Intelligence (BI) platform for complex projects. Let's see how it is the best and can help you get ahead in the competition.
1] What is Qlik Sense, and what are its features and capabilities?
Qlik Sense is a complete data analytics solution that helps businesses address even the most complex analytics challenges. The open APIs of Qlik Sense enable you to fully customize analytics solutions. It helps you discover data from various sources, analyze it, and visualize it in an easy-to-understand manner. It has many features and capabilities to help businesses get a complete overview of the data and reports. Some of the important features and capabilities of Qlik Sense are:
Associative engine: Qlik Sense stores and analyzes data using an associative engine. The Associative engine makes all the data easily accessible by relating the data to each other and gaining insights from it without the help of a data scientist. It provides you with unmatched power to explore your data, understand, and gain insights. You can make selections freely in any direction in all objects, refine the data, and discover new insights.
Powerful AI: Qlik Sense comes with AI and ML built in it, with a full range of uniquely integrated augmented analytics capabilities that help people who are working with the data regardless of their skills, to gain full potential with the data. With the powerful AI, you can get automated insights, search and natural language interaction, AI-assisted creation and data prep, AutoML, and predictive analytics.
Active Analytics: The data and information available for an organization should be dynamic to the changing needs. It should reflect the current trends. Qlick Sense combines a real-time data pipeline with action-oriented capabilities to provide in-the-moment insights to help take immediate action. The intelligent alerts, powerful collaboration, mobile and embedded analytics, and automated triggering of immediate actions help you seize every opportunity and make the most out of it.
Hybrid Cloud Platform: Qlik Sense has hybrid deployment options when you use a full enterprise SaaS solution. It provides you with fantastic performance and unmatched flexibility to use the platform wherever your data resides. They provide you full control of your data and analytics, supporting any combination of public cloud, private cloud, and on-premises sites.
Smart Visualisations: With the help of Qlik Sense and the pre-built visualizations, you can create stunning and informative dashboards from the data of your business. The visualizations are interactive to help you get more insights from them.
Self-service analytics: With Qlik Sense, you can easily combine, load, visualize, and explore data no matter how big or small the data is. You can search, select, drill down, or zoom out and instantly shift focus on to something that interests you.
Centralized sharing and collaboration: You can easily share and collaborate on analytics with others in the organization with Qlik Sense. It has the capability to help users create and share dashboards, reports, and other analytics.
Data storytelling: Communicating insights with others can be a daunting task. Qlik Sense makes it easy by helping you shape stories with data and tell them to others to make them understand the data and insights.
Embedded analytics: You can embed Qlik Sense with other applications such as CRM and ERP systems to have the data and insights at your convenience and make informed decisions based on the insights.
2] Data privacy and security on Qlik Sense
Along with data analytics and business intelligence capabilities, Qlik Sense has robust data privacy and security features. All the data is safeguarded with authentication, encryption, public and private sharing modes, virtual private cloud, and subnets with real-time vulnerability monitoring.
Qlick, the parent company of Qlik Sense, follows security and privacy by design and development to align with the latest data protection and privacy laws around the world, such as GDPR. It also partners with cloud data platforms such as Snowflake to give full data protection from ingestion to consumption.
3] Qlik Sense Plans and Pricing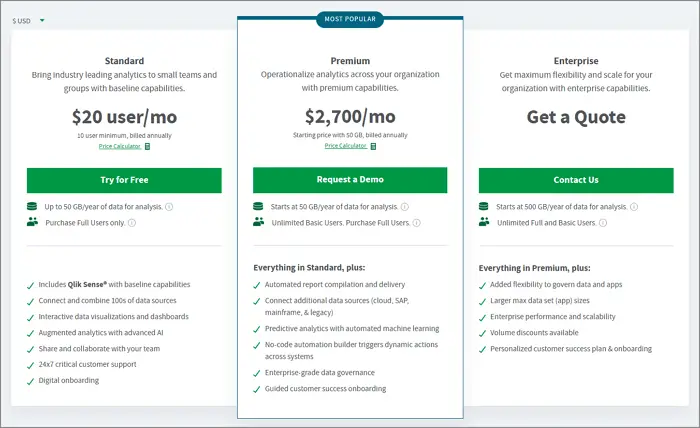 Qlik Sense has three plans to use the platform for your Business Intelligence. All the plans have to be paid annually.  They are:
Standard: The standard plan of Qlik Sense is suitable for small teams and groups with baseline capabilities. You can buy it at $20 per month per user, which is billed annually. You need to have at least 10 users to buy the plan. In the standard plan, you get up to 50 GB per year of data for analysis. You will get all the features and capabilities mentioned above along with 24×7 critical customer support. This plan only supports Full users who have complete capabilities to create and manage analyses and visualizations. You can try the Standard plan for free.
Premium: This plan is suitable for big organizations that need premium capabilities like automated report compilation and delivery, connecting additional data sources, predictive analytics with automated machine learning, no code automation builder, enterprise-grade data governance, etc. along with the standard features. You can have unlimited Full users and Basic users at a pricing of $2700 per month billed annually. You can request a demo of the premium plan before buying the plan.
Enterprise: The enterprise plan gives abundant flexibility and scalability for your organization with enterprise capabilities along with everything in the premium plan. The plan starts at 500 GB per year of data for analysis with unlimited full and basic users. For the pricing of the enterprise plan, you need to contact the Qlik Sense sales team to get a quote based on your needs.
Why do Enterprises choose Qlik Sense over other BI platforms?
Qlik Sense is a well-equipped business intelligence platform with superb capabilities supported by powerful AI and ML tools. Enterprises using Qlik Sense get insights from the data quickly and make better decisions in less time, gaining an advantage over the competitors. Enterprises can identify trends and patterns in the data and improve business outcomes, addressing the concerns the data points to.
With Qlik Sense, enterprises can automate tasks and streamline processes, which gives free time for the employees to focus on strategies and important tasks. Every enterprise seeks to cut costs and gain value, which Qlik Sense delivers by cutting the costs enterprises use on buying expensive third-party data analysis tools.