Apple's iTunes lets you create a local back of your iPhone/iPad to your Windows 10 PC. To make sure the backup is secure, you can choose to encrypt it and lock it with a password. Now it may so happen, that you may forget your password, and according to Apple, these passwords can never be recovered anyway. This is a huge problem.
Though you can keep on taking backup and even sync your Apple device like you always do, you cannot restore it from if you have forgotten the password. You should know that even if you switch to a different computer, the password is still asked. It seems Apple saves these password into the device making it even tougher to crack.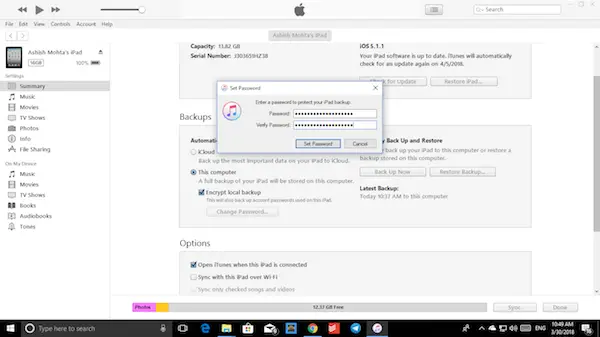 Recover forgotten iTunes Backup Password
This is where iTunesKey software comes into play. It can recover the password for you without modifying the backup files or damaging them. However, it will take a lot of time to crack it, and if you have a powerful PC with a great graphics card, you can crack it even faster. It took hours for me to crack the password on my Windows PC which doesn't have a graphics card. If you have a Graphics Card, you can adjust the GPU Timeout to optimize the process.
Locate the Backup of iTunes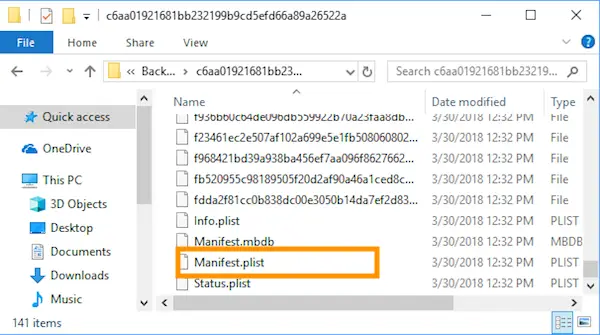 The first thing you need to do is to locate the iTunes Backup file.
Open Run prompt by pressing Win+R
Type %appdata%
Then navigate to Apple Computer > MobileSync > Backup.
Here you will see a folder with a random name consisting of alphabets and number.
Open it and there should be a file named as Manifest.plist.
Next, install iTunesKey
Download and install iTunesKey on your Windows PC.
Launch it, and you will get an interface where it asked you to select iTunes Backup File.
Choose the Manifest.plist from the above location.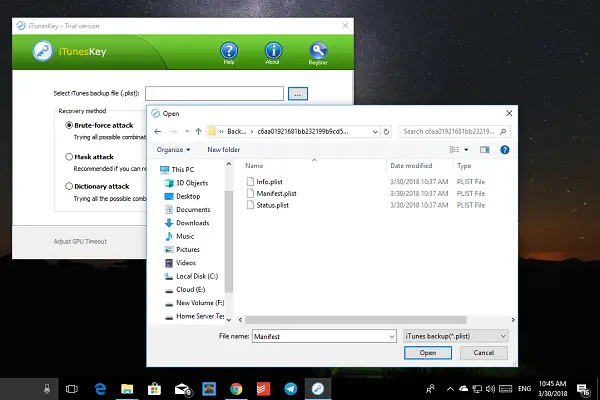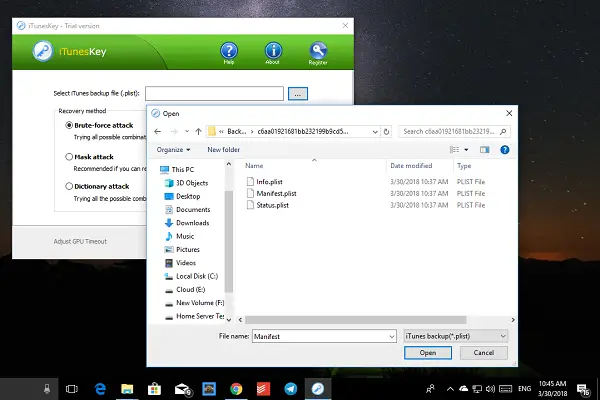 The next screen offers you three types of attack to reveal the password.
Brute Force
Mass Attack
Dictionary Attack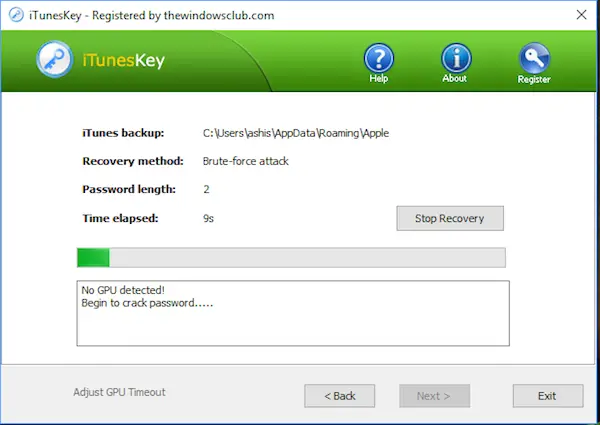 I am sure you must be knowing a bit of the password, you may have to choose accordingly. For example, if you use Mass Attack, you can specify whatever you remember, and also provide what other characters that need to be checked.
Similarly, if you have used a dictionary word to protect your backup, use the third option. If you select Dictionary attack, you need to specify a good dictionary for a successful recovery. Generally, Dictionary attack succeed because many people have a tendency to choose passwords which are short, single words in a dictionary, or easily-predicted variations on words. You can use either default dictionary or your own ones.
However, the Brute attack will take a lot of time because it tries every possible combination, and you really need a powerful PC to get this done. According to the developer, it attempts all possible combinations of passwords until the correct password is found. The password recovery engine is highly optimized, thus short password can be recovered immediately.
Once done, it will reveal the password to you.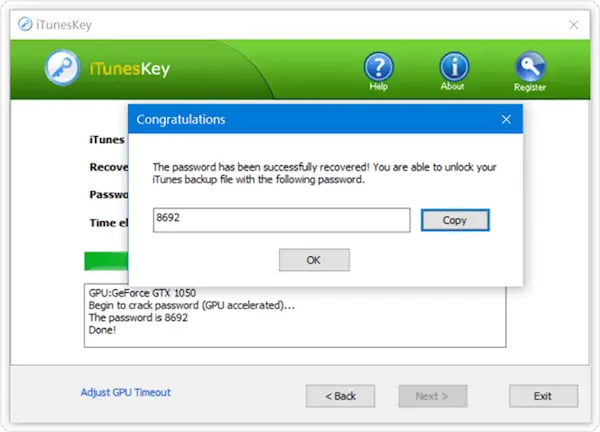 Key Features of iTunesKey
Recover passwords for Apple iPhone and iPad backup files.
Recover access to your calendar events, contacts, photos, videos, SMS messages from your encrypted iPhone/iPad/iPod backup.
Supports all versions of iTunes including iTunes 12.
Automatically detect NVIDIA and ATI GPU cards available to accelerate password recovery by up to 50 times.
Support iTunes backup for iPhone 7 / 7 Plus, iPhone 6 / 6S, iPhone 6 Plus / 6S Plus, iPhone 5s, iPhone 5, iPhone 5c, iPhone 4s / 4, iPhone 3GS / 3G, iPod, iPad.
That said, iTunesKey doesn't come free. The software will cost you USD 20, but its worth if you want to keep restoring your Apple device from a backup.
To know if this works, you can download the trial of the software which can Recover only passwords that are less than 4 characters in length. So you can set 4 character password which you don't forget, and see if it can crack open it.