Is your iPhone bricked? By bricked I mean is it not turning on? A lot of people face this issue with almost all kinds of devices. There could be numerous reasons why it is not turning on. One of the obvious reasons being you might have dropped it in water. Or you have dropped it, and the device is carrying some hardware damages. Well for obvious reasons you won't be able to repair a hardware-damaged phone at home.
My iPhone won't turn on
But if your device suddenly stopped working out of blues, then this is probably a software issue. And software issues can be resolved at home by using a proper tool. This review talks about a life saver which can resolve issues with an iOS device that won't turn on at all. It will help you to get rid of my iPhone won't turn on. The tool is called dr.fone – Repair. The tool is the part of dr.fone – iOS Toolkit and can help you fix issues such as black screen, white apple logo, looping on start, etc. It works with all models of iPhone and iPad and supports iOS 12 Beta.
dr.fone – Repair Review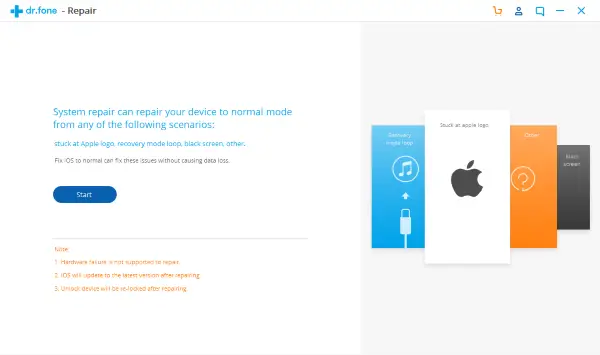 If your iPhone is not responding or turning on, then this is probably one of the best tools to fix it. The tool guarantees that during the recovery process, none of your data will be lost. Your phone will be fixed, and it will have the same data that it had earlier. If you are a type of person who forgets to take backups frequently and now if the phone is stuck, you can avoid all of the trouble by using dr.fone – Repair.
The tool itself is quite simple and easy to use. All you need to do is get your iOS device connected to your computer and start the dr.fone application. Make sure you have enough battery on your device before starting with any of the recovery processes. Once everything is connected, hit the Start button and you are good to go.
As per the recovery process, the program might download additional files. So, make sure you have an active internet connection while your iPhone is being repaired.
The tool is remedial in various situation, some of them are listed as below:
Device stuck in recovery mode
The device cannot get out of DFU mode
Screen turns into white Apple logo screen/white screen of death
Stuck on black/red/blue screen
Device restarting endlessly
Frozen device (unresponsive)
Device stuck on lock screen
Device looping endlessly on Apple Logo
Similar other situations
If you ever ran into one of these situations, dr.fone – Repair has got your back. The tool will only fix your iOS system issues and will not touch existing data on the device. So, you can take your phone through the recovery process very easily and without the risk of losing your data. This thing is unique about dr.fone – Repair. What most of the other tools would do is reset everything and give your phone a fresh start which means you lose all of the data.
The tool is best suited for situations when the iPhone won't turn on at all. This is a major problem and has been previously faced by a lot of users. Obviously, before using any tool you must try hard resetting your device. And that can be done by pressing a combination of buttons on your device. If you are not able to start your phone then you can easily take help of d.fone – Repair. The tool has been designed to handle all such scenarios and can help you bring your phone back. Click here to read about what you can do if your iPhone won't turn on at all.
dr.fone – Repair is for sure a great recovery solution for iOS users. Also, the entire iOS toolkit has some wonderful utilities that can help you manage your iPhone and perform day to day tasks well on your Windows PC. Before using any module, make sure you have iTunes installed on your computer.
The tool is priced around $59.95, but if you are looking to purchase the entire toolkit, you can get it around for $99.95 which is a huge discount. The toolkit includes some other iOS compatible utilities such as Backup and Restore, Transfer, Unlock, Erase and Switch.
Dr.fone - Repair -
Free to Try
Software Performance -

95%

Navigation & UI -

92%

Recovery Quality -

92%

Data Protection & Privacy -

92%

Processing Time -

95%