If you have ever experienced a sudden disk failure or disk error that resulted in data loss, then data recovery software is the only solution. Data recovery software helps you to recover deleted, inaccessible, lost, corrupted, or formatted data. And there are many data recovery software available on the internet. However, today we will talk about the new Remo Recover Windows software – Version 6.0.  It is one of the best solutions available and comes with tons of features that make recovering data easy.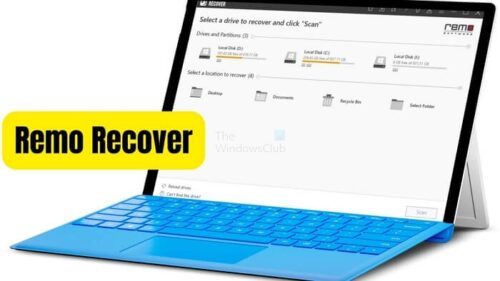 What is Remo Recover?
Remo Recover is a popular data recovery software available for Windows and Mac. It helps you easily recover files from hard drives, memory cards, and other external devices.
It comes with a straightforward user interface which is pretty easy to navigate through and use. So even if you don't have any prior experience with data recovery software, Remo Recover should be easy for you to use.
With Remo Recover, you can recover deleted and lost files from any storage device, be it your computer HDD, SSD, or external devices like a flash drive or external storage.
Also, you can easily restore files from a wide range of data loss scenarios, and it has a great success rate of recovering your lost data. Plus, it is capable enough of recovering files of any file format.
Top Remo Recover Features
1] Recover Deleted Or Lost Files
With Remo Recover, you can easily recover deleted or lost files. If you believe that some files are missing from your drive, you can run a scan for a specific drive or folder to see if you can find the missing files. Or run a complete system check.
2] User-Friendly UI
Remo Recover comes with the most straightforward user interface among other data recovery software. It has a three-step process that lets you recover data with ease. All you have to do is select a drive and scan. Furthermore, you can also search for data using a variety of tags like file name, author name, and so on. You also get a preview of what files you are recovering at a glance, which can be a time-saving feature.
3] Multiple File Formats & File System Supported
With Remo Recover, you can identify and recover many file formats. It claims to support up to 500+ file types, and they rightly do so. You can use it to recover any files, be it docs, Excel files, PDF files, PSD files, RAW photos, and many more.
Apart from files, it also supports a wide range of file systems. So, you can easily recover data from file systems like FAT32, EXFAT, NTFS, and more. It can also recover data from external or internal drives like HDD, SSD, USB flash drives, SD cards, and many more.
4] Deep Scan Technology
This tool comes with lots of technology that helps you to perform data recovery at a deeper level. It comes with a deep scan technology that can effectively recover data from any data loss scenarios.
Also, its algorithm scans any drive sector by sector for data recovery. As a result, it can recover data from an unbootable drive, formatted drives, unrecognized USB drives, and so on.
5] iDS Technology
It comes with the iDS (Instant Data Sort) technology, and this is what sets Remo recover apart from its competitors. In comparison, its competitors cannot show file details until the drive scan is completed. Remo Recover instantly sorts the file and makes them readily available for you to recover before the scan is completed.
However, as the scan progresses, it organizes your data in the folder structure hierarchy. So, you can easily find your data and recover them.
6] Dynamic Data Recovery
This feature helps you to see what data is being recovered on the go. You can also preview and save the file while the scan is in progress.
7] Preview
In the latest version, the tool has upgraded its Preview function. Previously, this feature used to allow users to preview only recovered photos and videos. Now, with this upgraded version, users can freely preview a wide range of files. Such as photos, videos, audio files, raw-images, Word documents, excel files, PPT files, and many more.
Remo Recover Pricing
Regarding pricing, Remo Recover offers you a free recovery plan for up to 1GB of data. It should be enough for you to try out the tool and see if it is any help to you.
If you want to go for a paid plan, it offers you three different price models, including one month, six months, and a Lifetime license. These plans are priced at $69.97, $79.97, and $199.97, respectively.
How To Use Remo Recover For Data Recovery?
Remo Recover is pretty straightforward to use. However, before we discuss the steps, ensure you have purchased and installed the software on your Windows or Mac computer.
Once done, follow the below steps:
Launch Remo Recover from your computer, which will scan and list all the hard drive partitions.
Over here, select a drive or folder and click on the Scan button, and it will start a scan.
You can click on the Dynamic recovery view to preview your files immediately.
Now select the files you wish to recover, click on the Recover button, and then select a location, and you are good to go.
How is Remo Recover better than its alternatives?
Remo Recover isn't the only data recovery software out there. There are EaseUs, Recuva, and others alike. However, what sets Remo Software apart is its features.
First, it is backed by research and development and comes with powerful recovery features like dynamic data recovery, iDS or instant data sort technology, and intelligent AI filters.
As a result, Remo Recover can recover almost all the file types from different systems. It can also recover data from corrupted or inaccessible drives, which most other tools can't do. Even Remo Recover can recover data from deleted partitions.
Furthermore, it can recover in scenarios like a computer virus or malware causing file detection, unexpected power off or abrupt system termination, and more.
Conclusion
So that was a quick Remo Recover review. It is a pretty great tool when it comes to recovering deleted or missing data. It is super easy to use and has tons of advanced features that make this tool far better than most options on the internet. So, go ahead and try this tool and see how it works for you.
FREQUENTLY ASKED QUESTIONS
Is REMO Recover software Safe?
Yes, Remo Recover software is safe to use. It does not modify any files on your PC. Instead, it recovers what has been deleted or went missing from your computer. Also, it does not come with any malware or viruses or force you to install third-party applications on your computer.
Is Remo Recover free?
Yes, Remo Recover is free to use and also there is a free version which can recover 1GB of data.  You can download the main version of the software free of cost and use it to view your deleted and missing files. But if you wish to recover and save your deleted data, you will need a paid license.
How can I know the Remo Recover software has recovered my data in healthy state?
Remo Recover software works with read-only mode interface to recover your deleted or lost files with no alteration. Moreover, you can double-click on any recovered document, photo, video, PPT, excel or any other file to preview it for free. This will allow you to verify the recovery result before saving them to your desired location.
Remo Recover
Functionality and UI -

98%

Recovery Depth -

98%

Heterogeneous File Format Support -

98%

Recovery Speed & Pricing -

97%