In the recent past, DVD has lost its charm from being the go-to entertainment device to not-so-preferred means of home entertainment. However, it's still pretty successful in keeping millions of people interested. There is that clan of people who like to make a library of favorite movies and TV serials to enjoy than on a more conventional way to feel the nostalgia.
Unfortunately, Windows system is not loaded with any software that makes ripping MP3s or DVDs possible. Even the most recent version of Windows 10 doesn't carry any inbuilt tool to play and rip DVDs singlehandedly. The Internet offers loads of free products that promise to do the job for you, but they simply don't do that the way you like them to function. These free products mostly waste your time and energy with their horrible speed.
Fortunately, there is something better waiting for you, and it is certainly the WinX DVD Ripper Platinum. This is an effective DVD tool that offers a fast, reliable and simple way to rip DVDs. The latest version even is paired with technology to support advanced processors and GPUs along with tools to deal with the most challenging ripping part which is 99-title DVDs.
WinX DVD Ripper Platinum review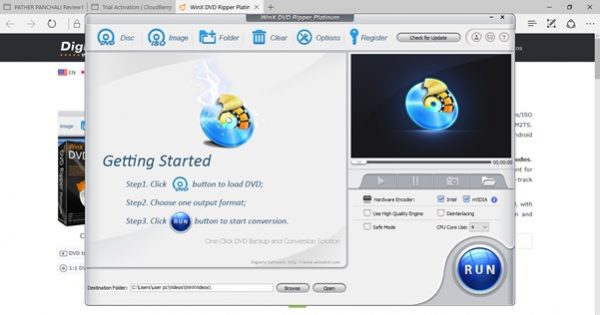 WinX DVD Ripper Platinum is a Windows-based software which enables you to rip any DVDs and ISO images to the hard disk of your device. Using this software you can rip the content of the DVD to MP4, H.264, MPEG, AVI, WMV, MOV and M2TS format. This software converts data in a way that can be run on Apple (iPhone, Apple TV, iPad, iTunes), Microsoft (Windows Phone, Surface, Xbox), Android (Samsung, Kindle, Nexus), Sony and many others.
WinX DVD Ripper Platinum offers best of class digitizing of DVDs
The most challenging part of ripping is the kind of DVDs with a large number of titles like the fitness DVDs. Such DVDs come in complex structures to give viewers opulent scope to choose their workout sessions. DVD with multiple titles is another way of making the ripping task harder for the people who want to enjoy the fruit without paying the cost. Therefore, it is a headache for you to back up your workout DVDs legitimately.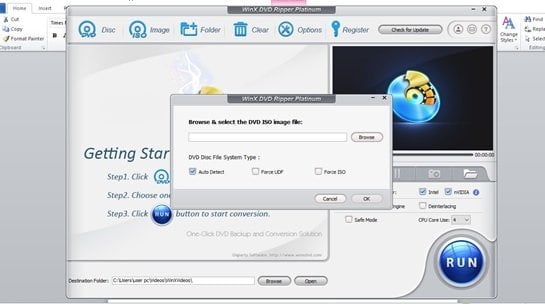 To solve this eternal ripping problem, WinX DVD Ripper Platinum is here. The software offers an effective remedy to the problem by analyzing the disk content and then judiciously sorting out the important titles for the conversion. In most of the cases, there is no need to search rigorously and then selecting titles/soundtracks manually. You just need to insert the disk and then to click on the DVD icon. Now you have to choose an output profile for the device that you want to carry and play the ripped contents. It takes about a minute from choosing the disk to initiating the ripping. It is also possible to rip discs with ISO 9600 and non-UDF formats with WinX DVD Ripper Platinum in your hand.
Higher DVD Ripping Speed
The speed of conversion process is way faster than any other DVD ripping software available in the market. Backed by revolutionary hardware acceleration technology, this tool can make good use of Intel Quick Sync Video (QSV) and NVidia NVENC. QSV speeds up the process of video encoding and decoding by using the dedicated processing power on Intel CPUs. Version built into Skylake and Kaby Lake Processors enable PCs with a 32x DVD drive to rip a whole movie in just 4-5 minutes. In spite of higher ripping speed, it doesn't compromise on the image or sound quality. Loaded with High-Quality Engine and Yadif Double Frames De-interlacing Engine, WinX DVD Ripper Platinum ensures that video quality remains impressive on your smartphone or even on a 4K TV or a 1080p device.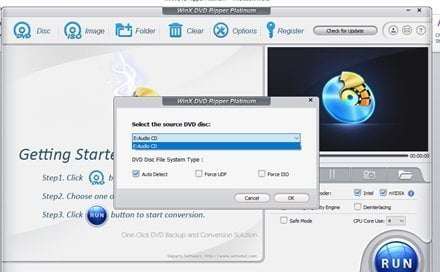 Additional Features
Apart from high ripping speed and user-friendly interface, there are the lot more to explore with WinX DVD Ripper Platinum. This tool comes with unparalleled control options to offer more customized DVD ripping experience. The user can choose the titles which he wishes to convert or copy. It is also convenient with WinX DVD Ripper Platinum to pick stereo or surround audio streams in DTS or AC3 along with adding subtitles from the available language. The intuitive editing options allow users to crop the image meant for a specific display screen or cut out the unwanted portions or just rip one scene. With WinX DVD Ripper Platinum, you can merge many titles and also turn many videos into just one file. This software also offers backup DVD feature without loss of quality. It includes 1:1 Clone DVD to ISO image and DVD folder, main title content copy plus full title copy and backup DVD to MPEG2 file in just 5 minutes.
WinX DVD Ripper Platinum is certainly the best DVD ripping tool that you can trust to take your ripping DVDs or backing up DVDs experience to the next level without engaging any complicated or tiresome process. Visit WinXDVD.com to download its trial and buy it license.
WinX DVD Ripper Platinum
UI & Navigation -

90%

RIPPER Speed -

90%

File Format Support -

88%

Quality of Output -

90%