RUSVPN or Reliable, Unlimited, Secure VPN is another VPN among so many, but what they bet on, is on their three pillars. The company offers a reliable, unlimited, and secure VPN to cater to general mass than a sophisticated section of consumers. In this post, we will look at all the features they have to offer and why it can be the best choice for consumers.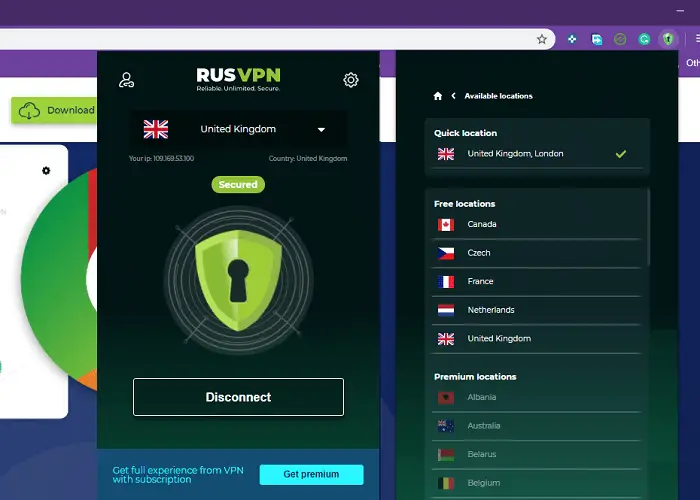 RUSVPN Review
Here we are talking about RUSVPN features and why its the best choice for general consumers. We have talked about the ease of use, servers, logging policy, pricing, and availability of free but limited VPN service.
RusVPN Features
RUSVPN offers all the features that anyone would expect from a VPN service. It includes anonymous browsing; access blocked websites, better streaming service, and secure connection.
1]  Limited Free VPN Service
One of the best ways to try a VPN is through their trial service. While RusVPN doesn't offer on their full-fledged client, it does offer limited free VPN service through Chrome and Firefox extension. It limited in terms of countries, i.e., Canada, Czech, France, Netherlands, and the United Kingdom. You do not need to register to use it. Install the extension, select a server, and you are good to go. Using this, you will have a good idea of its capability and performance.
2] Servers & Anonymity
It offers a total of 338+ VPN servers with 27 in the UK and 42 in the US. None of these servers maintain information logging, which makes them stand any regulations. Even when forced, they will not have anything to give back. They do not log any IP, any data which is sent to the VPN servers are first encrypted on the client-side using 2048-bit encryption and is only decrypted on VPN servers.
They claim that their software is built, so it keeps 5-eye, 9-eye, and 14-eye country list at bay.  They have no obligation to store user activity logs, connection timestamps, IP-addresses, or any other connection data. According to their website, they are under the jurisdiction of the Commonwealth of Dominica. It makes total anonymity and freedom a possibility for all users.
3] Anonymous internet surfing
If you need to often work through Public WiFi, a VPN makes sure you can stay anonymous even if they are not secure. It comes in handy when you need to perform an online transaction. If the connection weren't protected, a man in the middle attack would quickly get all the details, including personal information.
4] Price & Bulk Plans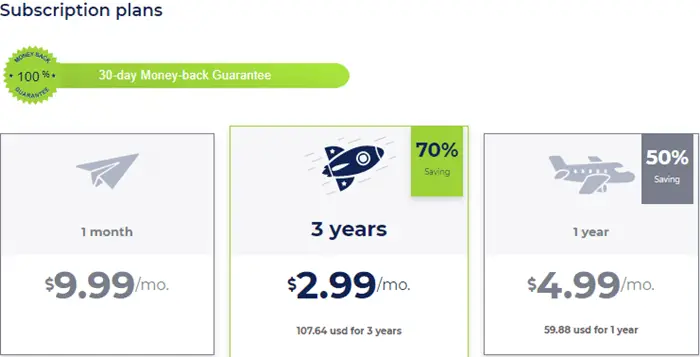 When I said they built to reach more and more people, I was not kidding. You can get it as cheap as $4.99 per month for yearly payment or $2.99 if you buy for three years. Payment is accepted by Visa, PayPal, and even Bitcoin. All this comes with a 30-day money-back guarantee; however, it could be limited, so make sure to get in touch with support to know more about it.
Why is RUSVPN the best choice for general consumers?
1] Available for all devices
The service is available for all types of devices—you name it, we support it what they claim. It offers apps for  Android, iOS, Windows, macOS, Linux, browsers like Chrome and Firefox, and Routers if you want to use it throughout the house. It also offers configurations for OpenVPN, allowing you to browse securely.
2] Unnblocks Websites
Unlike a few VPNs, RusVPN doesn't make a false promise of what it can unblock. It will enable access to restricted content on Netflix, Spotify, BBCiPlayer, YouTube, HBO, and more. Using this feature, you can gain access to full content or anything which is geologically restricted.
3] Save on Digital Buying
One of the best things you can do with RusVPN is buying digital stuff for cheaper. Many websites offer the same content at lower prices compared to the US. Steam is a good example which offers the same deal to other countries for a lot cheaper. An example of it is available on the website where the Assassins Creed Origins in the UK is $ 70.34, but for users from China, this same game costs only $ 39.50. The same applies to Airline tickets, Booking hotels, Car Rentals, and more.
Most of the websites keep[ increase prices if you often visit them, or search for something similar on other websites. They use Super trackers to figure out even if you haven't visited them. RusVPN makes sure that you remain anonymous. You should change countries to find out where the prices are lower.
4] Easy Setup
It offers a straight forward interface that instantly kickstarts as soon as you enter the credentials. If you want, you can also use Chrome and Firefox extensions. Once done, you can then select a location and start surfing. The settings also offer the option to switch protocols (OpenVPN UDP/ TCP, L2TP, PPTP), a kill switch, and so on. The software will automatically switch protocols if it is not able to connect with one.
Overall, RUSVPN does what it says, especially when it comes to unblocking contents that are geographically blocked. Apart from this, you can always access other things. The price is just right, and with the free browser extension, you can try it out as well.