Cloud data-storing applications are the need of the hour. Thanks to corporate and businesses adopting remote work culture, businesses need a secure way to store, share and transfer files. You also want to keep your files on your PC and protect it from cybercriminals. This is where NordLocker comes into the picture. The tool helps you to protect your files by encrypting them. But how good is this tool? Well, let's find this out in this NordLocker review.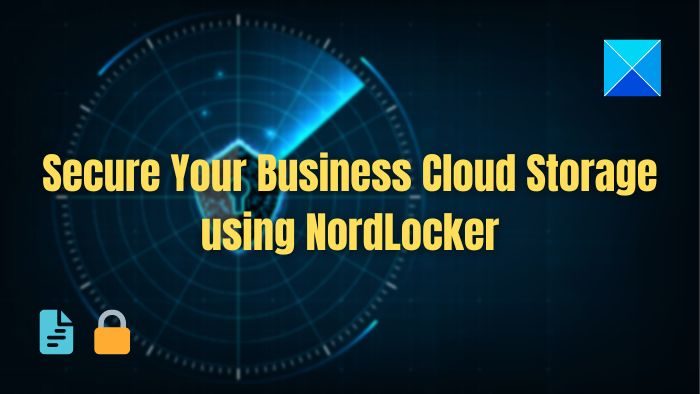 What is NordLocker?
NordLocker is one of the best end-to-end file encryption tools with a private cloud. It helps you to protect your files from cybercriminals and helps you to share your files securely online. With NordLocker, you will get a secure way to back up and access your files via a private vault on the web or through its mobile and desktop apps.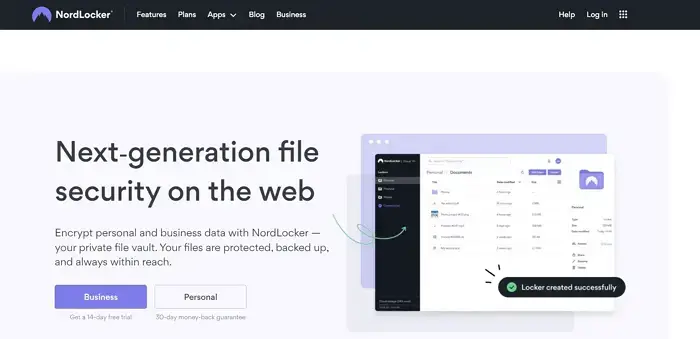 Using the tool is also pretty straightforward. All you have to do is drag and drop your files into NordLocker, and they will get encrypted instantly. Along with that, you will enjoy an easy file management experience.
NordLocker review
Here is the list of essential features of NoirdLocker you should know before starting:
Top-notch privacy
NordLocker comes with zero knowledge architecture meaning that NordLocker cannot access your cloud storage or see what files are encrypted. As a result, you will be the only one with access to your files and know what files are encrypted.
Along with that, make sure your data is hack-proof. It comes with two-factor authentication. So even if someone gets to know your NordLocker keys, they will still need an additional code.
On top of that, NordLocker uses state-of-the-art encryption algorithms to make your data extremely secure. It uses algorithms like AES-256, Argon2, and ECC ciphers.
Offers you secure & easy access
With NordLocker, you will enjoy secure access to your files. You can open and read your files from anywhere. You can use its mobile apps to access and manage your files easily.
Along with that, your files will get synced across platforms. So, for instance, you can save your PDFs while you are at work and read them on your Android tablet when you return home.
Instant encryption with drag & drop
Encrypting your files is as easy as it gets. You must drag and drop your files into the NordLocker, which will get encrypted immediately. Also, when you browse photos or open files directly in the app, your files will remain private to anyone on that device.
Organize your files
You can also organize your files into multiple lockers and folders and store them locally or on the cloud. You get complete freedom of how you want to organize or manage your files.
Store locally without any limits
Not all the files are meant to be stored on the cloud. You also want to keep your files securely stored on your desktop, and for this, NordLocker lets you store your files safely on your computer. As the tool offers you no encryption limits, you can store as many files as you want and store them on your PC only.
Cloud backup
NordLocker also helps you to back up your files on the cloud privately and automatically. So you don't have to worry about losing your data to incidents like file corruption, device damage, data being stolen, or other scenarios.
Offload files
You can also offload files with a space saver. This feature lets you offload your rarely sued files to your private cloud and save space on your devices. Plus, you can always access your files with just a click.
How to use NordLocker?
First, create an account on NordLocker by following the onscreen steps.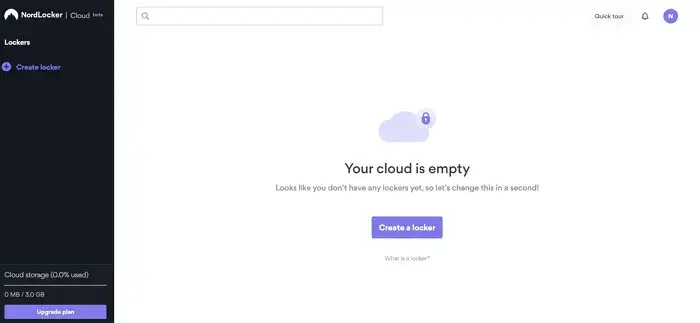 Next, click Create a locker button from the NordLocker dashboard and give it a name.
Once your locker is created, click Upload files and select the files you wish to encrypt.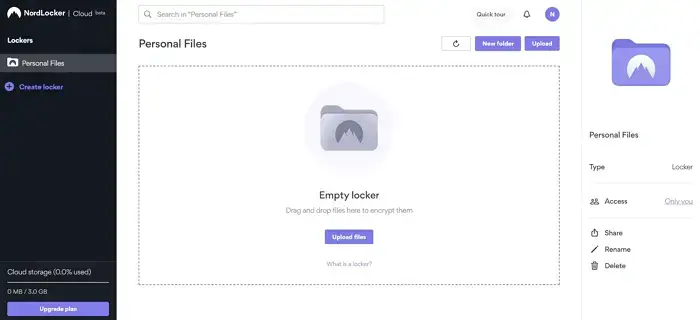 That's it. After uploading your files, you can download them, share a copy with others, etc.
NordLocker pricing
NordLocker has competitive pricing and comes with a free plan as well. However, the free plan is only included with the personal plans. Overall, NordLocker plans are categorized into Business and Personal plans.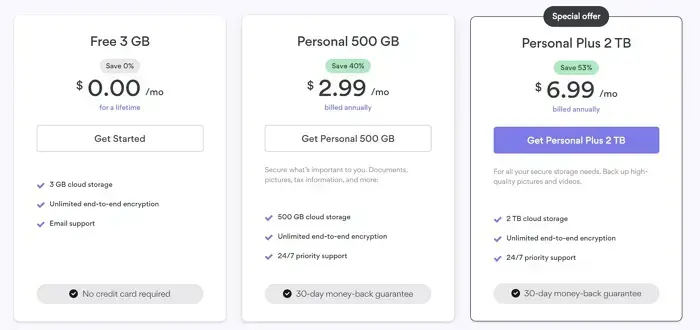 Regarding the business plans, you get two standard plans – Business 500GB and Business Plus 2TB. Both plans offer the same features but different cloud storage limits.
Coming to the Personal plans, you get three different plans – Free 3GB, Personal 500GB, and Personal Plus 2TB. These plans have the same features but different cloud storage limits.
Conclusion
NordLocker is a valuable file encryption tool from which business and personal users can benefit. It is straightforward to use and makes managing files super easy. Also, it comes with competitive pricing and device-oriented apps for easy file encryption and management.