Sidify Music Converter for Spotify is an easy-to-use Windows software that provides several features to allow users to download their favorite songs from Spotify. It removes DRM from Spotify and allows you to download and listen to your favorite songs on other devices and players. You can use it to convert songs to numerous formats such as MP3, AAC, FLAC, WAV, etc. Boasting an exceptional DRM decryption technique, Sidify Music Converter for Spotify is said to be able to convert songs at 5x faster speed. While converting songs, it did seem substantially faster than other Spotify music converters. Moreover, there will be almost no quality loss after the conversion.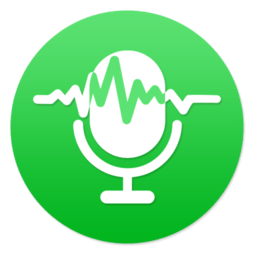 Spotify is undoubtedly one of the most popular music streaming software out there today. It has over a 100 million monthly users on average, and grants access to over 30 million songs. While free users have to wade through ads and browse with limitations, the paid subscriber can peruse the giant catalog and listen to their favorite songs with ease. Being such a popular music streaming platform, many people all over the world have a need to download their favorite songs. Unfortunately, even if you are a paid subscriber, you can only download and play them in Spotify. You cannot listen to your downloaded songs in other MP3 players. This gave rise to the Sidify Music Converter for Spotify.
Sidify Music Converter for Spotify is a Windows software that lets you convert Spotify songs to MP3, AAC, FLAC, WAV audio. But is it one of the best in the market? Read our review and find out below.
Sidify Music Converter for Spotify review
Once you have downloaded this software, click on the setup file to install it. The installation for this software is incredibly easy. It takes only a few seconds to set up, and before you know it, it's ready to go. I was pleasantly surprised to see how fast it was especially on the old laptop that I have.
Interface and Use
The interface of Sidify Music Converter for Spotify is something to fall in love with. It is elegant, very intuitive and exceptionally easy to use.
Once you have launched the software, it's quite easy to get started on the song conversion. Head on over to the top left section of your screen and click on the "+" button and add the songs or playlist you wish to convert from Spotify. Once you have added the songs, click the "OK" button.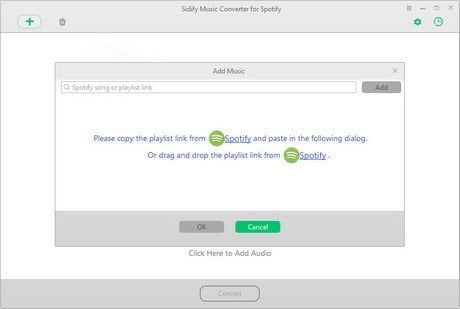 If you wish to change the settings for song formats, click on the settings icon in the top right section of the interface. There you can change the output quality, conversion speed and the format you want the songs converted into.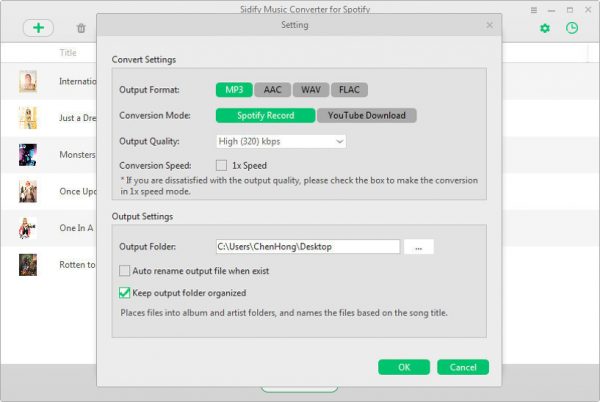 Click the "CONVERT" button and wait a few moments to enjoy your favorite songs. You can view the songs you had previously downloaded by clicking on the history icon placed right next to the settings icon.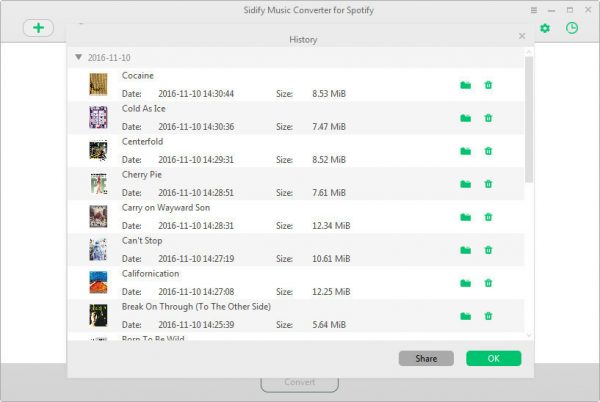 Features
Some of the features available in the Sidify Music Converter for Spotify are:
Convert songs on Spotify to other playable formats such as MP3, FLAC, AAC, WAV, etc. This allows you to play your downloaded songs on other devices such as the iPod, iPhone, Zune, PSP, etc.
It retains the ID3 tags and converts songs at 5x speeds. By retaining ID3 tags, you won't need to go through the extremely time-consuming task of fulfilling the metadata of the songs such as title, artwork, artist info, etc.
Burn music from Spotify to a CD with just one click. You can even share your downloaded songs with friends or family via email.
It is fully compatible with Windows 11/10/8//7/Vista/XP and Mac OS X 10.9-10.12
Bottom Line
Sidify Music Converter for Spotify is a wonderful software to have if you're a fan of Spotify. With its clean and highly intuitive U.I, you will find no trouble in converting and downloading your favorite songs. It is fast, and I didn't see any quality loss in the conversions.
The Windows version allows you to burn your favorite Spotify songs to CD or share them through email in just a single click which is a very convenient option to have.
All in all, it's very effective at what it's supposed to do, and that is to provide a trouble-free and smooth experience converting Spotify songs – and it does just that. I would definitely recommend it for any and all music lovers out there. Go get it from sidify.com.
Sidify Music Converter for Spotify
Speed and Performance -

88%

Easy to Handle -

88%

Audio Editing Quality -

90%

Major Audio File Formats -

88%