Nothing can ruin a perfectly crafted speech like a poorly designed Microsoft PowerPoint presentation. Whether it's lame slide transitions, tacky color schemes, or confusing charts and graphs that you made the night before, even the most well-thought-out presentation can fall on its face. The answer to this problem is not what you might think.
No, you don't have to spend money on design courses to learn how to create effective PowerPoint presentations, you only have to find the right tools to augment the skills that you lack. That's where SlideModel can help.
SlideModel review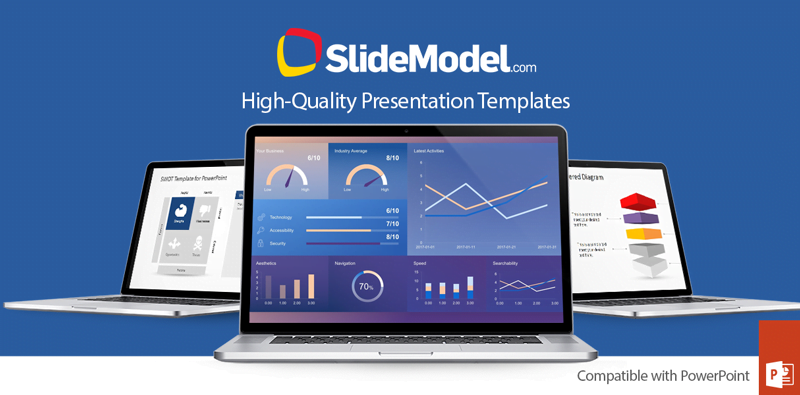 At SlideModel.com, a group of presentation designers has already done the legwork for you by creating professional PowerPoint slide templates that fit most, if not all, pitch/presentation situations.

What templates does SlideModel offer
At SlideModel, they've put a lot of thought into all the different scenarios you could face in your business or workplace. From pitching your services to a new client to sharing data with your coworkers, SlideModel's fully editable and customizable slides can help you impress during your next meeting.

With that in mind, I want to show you some of my favorite PowerPoint templates that SlideModel offers so you can get a good idea of how you could use it for your business/work.
Create memorable presentations. Subscribe to SlideModel.com today using THEWINDOWSCLUB discount code and get a discount during checkout.
PowerPoint Templates For Business
This is probably SlideModel's most popular offering. Most of these templates come with multiple slides with logical and effective progressions for your presentations. This means SlideModel essentially designs not only what each individual slide template looks like, they also give you a great "skeleton" onto which you can build your winning presentation.

Besides their presentation templates, they also have great dashboard templates (in PowerPoint slide form) with which you can efficiently keep track of marketing campaigns or even revenue/expense reports. To use these dashboards, simply input the relevant data into the placeholders on the template and you automatically have a more compelling presentation than if you were to throw an Excel spreadsheet onto a projection screen.

Another great thing about all the templates on SlideModel is that you can check them all out before you buy. There's no paywall to see the rest of the template or "hidden template" sections. You can shop around and truly find the template you will need before you put any money on the table.
SlideModel also offers free PowerPoint Templates!
Other PowerPoint-Relevant Features
Besides the templates, SlideModel offers lots of other well-designed add ons so that you can fully customize your presentation. These add ons can be used in conjunction with their other templates and lots of them even work as standalone slides.

Diagrams
A lot of SlideModel's templates already come equipped with diagrams, but of course not every diagram in a template will be exactly what you need. To fix this problem, the designers at SlideModel have put together a library of diagrams to fit your specific needs.

On their website, you can search by diagram type or by the number of steps you need to illustrate, for instance, if you wanted to outline a launch plan or describe a supply chain. They have just about every diagram you can think of and even some you have probably have never thought to use.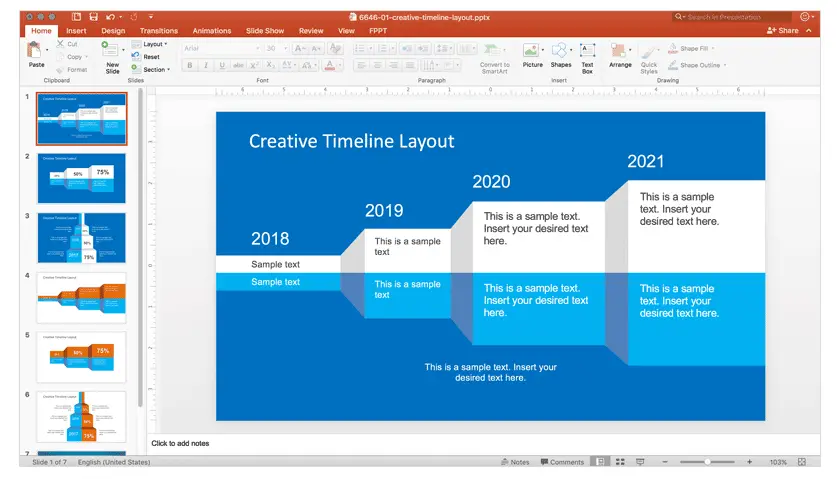 Editable Presentation Maps for PowerPoint
Another cool feature that SlideModel offers is their selection of maps. These are fully editable (like all the templates on the site) and customizable to fit your presentation. I would recommend the maps section to anyone who deals in supply chains or geographically targeted marketing. A map can be very useful for explaining how your supply process works or where your customers are coming from.
Each map is created using smaller vectorial shapes. This means that maps outlines are created based on the inner level pieces. For example, the US Maps is created using the States as composing parts. With this feature you can ungroup the map, and work individually with the state shape, or change the state styles such as colors, shadows and other special effects.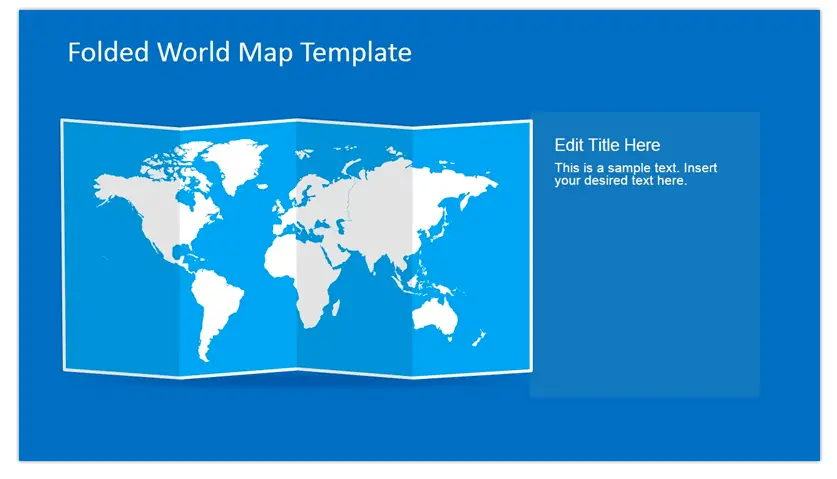 Source: World Map PowerPoint template
PowerPoint Shapes
In my opinion, the real essence of SlideModel is the high level of customization and editing capabilities. With their library of templates, you can really create a presentation that has your unique voice. This is especially true when it comes to their "shapes" section.

A great way to engage an audience is to visually show the things you are trying to explain and SlideModel's shapes do just that. Whether it's cartoon workers or gear shapes to illustrate the "cogs" in your business machine, I really appreciate this section of the site because it brings a little fun into what can be a boring job: designing PowerPoint presentations.
Is SlideModel for you?
While I am a believer in SlideModel's services, there are many of you out there who may not need them. If you are a proficient programmer and graphic designer, you can probably build your own templates with ease.

For everyone else (including me) SlideModel can provide an easy and efficient way to present to your audience. They offer a wide selection of pricing plans for any budget:
1-Day Access –

For a one-time charge, this gives you a full day to browse and download up to five templates.
3-Month Basic –

Billed quarterly, this plan allows for 100 downloads per month and up to 10 per day.
Annual Basic –

Billed yearly, the Annual Basic pan allows for up to 200 downloads a month with a 50 download per day cap.

Annual Unlimited –

If you're a small business owner or if you have employees working for you, this is probably the most cost-effective plan. Billed yearly, the Annual Unlimited plan not only gives you unlimited downloads per day and per month, it also extends the license to up to 10 employees so other members of your team can use the service and collaborate.
As you can see, SlideModel.com offers a plan for virtually any use and different presentation needs. They even have some free templates on their site to get you started. Of you find yourself needing to give presentations regularly, or even one big one every year, it would definitely be worth heading over to SlideModel and checking out what they have to offer.