Presentations end up sitting on a hard drive somewhere, never to see the light of day again. Why is that? It's because most people never learn how to create presentations that make a real impact. Thankfully, there are some simple ways to make your presentation stand out, one of which is using SlideUpLift.
Create powerful PowerPoint Presentations for Business
The most resourceful way is to use readymade templates. Most people usually view PowerPoint presentations in one of two ways: A great tool for communicating ideas or annoyance in business meetings. Most people don't realize that you can actually use PowerPoint to create some amazing, professional, and awe-inspiring presentations. In this article, we have reviewed SlideUpLift. This service offers templates to create presentations for businesses along with an add-in that integrates with PowerPoint.
SlideUpLift Review
The company offers templates designed by business professionals and PowerPoint specialists, and the templates reflect the expertise. Moreover, every template is built on the foundational principles of vision science and storytelling, allowing you to, in turn, create an impact on your audience and get your presentation the attention it truly deserves.
Built for presentation needs for business professionals.
An impressive library of 30,000+ PowerPoint templates.
Attractive infographics.
Compatible with Google Slides and Microsoft Office.
Covers a wide variety of business categories
PowerPoint Themes, Animations, and Graphics
Provide PowerPoint Services:

Convert sketches, whiteboard notes into slides.
Convert PDF, JPEGs into editable slides.
How to use SlideUpLift?
There are two ways to access the templates. The first is by downloading the templates from the website, and the second is by downloading the PowerPoint Add-in. Since most of us would want to download the template while using PowerPoint, the add-in would be more convenient. You can also choose from a large collection of free PowerPoint templates to take care of all your business presentation needs. 
1] Ready-to-use PowerPoint Presentations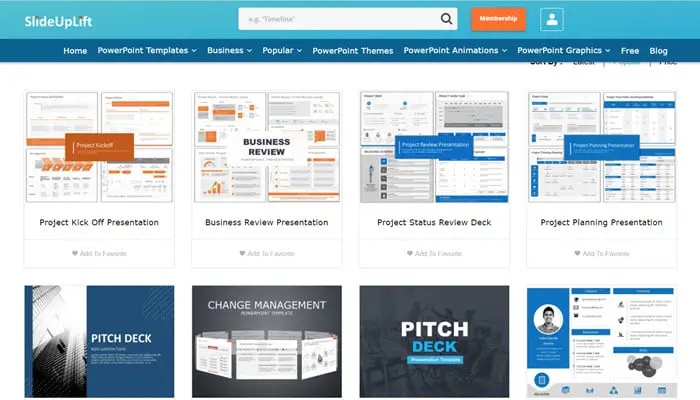 Once you have taken the subscription, you can browse through the entire catalog of templates to find what works best for you, right from animations to themes and graphics. The easy way to get started with SlideUpLift is using the ready-to-use PowerPoint Presentation templates called PowerPoint Themes. These are completely editable themes that can be quickly customized and tailored to your presentation needs. You can select from a host of pre-defined templates, add your branding, and build a presentation with a massive visual boost using impressive data charts and template categories such as startup pitch decks, HR Presentations, Marketing Presentations, Business Planning Presentations, Project Management Presentations, and much more.
2] PowerPoint Add-in
The second and highly efficient way is to use the PowerPoint Add-in. You can search templates available on the website using a sidebar and insert them instantly into your existing PowerPoint presentation. Ensure the source formatting option is enabled if you want to use the PPT in the same format.
3] Free Templates
The last in the section is the free templates. While they may be fewer than the subscription options, the free templates give you a glimpse of what the subscription offers. You can download them and instantly apply them to your existing presentation, saving a lot of time and effort. The free templates library is big enough to cover all your business presentation needs.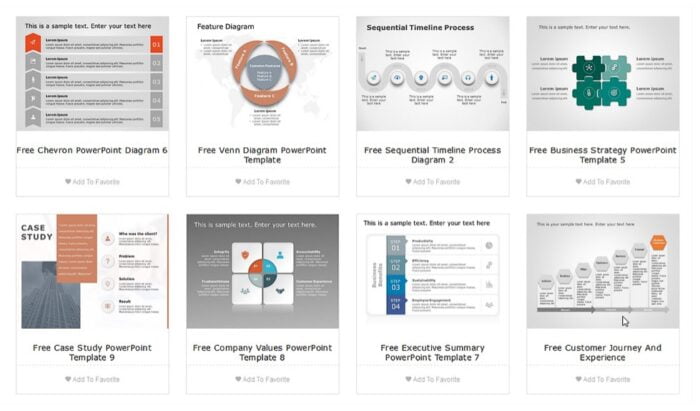 Pricing
Now that you know how effective SlideUpLift can be let us talk about the pricing. You can avail of the service in two ways—by An Add to Cart feature and membership plans. SlideUpLift is the only platform on the market that gives you the provision of buying individual templates. This can be a great place to start with, and if it fits in, you can switch to the most basic plan at a highly affordable price of $9.99. Even this plan gives 6 Month's access to one user to a constantly updated resource of templates. This should be good enough to get you started.
That said, it is important to smartly search based on the keywords of your project to access the templates of your choice easily, and SlideUpLift lets you do just that. You can do a precise search on the website depending on your presentation requirements, ranging from a Business Case to doing a Project Kick off, to preparing a Business Review or even making a Marketing Plan. Their list includes everything from free animated PowerPoint templates to free business PowerPoint templates to free google slides templates and many more. Also, all their templates are compatible with Google Slides, which is highly beneficial for professionals allowing them to create stunning presentations using any device on the go.
Conclusion
Pre-made PowerPoint presentations allow business professionals to save a great deal of time, money, and energy. Most people often question whether purchasing ready-made PowerPoint presentations is really about saving time and money. While this is true, it is not the whole story. What we do not realize is that there is a huge difference between the free PowerPoint presentations on the internet and the professionally designed PowerPoint templates that can be purchased for a small fee. The free templates available on the internet are usually less effective and require more frequent updates. In contrast, the paid templates are typically professionally designed and are also more impactful.
This is where services like SlideUpLift come into the picture. Not only do they have an excellent collection of professional PowerPoint templates, but their templates are much better than the ones offered by other template providers and at highly economical prices, providing you with the best bang for the buck.
UI & Navigation -

90%

Templates Inventory -

90%

Conversion of Other File Format -

90%

Editing Options -

90%