Nowadays, everyone knows the importance of data; still, many people lose data accidentally! Have you ever deleted important videos and photos from your system storage? If yes, then you must have worried about how you can recover those data again on your system, right? It's possible! And today, here you will learn about one of the fantastic recovery tools, which is none other than the popular Stellar Photo Recovery tool.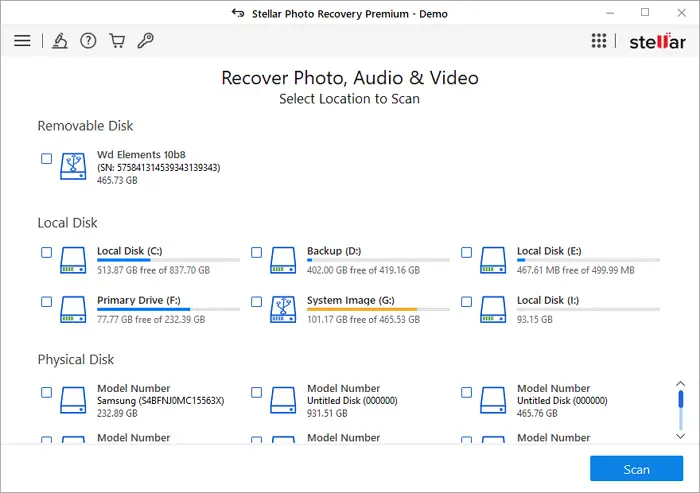 Stellar Photo Recovery Review
When it comes to data loss, it's pretty common among people! If you have never experienced it, then you can consider yourself lucky. Manual data recovery is almost impossible, so if you are in a scenario where you lost your important videos and photos, then good recovery software is the only final option to retrieve your data. Stellar Photo recovery can finish this job effortlessly.
Best Photo Recovery Software for Windows PC
Stellar Photo Recovery tool provides a remarkable set of recovery tools for photographers and videographers. The owner of this tool claims that you can easily recover photos on almost any device. The paid package also gives you the option to repair your corrupted files, which is very useful your videos or photos are damaged due to any reason.
Key Features Overview
Recover Deleted Photos, Videos & Audio Files
Photo Recovery from Encrypted Drives
Disk Imaging for Quick Recovery
Save Scan Information & Resume Recovery
Deep Scan for Better Results
Advanced Photo Recovery
Recovery of Unicode Files
Select Specific File Type or Region for Recovery
Retrieve detailed file information
File Preview with Customized Recovery
Now let's know some of the essential features of the Stellar Photo Recovery Features in detail.
Stellar Photo Recovery Features
No doubt Stellar Photo Recovery is an amazing tool that can easily recover 4k,6k, HD, UHD, or 360-degree videos and photos of any format from any device. Stellar Photo Recovery is one of the reliable and top-rated photo recovery tools thatch has millions of happy customers worldwide; this is a powerful tool that comes with several features like which you will get to know later in this section. Before that, it's important to know why you should use Stellar Photo Recovery? The answer is pretty simple, and here are some valid reasons for you like
User-friendly and fast interface
Ability to recover Raw file formats, specially camera-specific
Within no time, you can recover unlimited photos and video files
You can restore the original media file with a date-time stamp
Recover from corrupt, formatted, or inaccessible drives
Personalized recovery for quick and precise results
Now let's know more details on the features of this Stellar Photo Recovery tool.
You can undoubtedly say the Stellar Photo Recovery tool is an effective Photo recovery tool for all data loss situations. The Stellar Recovery tool is a reliable tool that comes with power-packed features. Let's discuss some of the best features of this tool.
Flawless Photo and Video Recovery capability
Most professional photographers use Stellar Photo Recovery software only because of its impeccable photo and video recovery proficiencies. This tool can easily recover any type of photo file, including RAW photos captured by any device. The good thing is this software can even recover logos, drawings, and illustrations that may have been lost or damaged during editing.
Support Dual Monitor functionality
Stellar Photo Recovery tool supports dual monitor functionality, which assists the users in carrying out multiple computing tasks without changing or minimizing screens. This feature saves huge time and assists users to perform the recovery process more effectively and easily.
Photo Recovery from 4k Drives
The best part of this software is it can effortlessly recovery of photos from advanced 4k drives of all the devices and models, formatted with FAT32, NTFS file, and ExFAT systems. The ability to scan huge files from the storage disk and recover them from accidental deletion or corruption makes this tool outstanding and super beneficial.
Provides smart information of your Storage Drive
Stellar Photo Recovery is an all-in-one recovery tool capable of recovering your important photos and offers SMART information of storage drive. SMART info like the health of the storage device warns you to take timely action before the drive failure and save you from big loss.
Deep Scan for best possible results
In this tool, you will get a quick scan and deep scan feature. If you want the best result, then it's highly recommended to use the Deep Scan feature, which will perform a deep scan of the drive you want to recover and find out each and very lost and detailed data. I personally tried both of these scans and found Deep Scan truly impressive to recover your deleted or corrupted photo files. So I will recommend going with a Deep scan by skipping the initial quick scan for the best result.
Save Scan & resume Recovery later
The good thing about the Stellar Photo Recovery tool is it allows users to stop the scan process anytime in the mid for emergencies, and you can save the scan process and resume it later in your free time. I found this feature very useful during my scanning process.
Drive Image Creation
For me, Drive Image creation is an amazing feature of Stellar Photo Recovery software. This feature usually creates section by section images of the entire storage drive and later uses those images to recover or protect the photos, audio files, and videos anytime.
Repair Corrupt Photos
The professional version of the Stellar Photo Recovery tool provides repair and corrupt photos features that allow users to restore deleted photos and repair corrupted JPG/JPEG and RAW image files captured from any advanced devices.
Stellar Photo Recovery Pros & Cons
Pros 
Simple and easy to use
Very effective in data restores
Compatible with a wide range of cards and cameras along with 4k 8k and VR videos recovery.
Cons
This software doesn't restore the full metadata and real file names.
During the scanning and recovering process, this software may slow down and consume heavy resources of your system.
Free Photo Stellar Recovery Software
Stellar Photo Recover software comes with paid version as well as a free version. The paid version has many advanced features like deleted file recovery, raw recovery support, deep scanning, specific file search, Image creation, preview support. Other key features like save and resume recovery session, File system support, recover file with metadata makes this software outstanding.
When it comes to the free version of Stellar Photo Recovery, users can access basic features. The list includes Restore from corrupt, formatted, and encrypted drives, retrieve deleted photos & videos with the original filename, and recover up to 10 media files free, each less than 25 MB.
You can also get some key features like easy and fast photo recovery, free photo recovery from SD card, preview found photos before saving, recover from BitLocker-encrypted drives, deep Scan for optimum recovery, and Scan now, resume recovery later features on its free version.
Stellar Photo Recovery: Pricing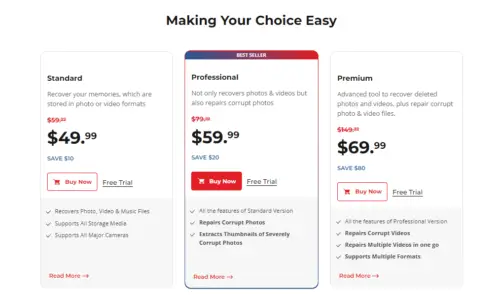 When it comes to the paid version, this software comes with three packages that support both Mac and Windows platforms.
The Standard package costs $49.99/year, and it offers complete recovery abilities, but you can't repair the corrupted files.
The Professional package costs $59.99/year, and it provides total recovery capacity, and repairs corrupted photos files.
The Premium package costs $69.99/year, and it offers complete recovery ability and repair corrupted files and repair corrupted video files.
Now the question is, which one should you go for?
If you are looking to recover deleted files, the standard package is more than enough for you. If you want to recover corrupted image files, then the professional package is a must for you. Last but not least, if you need to recover both corrupted video images files, the Premium version is the ultimate choice for you. Grab the best package according to your need and requirements.
Using Stellar Photo Recovery: A simple, three-step process
Using Stellar Photo Recovery is super easy. Once you have completed the download of this software on your computer, you will need to follow three simple steps. Follow the given steps below to use this tool effectively.
Step 1. Select and Scan the Drive from which you want to recover:
After installing the software, when you first open the Stellar Photo Recovery tool, you will find a list of all accessible drives with a checkmark next to the location you need to recover files. To save time on the scan, it's highly recommended to check only the precise drive/memory card on which files originally existed. Then enter the Scan button.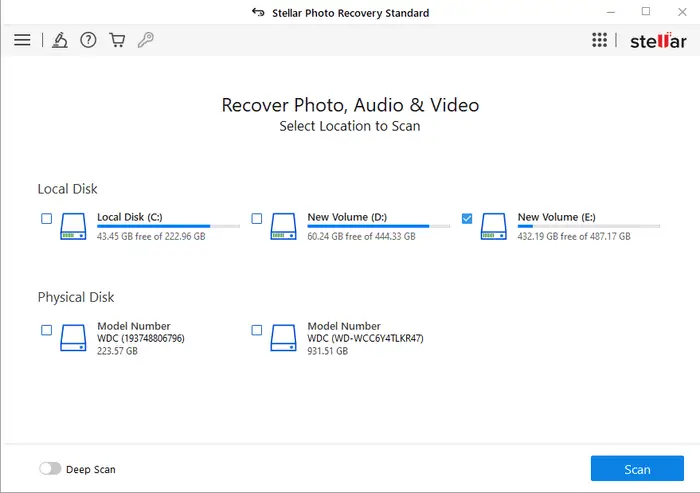 After you press the scan button, the software will check your marked drive for all media. This process may take some time, and it depends on the size of the drive you cheeked in for the scan.
You can minimize the Window during this scanning process, and it will automatically be continuing scanning in the background. If you are in a hurry, you can also shorten the scan time by accessing the Advanced Settings menu and clicking on the File list.
You will then see a list of all file types which you can recover. Now it's time to check in the required files.
Step 2: Find and Preview lost files: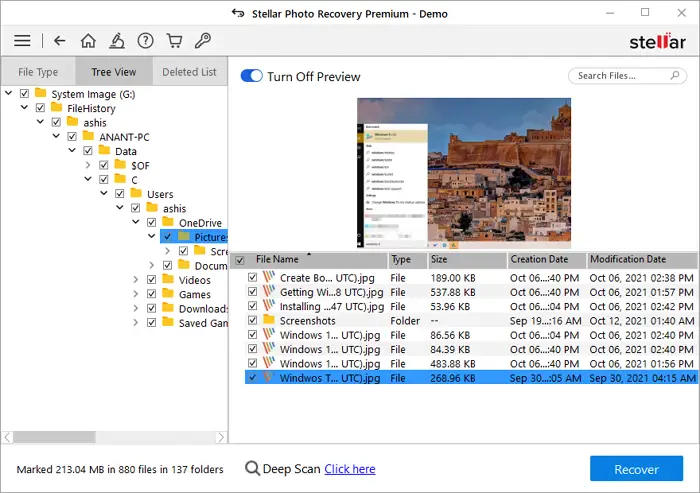 Once the scan process is completed, this tool will provide a complete report on everything about the number and size of files it found.
Now you can go through the folders and preview files for recovery. Though all files will not be available for preview options, many of them will. Lastly, select the required files you want to recover.
Step 3: Recover and Save the files: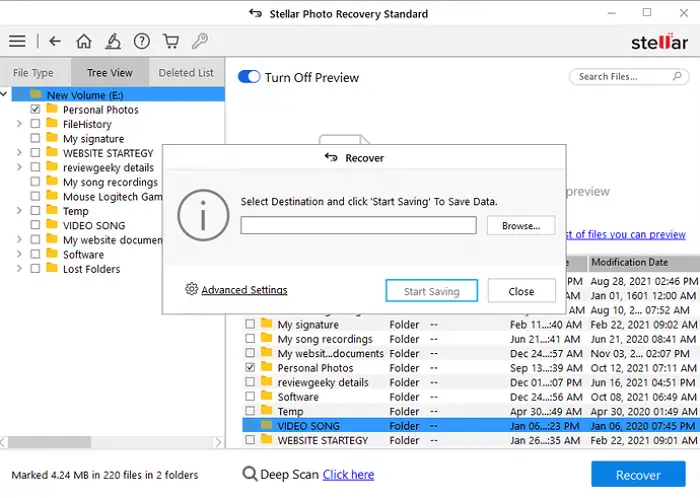 Press the recover button once you have checked all the required and associate files you want to recover. Once the screen is complete, select the folder you want to save those recovered files by clicking on the Start Saving option.
Now it's time to check whether your files are recovered and saved. The whole process will take time, but it's not that much longer. You can quickly recover a few images within two minutes.
Final Thoughts
Nobody wants to face data missing or corrupted file warning; if you are getting this warning, then Stellar Photo Recovery is one of the exclusive and robust media recovery software you can use to recover your files. This tool comes with many advanced features which are already mentioned inside the post. The free version of this tool also helps you if you only need to recover deleted files.
Because of no monitoring tracking system in this software, the recovery process may take a few times, but trust me, it's worth it, and you can try both free and paid versions to recover files as per your need. The only difference between free and paid versions are some of the exclusive and advanced features are unlocked with the paid versions. It's super easy to use and takes very little time to recover files, so try it and experience the smooth recovery process.
If you are looking for photo recovery software for your Windows computer, then Stellar's is the one we highly recommend!