A damaged or corrupt Personal Storage Table or PST file in Microsoft Outlook can have severe consequences, as it can render users unable to access important emails, contacts, and other data stored within the file. A PST file is an offline representation of your mailbox(POP accounts), which is stored on your PC and consists of emails, contacts, and other important information. If you or your company is heavily invested in Microsoft Outlook, it becomes essential that you recover the mailbox.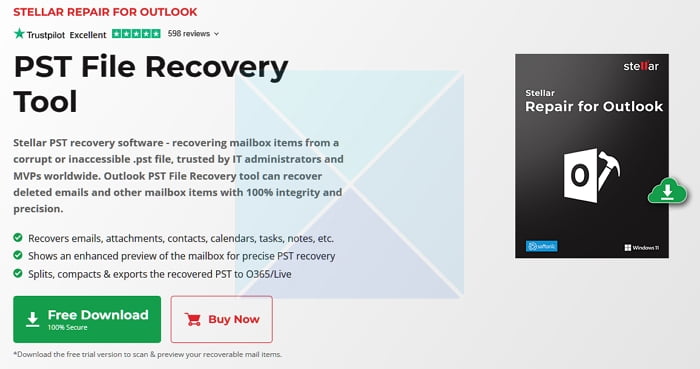 Stellar Repair for Outlook PST File Recovery Tool Review
Stellar Repair for Outlook offers PST File Recovery Tool to recover data from corrupt Outlook Data File(.pst) or even permanently deleted mailbox items. It is an advanced tool that assists you in restoring lost or corrupted PST files with 100% precision and integrity assurance along with instant restoration.
Key Features of Stellar:
Here we will discuss some of the essential features of Stellar Repair for Outlook tool in detail.
Fast and easy recovery of Outlook PSTs: The primary work of this tool is to repair any corrupted PST files you need to recover. This feature works with all mailbox items like journals, notes, emails, contacts, and calendars. After the PST file repair process, the user can easily import it into Outlook.        
Enhanced preview of the Recoverable Data: This tool always shows an enhanced tree-like preview of components that can recover from your mailbox. Users can easily retrieve anything Infront of them in just a few clicks. However, in order to save the data, you need to purchase the plan.
Recover Deleted Emails: In addition to repairing damaged PST files, it can also recover deleted emails and attachments. If you have accidentally deleted important messages or attachments or lost access to your email due to a PST file corruption issue. The tool can recover deleted items from both the mailbox and the deleted items folder, making it an excellent solution for recovering lost data.
PST Recovery at your Convenience: This tool offers recovery facilities at users' own pace and convenience. Users can permanently save the scan results and re-access them later. Stellar Repair for Outlook also provides additional accessibility by letting you choose the type of file the user wants it to get data in. The options include PST, EML, MSG, RTF, HTML, PDF, and more.
Advanced Filters: Outlook PST repair tool provides advanced filters for which mail items you want to recover and save in your new file. For instance, users can easily choose only to restore emails sent from one address. Users can also filter out junk and deleted items if they are useless.    
Save Mailbox data at any location you want: This tool allows users to save the recovered and repaired PST files at any location. You can easily save those files on any internal, external, or cloud storage but make sure to give access to the host system and keep the path as a destination folder.
Recovers Mailbox from Large PSTs: Inaccessible large PST files are usually tough to repair. But Stellar Repair for Outlook has an advanced PST scan engine that can easily find and repair those large files with 100% accuracy. It can quickly fix large PST files with password protection.
Easy-to-use Interface:  It offers a straightforward and easy-to-use UI, making it suitable for all users. The tool includes a simple but powerful wizard-based interface. It will guide you through the repair and recovery process. During the process, you will also get helpful tips and guidance to ensure that the user can complete the repair or recovery process and return the PST file.
Pros 
It ensures users' emails are not lost, and PST can be reused
Requires no hardcore technical knowledge to operate
This is an efficient tool for fixing PST files.
Easy and user-friendly interface
Easy installation process
Cons 
Saving limited data in the free version
How to use Stellar Repair for Outlook?
Download, install and open the Stellar Repair for Outlook.
Open the Outlook PST Repair tool.
On the Home tab, clicks Select Outlook Data File. A new pop-up window will open to find the file name for recovery.
Select the Browse option if you know the PST file's location, or you can search to explore the PST. Now click on the Repair option again to start the PST recovery procedure.
Now the corrupted PST file will be scanned and repaired simultaneously. The size of the PST file and the level of corruption impact the scheduled scan time.
After the scanning process, the software will open a new window and showcases the recovered Outlook mailboxes in the Left panel. To check the preview of the content, click on the mailbox item.
Now select Save Repaired File after selecting one or more folders or all contents for recovery. It will pop up a new window where the tool gives you six save options. You can choose the PST file format from the pop-up menu, save the mailbox data, select browser, and click ok.
 Lastly, a confirmation message will appear after saving the corrected PST file at the preferred location.  
Once you have the PST file, you can always configure it with Outlook again, and once you configure the same account, your inbox should start working as it was before. Make sure to keep a copy of the PST file as a backup if something goes wrong again.
Stellar Pricing 
Stellar Repair for Outlook tool is available in free and paid versions. You can download the free demo version to repair PST files and preview email items. However, if you want to save the recovered emails, you need a license or activate the key. This tool is available in three paid versions: Professional, Technician, and toolkit for yearly subscription as well as a lifetime license.
Stellar System Requirements
Operating system: Windows 11/10/8.1/8/7
Memory:4GB minimum
Hard Disk:250 MB for installation files
Conclusion
When it comes to PST File Recovery Tool, Stellar Repair is undoubtedly one of the most reliable and advanced PST file repair tools available in the market for Windows. This tool maintains the folder structure and saves the email items to new or existing PST files. It also assists you in resolving various Outlook oversights caused by damaged PST files and Outlook performance issues. The user interface is straightforward, making it suitable for novice and advanced users. Overall, Stellar Repair for Outlook is a valuable tool for anyone who needs to restore or recover damaged PST files.