Editing PDF files is always a daunting task. Most of the software has a costly price tag. Plus, you often don't get the features you are looking for. To solve this very problem, there is a tool called SwifDoo PDF. In the world of PDF editors, it is a relatively new tool. However, it comes with advanced features that can give tough competition to many established solutions. But should you use it? Well, this is what we will discover in this SwifDoo PDF Review.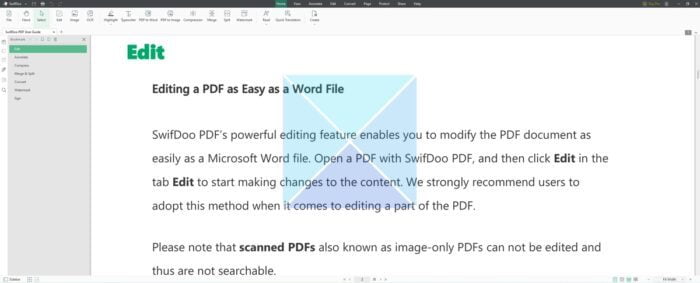 SwifDoo PDF Review
SwifDoo is one of the best easy-to-use tools to help you read and edit PDF files with a few clicks only. However, as of now, SwifDoo is only available for Windows Systems. It makes it super convenient to edit PDFs. With only a few clicks, you can create, convert, merge, compress and sign PDF documents in a blink.
SwifDoo has dedicated support for converting PDF files into multiple formats such as Word, Excel, PPT, TXT, CAD, and more. Also, you can convert many file formats to PDF using SwitfDoo PDF. The software makes it easy to add or delete text to your PDFs, change font size and color, and insert links or images, as it has many other great features that most other PDF editors lack.
Another highlight of the software is its user interface. Its intuitive design and helpful editing tools help you onboard the software immediately. Plus, there is no prior experience required to use the tool. Moreover, you will experience a more straightforward process of making changes to your PDF documents, converting PDF into multiple formats, and much more.
SwifDoo is also lightweight. It takes about 10 MB of disk space. As a result, you will not have any issues running SwifDoo on slightly older computers. So you can work on your PDF files without facing any lag or delay.
SwifDoo PDF Features
With SwifDoo PDF editor, you get all the features required for editing PDF files. Some of the key features of the tool are:
Edit PDF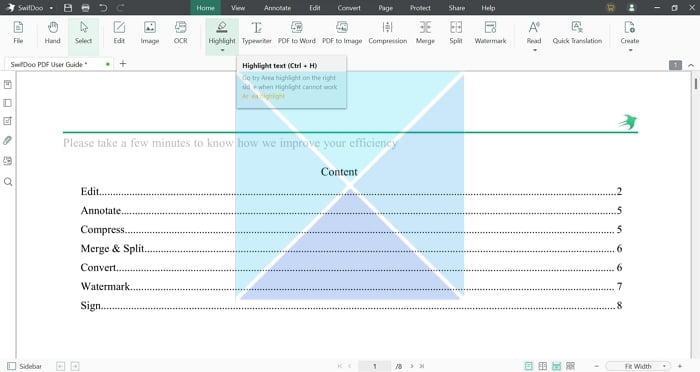 Editing PDF is an essential feature that this tool has. You can use this to correct typos, insert pages, links or images, remove content, crop pages, and more. The tool also allows you to change the font size, style, and color. You will also be able to generate superscripts and subscripts for the text. Copying and pasting content into your PDF files is a super easy process. On top of that, it has powerful OCR features that make it easy to identify and recognize text within unsearchable scanned PDFs.
Convert PDF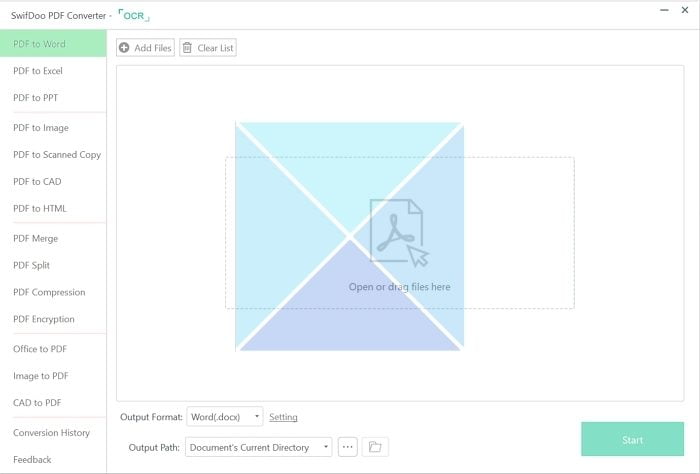 SwifDoo also claims to be the fastest tool for converting PDF files and vice versa. You can convert files in just a few clicks. With this tool, you are allowed to convert your PDF files into formats like Word, Excel, PPT, Image, CAD, Scanner copy, HTML, CAD to PDF, Office to PDF, and more.
In addition to that, you can add multiples at the same time and perform batch conversions with ease. So there is no need to convert one file at a time. Plus, they also have an online PDF converting tool that you can use for free. The tool can be accessed from SwifDoo's website.
Merge PDF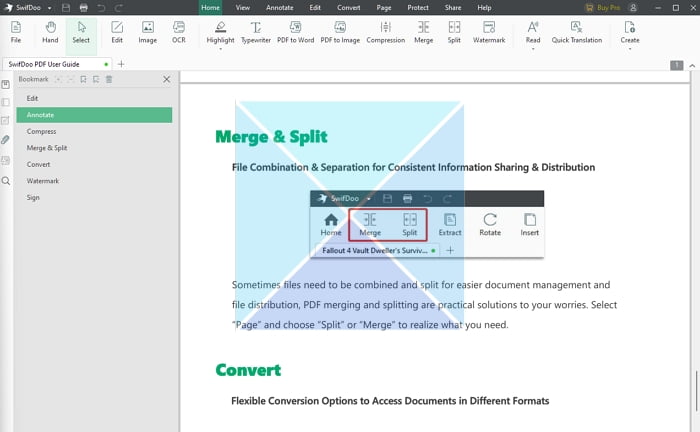 Merging PDF files is another useful feature that it has. You can quickly merge PDF files in just a few clicks. The tool allows you to merge multiple PDF files into one and combine certain pages in each PDF.
You can use the tool to split your documents into smaller ones. It gives you the tool to separate a PDF into multiple files. Also, you can determine which pages are exported into a PDF file.
Compress PDF
Compressing PDF files is essential, and SwifDoo makes it super easy. It can compress or reduce file size without compromising on the file quality.
You can easily compress PDF files to make them smaller. So you can share your PDF files or store PDF files pretty easily.
For compressing, SwifDoo uses lossless compression technology that identifies and eliminates statistical redundancy. As a result, no information during compression is lost, and the compression process only targets redundant data.
Annotate PDF
You can also annotate your PDF files using this software. It has all the annotating tools you will need. Such as highlights, stamps, notes, pencils, shapes, etc. Also, once you are done annotating your PDF document, the marks will always remain across all the operating systems.
Moreover, it also slows you to reply to others' annotations directly. Hence, collaborating over PDF files becomes much more accessible. You can accept or deny annotations with a few clicks only. Also, it lets you create and add stamps to your PDF documents.
E-signatures
For organizations, taking e-signature is a day-to-day task, and if you are into such a business, SwifDoo will only make your life easier.
With this tool, you can instantly sign documents by offering three ways of adding e-signatures. Unlike other tools, this gives you flexibility and does not limit you to a single e-sign type.
These options are, uploading an image of a signature, typing your name as a signature in a blank field, and using a mouse to draw your name on a blank text field. So depending on your e-sign requirements, you can choose your preferred type.
Protect PDF Files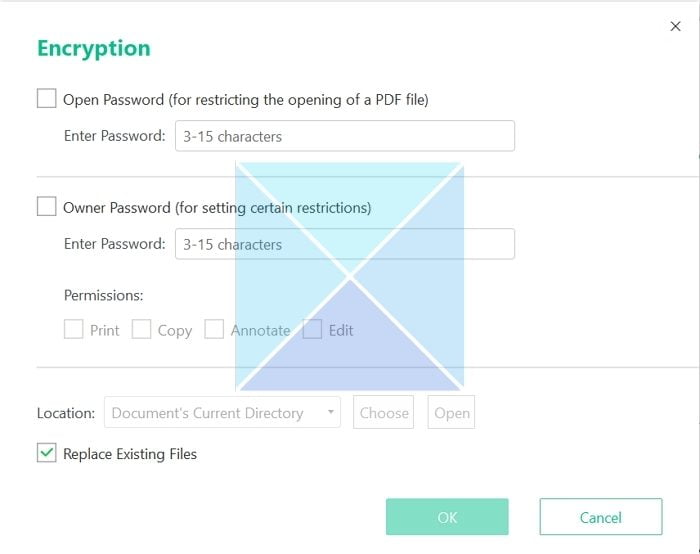 If you are dealing with sensitive PDF files, then SwifDoo can help you protect your PDF files. You can protect your sensitive and confidential information by adding a user password and permission password.
Using the user password, you can open a secured PDF file. However, the permission password is required to perform activities like printing, editing, and annotating. So even if someone accesses your PDF files, they will still need to break two passcodes.
How to Use SwifDoo PDF Editing Tool?
Using SwifDoo is extremely easy and requires no prior experience using any PDF editing tool. Below, you will find tutorials on editing PDF files, converting PDF files, and more. But first, make sure to download and install SwifDoo PDF from its official website. Once done, go through these tutorials:
Edit PDF Files
Launch SwifDoo PDF > Click on Edit PDF.
Select the PDF file you wish to edit.
Now the software will open the document and find different options at the top of your screen. Such as inserting text, images, and more.
Use these tools to edit your PDF.
Finally, click the Save button and choose a location to save your file.
Convert PDF Files
Launch SwifDoo PDF > PDF To Word.
From the sidebar, select the type of conversion.
Next, click the Add Files button and select one or multiple files.
Click on the Output path from the bottom to select a folder to store the files.
Finally, click on the Start button to start converting your files.
Compress PDF Files
Launch Launch SwifDoo PDF > Compress PDF.
Click on Add files and select your PDF files.
Finally, click on Start.
Password Protect Your PDF File
Launch SwifDoo > Click on Open.
Next, select the PDF file.
From the top navigation bar, select Protect > Encryption.
Over here, enter your open password and owner password and select the permissions.
Finally, save the PDF file, and you are done.
Apart from these, you can perform much more with SwifDoo, and using the additional features is relatively easy. I recommend you play around with the software to learn more about it.
SwifDoo PDF System Requirements
OS: Windows 11, 10, 8, 7, and XP (32 & 64)
Processor: 1 GHz processor or above
Hard Drive Space: 150 MB or above
RAM: 1 GB RAM or above
SwifDoo PDF Pricing
SwifDoo can be downloaded free of cost. However, the free version has limitations and would only work to an extent.
To enjoy an uninterrupted experience, you have to switch to the SwifDoo PDF Pro. It has three plans: Monthly Plan, Annual Plan, and Perpetual License. These plans are priced at $20/month, $5.75/month (billed annually), and $159 for a lifetime license.
All these plans will give you full access to all the SwifDoo Features. However, the Annual and Perpetual plans will allow you to use the software on two devices. Also, you will get free upgrade service and tech support.
SwifDoo PDF editing tool is a one-stop solution for all your PDF reading and editing needs. It is super easy to use and comes with affordable pricing. We recommend this software highly as it is sure to meet all your PDF editing requirements.