We often change our phone, and the hardest part of the entire process is setting up your new phone with your existing data. Or it often happens that we lose data from our mobiles due to multiple reasons. Keeping a backup, therefore, is a must – and to help us with it we have covered Syncios Data Transfer in this review.
Syncios Data Transfer
Syncios Data Transfer is an all in one software that can help you move your data to your new phone. You can simultaneously connect your old and new phone and copy the data with a single click. The program supports both Android and iOS devices. You can use this tool if you want to switch between mobile devices. Other than data transfer, the tool can help you take regular backups of the data on your device.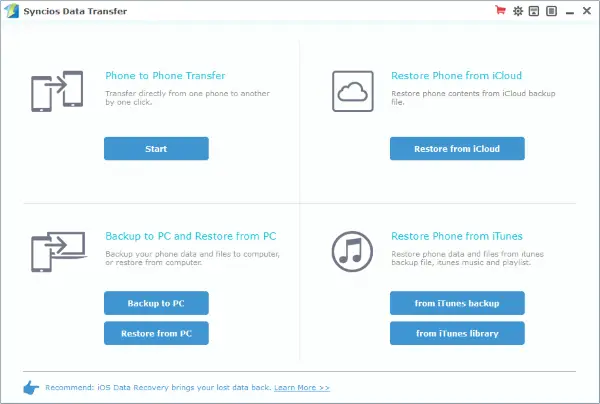 Some features from the Syncios Data Transfer tool even let you restore your music libraries from iTunes. If you plan to use this software with an iOS device, make sure you have iTunes installed on your computer. For Android devices, make sure you have installed proper USB Drivers and have USB Debugging enabled. The steps to enable USB debugging on different Android versions are available in the tool itself.
Move your data from old to new Phone
Data Transfer
Once you've downloaded and installed the tool from syncios.com on your Windows computer, you are almost ready to start transferring your data. Connect both of your phones to your computer and wait for the program to detect them. Select the source and target device and then choose what data you want to transfer. There is also an option available for wireless transfer Android Data using WiFi, use this option if you wish to backup your Android data wirelessly.
The program is capable of copying different types of data in different scenarios. All the available content types are displayed in the middle of both the phones. You can select the type of content you wish to transfer and then start the transfer process. You can copy Contacts, Text Messages, Call Logs, DCIM Photos, Pictures, Music, Videos, Apps, Books, Notes, Bookmarks and Calendar depending on your scenario. The following table lists all the content types that are supported by different device types.

You can transfer almost everything between two iOS devices. Same goes for a scenario of two Android Devices. And between an iOS and Android device, the program is capable of transferring all the basic content types. There are a few things that are not quite possible to transfer between Android and iOS so they might be grayed out if you try top copy them between the devices.
Device Backups
The software also comes with a built-in backup functionality too. So instead of directly transferring your data from one mobile to other, you can save it to your computer. Backups work similarly as data transfer, the only difference being the backup file is stored on your computer. You can use this backup to restore to any other device irrespective of its platform.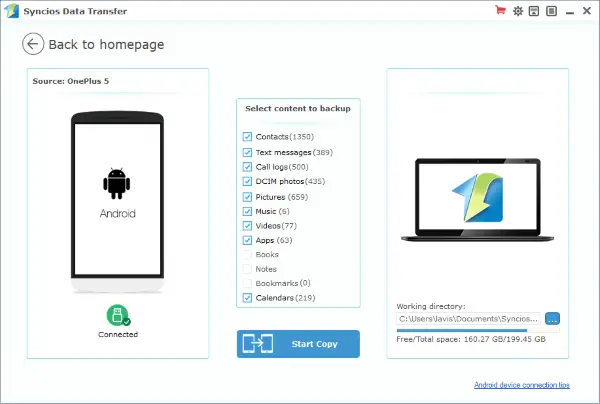 You can also change the default backup location by going into settings and selecting a location of your choice.
iCloud/iTunes Backup Restore
Another interesting feature of Syncios Data Transfer is iCloud Backup Restore. If you have iTunes installed on your computer, you can easily use this feature to restore your iCloud Backup data. Make note that iCloud backups can be both restored to iOS and Android devices. Refer the above table to know supported content types.
This feature might be pretty useful in a scenario when you've purchased a new Android phone and want to transfer your Contacts, Messages, and Photos and more from an iCloud backup you've previously taken from your iPhone.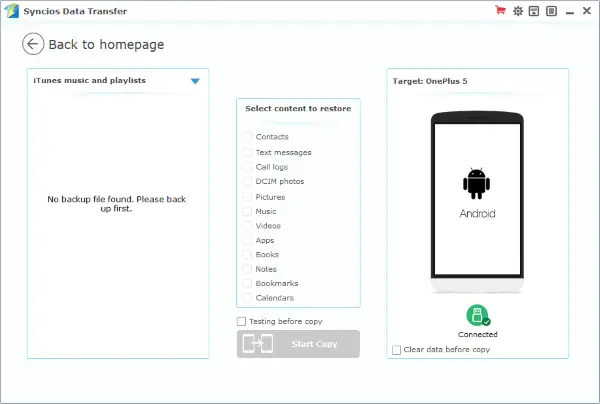 Other than an iCloud backup, the tool also supports restoring from iTunes backup. You can restore all the content from an iTunes backup. Moreover, you can also restore your music and playlists from an iTunes Library Backup. Remember that to use all these features you need iTunes installed on your computer.
The best part of the tool is its 24×7 support and the official guide and tips. You can browse this section on the official website if you are stuck anywhere and are unable to transfer data from your mobile. Some of the most common connection errors and their queries have already been answered and explained. So, if you face any connection or detection error, you can look up on the official website.
Syncios Data Transfer is a great tool to transfer files and take backup of your mobile device. The major functionality that sets it apart is the compatibility with both Android and iOS devices. Rather than having two applications, you can have just one to deal with all the phones in your house. This application makes switching phones and maintaining backup too easier. And the iCloud/iTunes restore is a great add on feature for iPhone Users.
Pricing
Syncios Data Transfer costs around $39.95, but you can get it around for $29.95 on a special discount currently going on. Visit the Syncios Store to purchase the license on discount.
UI & Navigation -

90%

Data Backup -

90%

Speed of Data Transfer -

88%

Sync Quality -

90%