With the increasing number of applications that we use in our day to day tasks, maintaining an optimum performance level on computers has become a difficult task. There are a lot of things that are needed to be done in order to maintain a computer. But is there any one stop solution? An all in one suite to completely take care of performance of your computer? In this post, we've talked about System Mechanic 17 Professional which can help you deal with all performance aspects of your computer.
System Mechanic Professional is a powerful software to Boost PC Speed, Recover lost data, protect Privacy and secure your Windows computer from malware and more. In short it is an all-in-one PC optimization software that you want installed on your Windows computer.
System Mechanic 17 Professional Review
System Mechanic 17  is an all in one suite that provides you with all the tools that you'll ever need to speed up your computer. It can fix most of the errors, freezes and unleash the full potential of your computer. Other than that, it can remove bloatware that might be slowing down the startup. Not just that, the tool can also optimize your internet settings so that you get maximum internet speed and performance. This tool is all about fixing errors, crashes and optimizing performance for future.
Since it is a relatively larger tool and includes a lot of libraries and drivers, you might need to restart your computer after installing the tool. Once you are done installing, you can hit the 'Analyse Now' button from the 'Dashboard' to start a scan on your computer. The entire scan might take a little while, but it will ensure that every aspect of your computer is covered.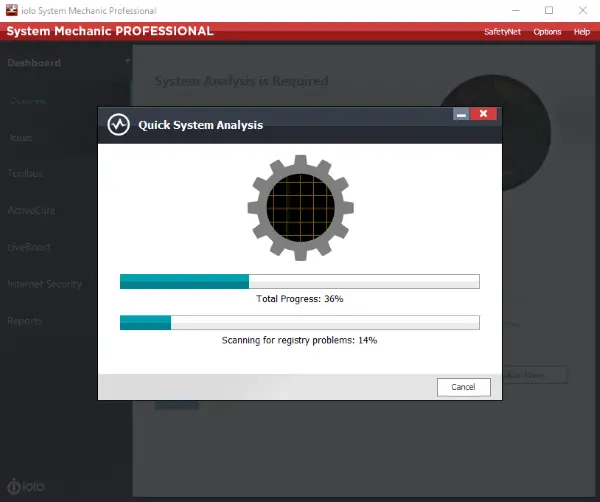 After the scan is completed, all the issues are well categorized and displayed under 'Issues' in 'Dashboard'. I tested this tool on a relatively old computer and found out that the computer had around 7000 issues slowing it down. Browsing through the details, here are a few categories that accommodated the issues.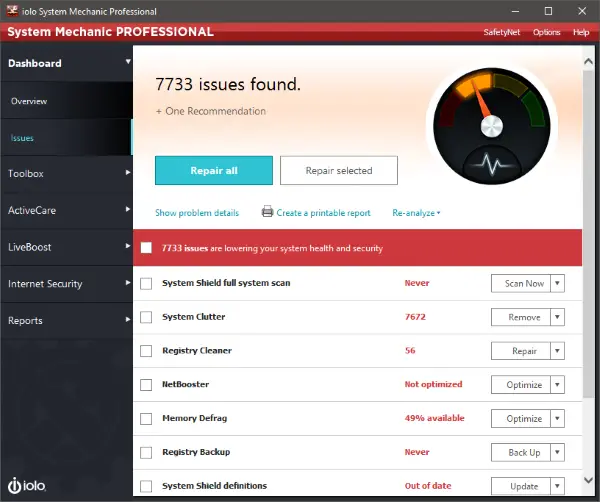 System Clutter
This category had all the issues with temporary files and any other clutter that can be safely deleted from your computer. This will not only free up some space but also remove temporary files that could be potentially slowing down your computer. This category comprised most of the issues.
Registry Cleaner
Under this, all the repairable issues with registry entries are displayed. You can directly fix these registry errors or skip them for now.
Registry Backup
This option lets you create a registry backup. We recommend creating a backup before actually cleaning the registry in case anything goes wrong.
NetBooster
NetBooster checks for all the settings related to your internet connection. And it makes sure that the settings are completely optimized to ensure maximum speed and internet performance. You cannot view the exact issues but only the optimization status.
Memory Defrag
This category deals with all the defragmentation issues. It displays the percentage availability and an option to defrag the disk. For all those who don't know that defragmentation is, it is a process to reduce the amount of fragmentation on a drive. It is done by moving the data fragments around to create large chunks of continuous data on the drive.
System Shield Definitions
This is the most useful feature. Our computers become victims to most of these virus attacks because of old and outdated virus definitions. This feature lets up update the virus and spyware definitions on your computer and make sure that you stay protected.
Startup Programs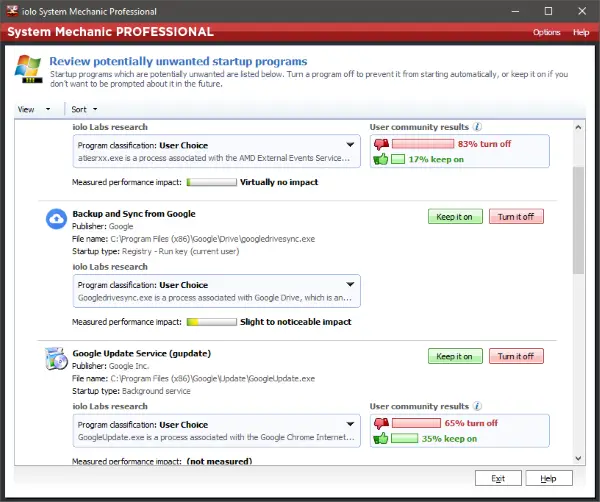 System Mechanic 17 will also recommend you a few settings related to your startup programs. It will point out a few applications that might be slowing down the startup process. Also, it will tell you the community results, so that you can have an idea what other people think about that particular application. You can directly turn off those programs or keep them right at their place.
This was about the inbuilt scan utility. But you can also manually fix most of the issues with the included tools. The toolbox section comes with a plethora of tools. I've listed them here category-wise.
All-in-one Tools
PC TotalCare
PC Accelerator
Total Registry Revitalizer
Repair
PC Clean-up
PC Security
Clean
PC Cleaner
Junk File Finder
Privacy Cleaner
Registry Tuner
CRUDD Remover
Shortcut Repair
Advanced Uninstaller
Speed Up
NetBooster
Program Accelerator
Memory Mechanic
Startup Optimizer
Startup Manager
Registry Compacter
Process Manager
Protect
System Shield (includes various sub-tools)
Security Optimizer
Privacy Shield
System Change Tracker
DriveScrubber
Incinerator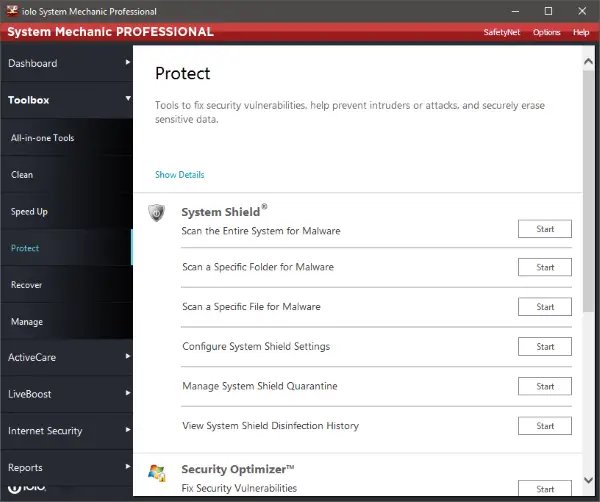 Recover
Search and Recover (deleted files recovery utility)
System Troubleshooter
Drive Medic
Manage
Designated Drives
Advanced System Information
Super Control Panel
Drive Sense
NetSpeed Analyzer
That was a pretty long list of tools included in the program. The scanning utility makes use of these tools to fix the issues found. You can individually run any one of these tools to perform an operation. The name of every tool pretty much explains everything about its functionality. But you can read the description before actually starting a tool.
Apart from these tools, System Mechanic Professional offers realtime protection. The LiveBoost feature keeps a constant check on all the aspects and makes sure your computer is always running fast and responsive.
System Mechanic 17 ActiveCare can help you automate the task of maintaining your computer's performance. You can set-up automatic backups and schedule declutter operations. You can also customize which parts of your computer should be optimized and repaired automatically without your consent.
System Mechanic Professional comes with an additional certified anti-virus program preloaded. So, you can use this tool to scan your computer for viruses and other malware. The anti-malware program can also notify you about the outdated virus definitions and provide real-time protection.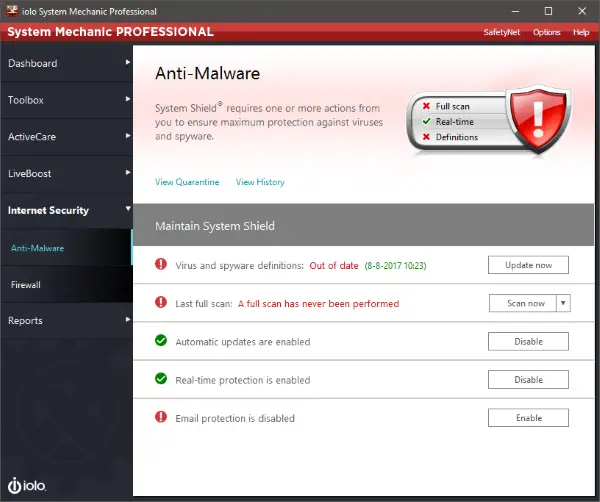 System Mechanic Professional is a great all-in-one application that you will ever need to optimize your computer. It can clean junk, optimize settings, boost speed, improve privacy, update virus definitions and what not. It is one of the best tools that I've ever seen that can perform such wide variety of tasks from one single application.
System Mechanic 17 Professional Download
System Mechanic Professional can cost you around $55.96 for a home license which lets you install the application on all your home and personal computers. In our opinion, it's definitely worth the price as it can help you maintain an error-free PC. It can help you fix frustrating PC errors, crashes, and freezes and restore maximum PC speed, power and stability.
Visit iolo.com to download and buy System Mechanic Professional.