The internet is full of websites that can harm your computer and data on it. It is essential to safeguard your PC, and if you are not a geek, then it becomes even more critical. While there are many software and security solutions available today, we are reviewing System Mechanic Ultimate Defense. This software offers all-in-one protection for your computer. It provides tools for performance improvement, malware removal, privacy features, and more.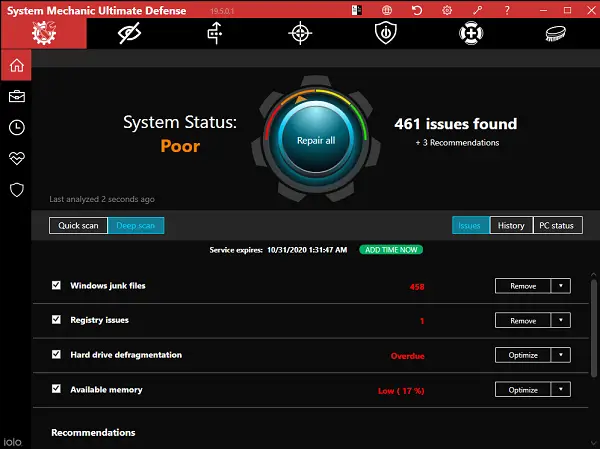 System Mechanic Ultimate Defense review
System Mechanic Ultimate Defense improves PC performance, offers real-time AV, removes malware and data protection, secures web browsing, manages passwords & credit cards, and more! Before we move ahead, you should know that Phoenix 360, a product from Iolo, is included in System Mechanics Ultimate Defense. It offers security, privacy, and optimization. All this will also be available with the new version.
Features of System Mechanic Ultimate Defense
The best part of using  System Mechanic Ultimate Defense is that it offers complete protection. It also offers a dashboard, so you get to understand that status and manage all areas.
System Mechanic Performance Optimization
Privacy Guardian Online privacy protection
ByePass Secure password manager
Malware Killer on-demand malware removal
System Shield real-time antivirus protection
Search and Recover deleted file recovery
DriveScrubber drive wiping technology
Each of these are separate modules. If you wish not to use them, you can turn it off or skip using it.
1] System Mechanic Performance Optimization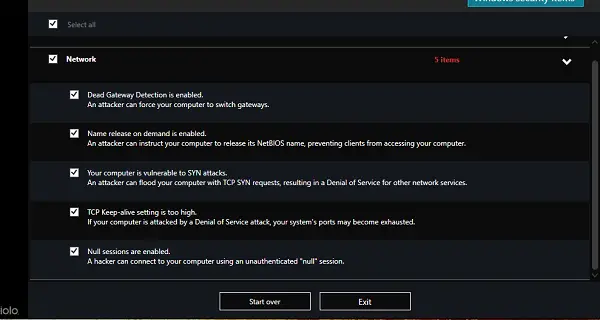 The first and foremost thing that the software offer is improving performance optimization for your computer. While optimization only happens in the background, you can always manually run it. When we ran it for the first time, it pointed to the amount of junk file on my computer and overdue defragmentation of the hard drive. It also offers Deep Scanning, which can further figure out.
The same section also offers recommendations about security issues, unwanted startups, and personal data sharing services. You can review each of them and change accordingly.
2] Privacy Guardian online privacy protection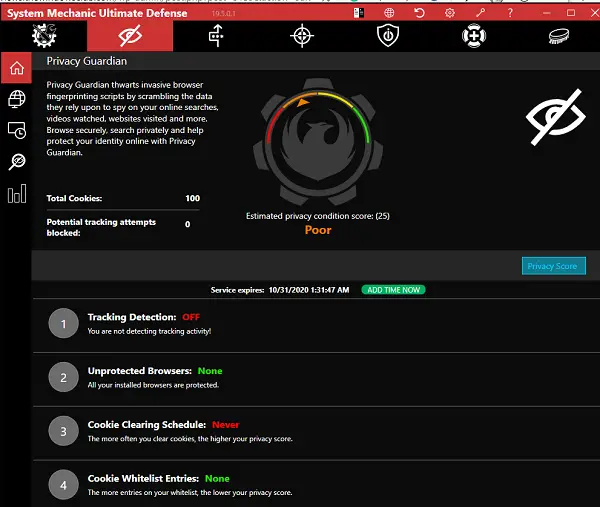 Privacy is a huge concern among Windows users. The privacy module in System Mechanics Ultimate Defense offers tracking detections, browser protection, cookie clearing schedules, and whitelisting option.
Once you enable tracking detection and browser protection,  your profile will be guarded against all digital tracking. I would suggest you experiment with this by first turning it off, and then turn on later to see the effects.
The tool also offers a browser cookie clearing schedule, which will delete all cookies on your computer when you are idle – or you can clean them manually.
3] ByePass secure password manager
Everyone uses a password manager, which can be a third party manager or the one which comes with a browser. On similar lines, System Mechanics offers a secure password manager. If you plan to use this feature, you will need to install the extension for the browser. Here are its prominent features:
Automatically checks for leaked passwords.
It can remotely log out of all websites from anywhere.
Encrypt passwords and credit card details with secure encryption.
Apart from these, you get auto-fill, assessment of password strength, securely organize the passwords and more.
4] Malware Killer on-demand malware removal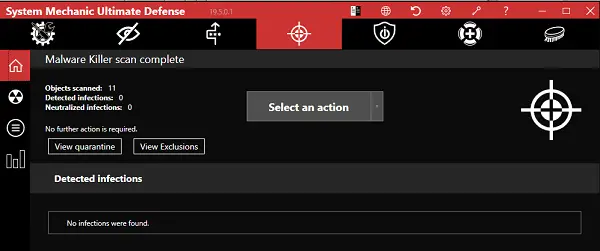 It is an important module that can find out if there are malware already installed on the computer. If anything is found, it is quarantined, and remove from the system. System Mechanics uses its in-house heuristics algorithm to reduce the detection time for brand new outbreaks. It even maintains a database in the cloud that can detect threats early. In case of any suspicion, the file is sent to the cloud sandbox, where it is further analyzed.
You get an individual section for quarantine, exclusions, and history. If there is a program that is identified as malware, but you trust it, you can add to exclusions.
5] System Shield real-time antivirus protection

While the Malware killer scans existing malware, the System shield offers a real-time anti-malware solution and firewall. It makes sure that any file you install is checked against the data behavior-monitoring technique to figure out if its going to harm your computer. The shield also offers to check data against malware signatures to further secure the computer.
System Shield is an old product from the developers and had been there since 1998. That said, You can always disable it and use other antivirus solutions. I think its great that the developers provide this option, and let users have control over how they want to use the software.
6] Search and Recover deleted file recovery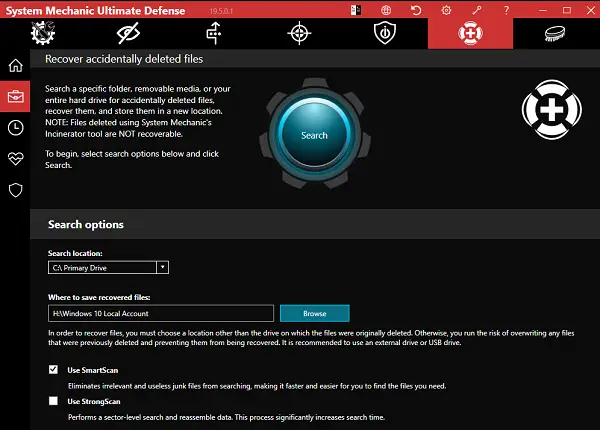 Apart from offering security features, the software also provides two more useful utility. A tool to recover deleted files and a way to remove a file so it cannot be recovered completely.
Switch to Search and Recover, and you can choose a drive to scan, location to copy recovered files and the type of scan. The Smartscan option eliminates unnecessary files, i.e., It skips unnecessary files making the search a lot easier. The second option—Strong Scan—performs a sector-level search. It offers a better chance of data in a usable state.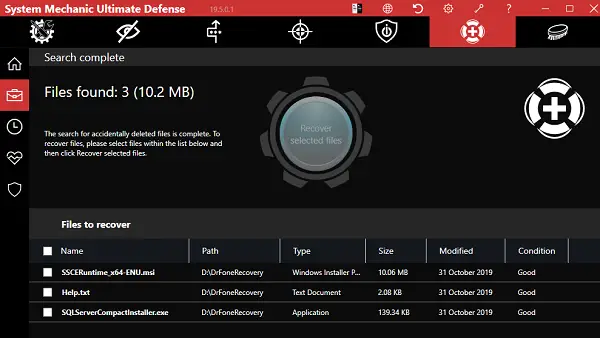 7] DriveScrubber drive wiping technology
The last feature in the list is the drive wiping technology, which can securely delete any data from your computer. In simple words, no other software can recover those files. It uses a disk cleaning technique that meets the U.S. Department of Defense 5220.22-M disk-sanitizing standard.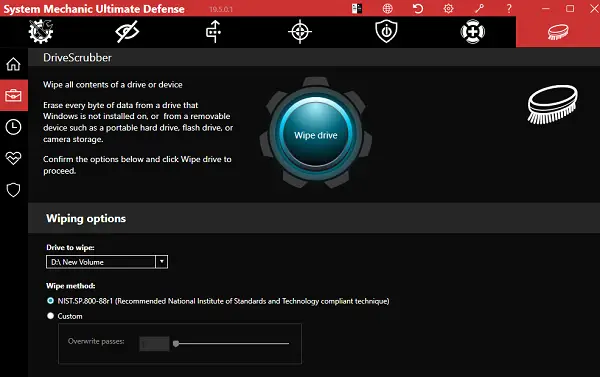 The drive is completely wiped, but you can also choose the number of times it will be overwritten to ensure no data is recovered.
System Mechanics Ultimate Defense offers  If you are looking for a one-stop solution, this is what you need.
If you are looking for an all-in-one PC optimization and security tool, then we recommend that you use System Mechanics Ultimate Defense, as it offers an ultimate solution to protect you from internet threats & malware, secures your privacy, improves PC performance, and offers file recovery solutions, and more.