Do you read a lot of articles on the Internet? After a certain point in time, it gets difficult to stay on top of everything. There are so many blogs, sites, and feeds to go through. But the tools or the websites that we are talking about here today are all set to improve your reading experience and help you stay on top of your reading list. TechURLs, DevURLs, and SciURLs are three sister websites that aggregate technology, developer and science news.
By aggregation we mean, you can read articles from all your favorite websites at one single place. You do not need to subscribe to different newsletters or open all websites individually; these URL sites have got you covered. The time taken to find an interesting article to read is significantly reduced as every website and article is right in front of you.
Let's us talk about the websites or blogs that these amazing sites aggregate.
TechURLs

TechURLs aggregates technology news from the top 30 technology blogs and websites. And a few names included in this top 30 list are Reddit, Wired, Slashdot, Hacker News, Digg, The Verge, Medium, Tech Crunch, Engadget, Mashable and the likes. You can quickly scroll through the news titles and click them to open the tech news that you want to read.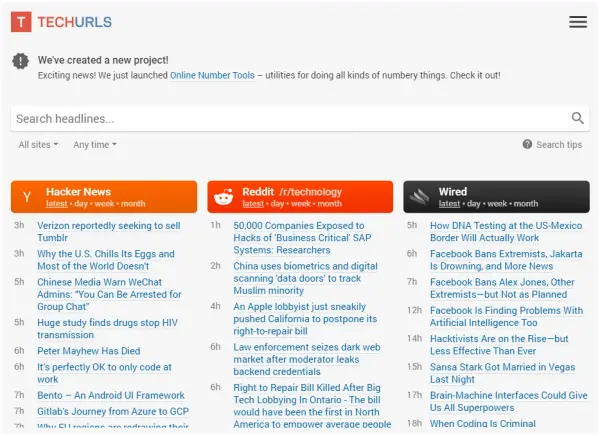 DevURLs

DevURLs is for software developers who love to read about new technologies and developer news. Its aggregate news from Medium (Programming), Lobsters, Hacker Noon, Smashing Magazine, Google Developers Blog, Facebook Code Blog, etc. The website also has a section that brings up trending GitHub repositories if you are interested.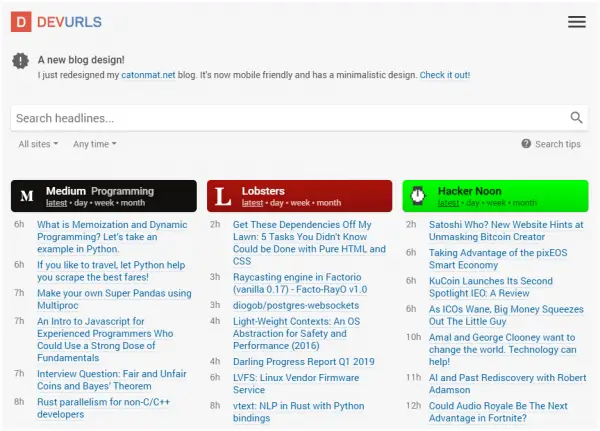 SciURLs

Love reading about science? SciURLs aggregate news from websites like Nature, Medium (Science), Scientific America, Phys.org, Wired, IEE Spectrum, Science Daily, BBC Science, etc. There are about 30 websites/blogs available.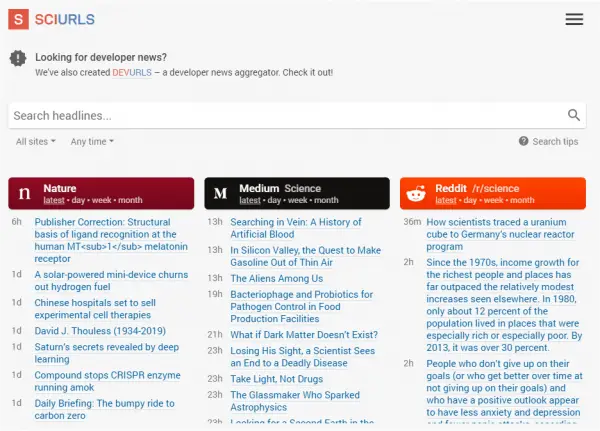 News aggregation is not only the feature that these sites offer. They come with a complete set of features that make your experience even better. The features have been discussed in details, and they apply to all three of these websites.
Best User Interface
The websites host an amazingly neat and clean user interface. Different websites/blogs are arranged in a grid of cards. You can either read them all or just focus on one card at a time. Above that is the amazing search box that we'll discuss next.
Search Engine
Since you have a lot of content to read, a good search engine is a must. The powerful search box on these websites let you search for your favorite article heading across all these websites. This comes handy when you really forgot where you read an article.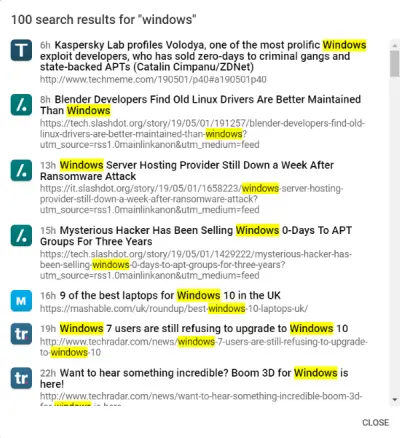 Plus, the powerful query features offered by the search engine make it more usable. You can create a lot of queries to find what you are looking for. Click on Search Tips to explore different kinds of queries that are supported.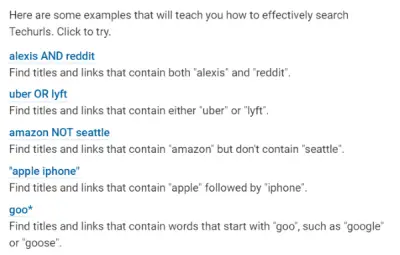 There is one more way to search and believe me; this one is even quicker. For example, if you want to search TechURLs for term "Windows", just open the following address in your browser:
techurls.com/?q=windows
This would instantly load all the results and display it to you.
Archiving
These are not just RSS readers; the websites maintain their own archive that can be accessed to get old articles. Just below the website/blog's name, you can find various options that can load latest, daily, weekly or monthly news from this website. Also, towards the left of the article's headline, the time period since it has been published is displayed. Again, archives are helpful when you are looking for something old.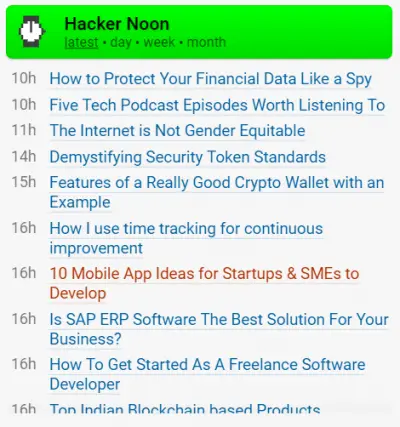 Rearrange Dashboard
Everybody has different reading tastes, and these websites totally respect that. You can head over to "Rearrange" settings if you want to modify the arrangement of news websites/blogs. If you read a website/blog more often, you can put it at the beginning. Or you can remove any website if you don't read it altogether. This feature adds a little personalization touch to the overall reading experience.

TechURLs, DevURLs, and SciURLs are some websites that everyone should have a look at. They save you a lot of time that was spent on going to each website and then finding something worthy to read. Plus, they bring in a lot of features with a smooth and clean user interface. These websites check all the marks and are a perfect news reading companion.