iTunes is usually the default software iPhone users use to transfer photos from iPhone to Windows 10. While it works without much problem, but the biggest vowes is that iTunes doesn't support transferring photos from iPhone to Windows computer. So, if you are one of those consumers with an iPhone and Windows 10 combo, today we are talking about DearMob iPhone Manager which can transfer iPhone photos to Windows 10 PC very easily.
If you recommend Windows Photo App to transfer photos, you need to install iTunes which brings in Apple Application, Apple Mobile device support, and the Apple software update. It makes things complex.
DearMob iPhone Manager
DearMob iPhone Manager is an excellent Photo transfer app which works on Windows 10. This app can not only transfer photos from iPhone to Windows 10 without iTunes but can also manage your Music, Video, perform backup and so on.
When you connect your iPhone with your PC, it doesn't recognize it as Phone but gives you the option to connect as Camera. While this gives you access to clicked photos, you cannot access the rest of the other files including screenshots, photos in other apps, downloaded files and others. DearMob iPhone Manager takes care of all these problems.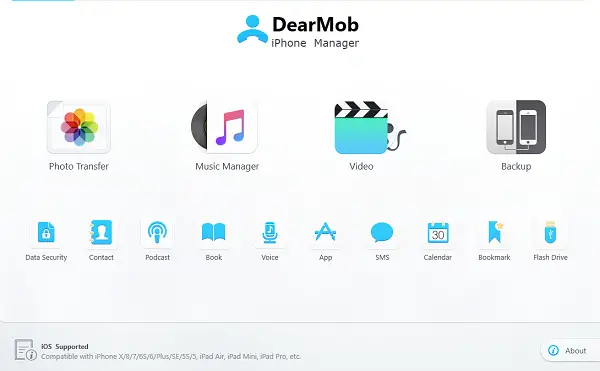 Transfer Photos from iPhone to PC without iTunes
Lets clear out one thing first. When using DearMob iPhone Manager, you don't need to install any Apple Mobile Driver. It works like any other software installation.
As soon as you connect your iPhone, the software instantly recognizes it, and you can start importing the photos at high speed. The software claims to transfer 100 4K photos in original quality in 8 seconds without compression. You can either select the photos individually or in bulk.  I would suggest you do selective import as you get access to all other photos in your iPhone as well. Rest can be taken care by the Backup system.
The next feature which you will love is the option to convert HEIC (High-Efficiency Image File Format) photo or export original HEIC photo. This again means there will be no loss in the quality of the photos. When importing photos, you can create a new album or add it to existing ones. This will help you organize the photos.
DearMob iPhone Manager can encrypt the whole backup, and encrypt the individual file to overwrite them as .dearmob file. You will have to set up eight character password to enable encryption, and never forget it. It will encrypt Contacts, Videos, and Photos. It uses 256-bit AES, 1024-bit RSA, PBKDF2, and Argon2 encryption technology.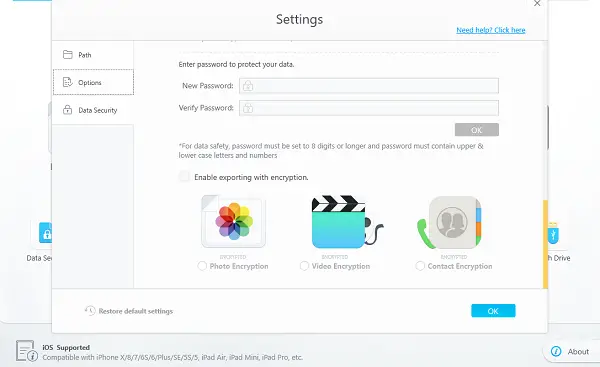 Now, that we have covered the major feature of this software, let's take a look at other options you get along.
Video and Music Manager
iPhones are powerful enough to capture high-quality video, and stream brilliant sound when it comes to music. You can use it to transfer or convert 8K videos with hardware acceleration. When converting, you can choose to auto rotate video 90 degrees for full-screen playback. When transferring videos to your iPhone, it will automatically detect the code or type of file, and use the right conversion software.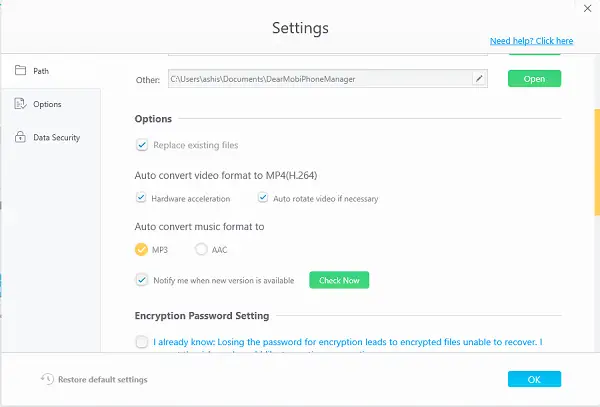 When it comes to Music, it can perform two-way sync between PC and Phone, and can also import non-iTunes music (OGG, FLAC, WMA, WAV) to iPhone. The conversion will happen automatically without quality loss. When managing music, you can manage the playlist as well, i.e., edit, add, delete, manage playlist and so on.
Lastly, you can backup and restore the complete iPhone with a single click. It takes a complete backup of your phone which is useful when you want to reset, and restore. You can also use the backup to restore all the files into a new iPhone as well.
Other features:
You can change the default folders of each file type. We recommend you to change it from C drive to any other drive for safety.
Transfer files according to categories. This makes it a lot easier to transfer files.
Manage Pages, Numbers, KeyNotes, GarageBand, etc.
You can install Apps that are not in the App Store without jailbreak.
Manage Apple Books, Contacts, Calendar, and SMS.
When it comes to the calendar, you can group by calendar all, repeat daily/weekly/monthly/yearly,  import/export calendar between computer and iPhone.
Those who like to read Apple Books, it can export & convert ePub to PDF/TXT/HTML for wider reading, and intelligently grab and preview the book cover.
Export SMS as a PDF, and you can also copy images, and files from your SMS. You can also selectively backup text messages and iMessages.
The contacts can sync with Windows. It means if you have software like Outlook on your phone, you get the same set of contacts at both the places.
Looking at these features, it becomes really easy to transfer photos to PC without iTunes. Not everyone uses the software apart from just using it for their iPhone, so it becomes an obvious choice. You can buy a lifetime license for a special price of USD 39.95 or download a free giveaway license from 5kplayer.com.
DearMob iPhone Manager -
39.95$
Software Performance -

95%

Navigation & UI -

92%

Backup Quality -

92%

Data Protection & Privacy -

92%

Processing Time -

95%