One of the biggest hurdles users face is carrying their WhatsApp data when it comes to switching from Android to iPhone. The popular messenger service doesn't offer any direct support because the way data is backed up for each platform making switching impossible. That is where software like MobileTrans and Wutsapper comes into the picture. These are professional software that can help you migrate WhatsApp data between two different mobile platforms. The software works well, but as a rule, always backup chat and media data on the original device.
Wondershare MobileTrans review
WhatsApp is one of the most popular messaging apps and by far the most popular in the world of smartphones. With so many people using it, it's no surprise there are tons of ways to get the data out of WhatsApp and onto a new phone—but they aren't all created equally.
Wondershare MobileTrans is a desktop application that can transfer anything between two smartphones. One of the key features is to transfer WhatsApp and other social apps and restore data from cloud backups. All these can be done with few clicks, and it's seamless. The application has been used by over 50,000,000+ users, which gives enough assurance that it works.
Mobile Trans Key Features
When it comes to transferring WhatsApp data, here is the list of key features you get:
Transfer WhatsApp data between iOS- and Android-powered devices.
Back up WhatsApp chats, photos, videos, attachments, and more on your computer.
Restore your WhatsApp backups to devices.
WhatsApp Business, Viber, LINE, Kik, & Wechat are also supported.
Messages from WhatsApp can be converted into PDF/HTML via the computer.
Apart from this, the software can also be used to transfer other data between mobiles, backup from phone to computer, restore data from computer to phone. It also supports most of the smartphones offered by different OEMs. No hardware limitation restricts the software from working as expected.
How to Transfer WhatsApp Data from Android to iPhone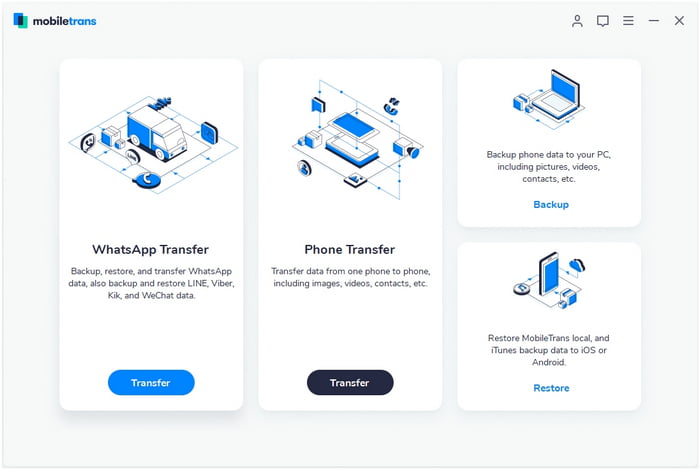 First make sure you have WhatsApp installed on your iPhone, but not logged in with any account. It will make sure the data folders are ready and the software can transfer the data to the right location.
Step 1: Connect phones and launch software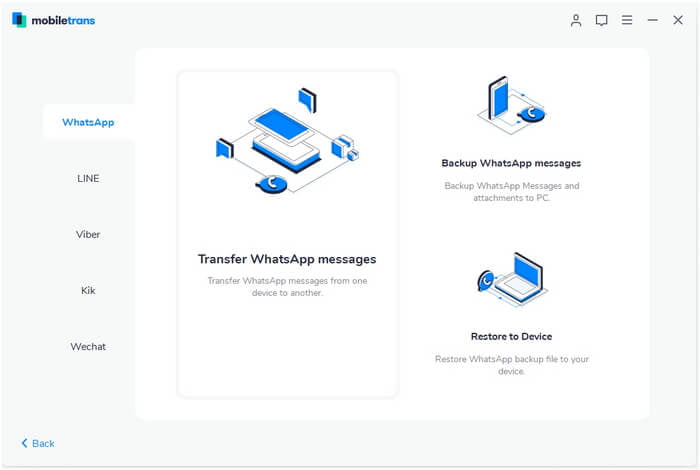 Make sure both the phones are connected to the computer and are in file storage mode.
Install and launch the MobileTrans software on your computer, and select the "WhatsApp Transfer" option.  Once you click on it, select the "WhatsApp Transfer" and then click the "Transfer WhatsApp messages" feature from here.
The software will then load the messages and attachments and prepare for transfer.
Step 2. Start the transfer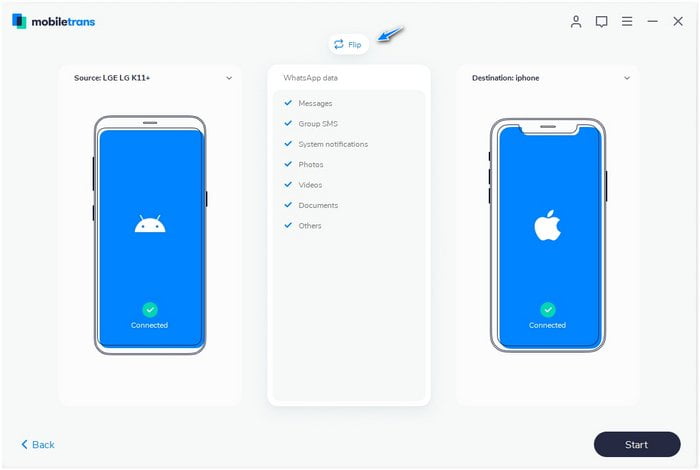 Click on the Start button to initiate the transfer, and wait for it to complete. Make sure you have carefully selected the source and destination phones. Also prepare a backup of your WhatsApp data to the cloud in case something goes wrong.
Step 3. Transfer complete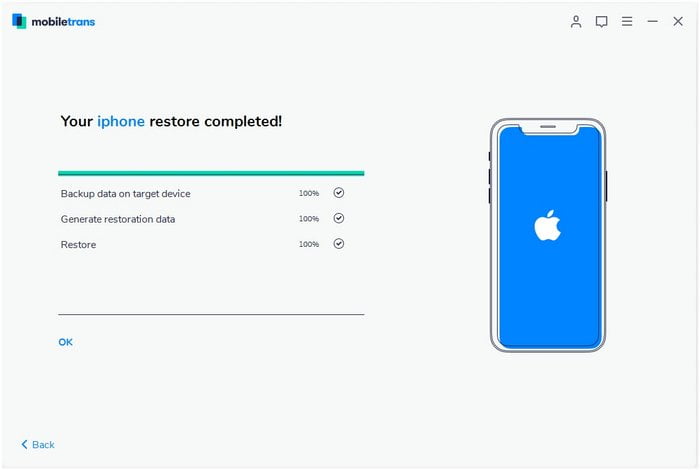 Once the transfer is complete, and you can see the confirmation message from the software on your computer, you can disconnect the phone, and launch WhatsApp on the new device to check if you have all the data.
What is Wutsapper? How does it differ from MobileTrans?

Features of Wutsapper
Move WhatsApp data from Android to iPhone 
– Transfer all WhatsApp data from iPhone to Android phones directly.
Keep WhatsApp transfer easy
-Move WhatsApp data with an OTG cable directly; the computer is not necessary.
Support multiple types of data
– Support to move various types of WhatsApp data, including messages, emojis, images, videos, files, and attachments.
Keep completeness of data
– Transfer all memories you want to keep and no data left behind.
Fast transmission speed
– Enjoy the fast pace during WhatsApp transfer.
Compatibility:
– Requires iOS 9.0 and later.
– Requires Android 7 and later.
– Works for the latest models of Android and iPhone.
While the MobileTrans works if you have access to a Personal Computer. Many users might not have access, and that's where the Wutsapper comes into play. It is the first app that offers WhatsApp data transfer from one android to an iPhone. All you need is to connect them through Wire, and if both of them support OTG, data can be moved.
All you need to do is install the app from PlayStore on your android phone, connect your iPhone to Android using a wire and turn on OTG. The rest of the things are handled by the app. It will create a copy of all the data on WhatsApp and copy it to the folder on your iPhone. Once the transfer is done, you can log in to your WhatsApp account and get access to various types of WhatsApp data that could be transferred by Wutsaper, which includes messages, emojis, images, videos, files, and attachments. While this is easy, you still need a proper OTG cable, an adaptor for your iPhone. So make sure to arrange that before getting this one.
MobileTrans Pricing:
Windows – one year – Whatsapp transfer – $29.95
Windows – one year – Phone transfer – $29.95
Windows – one year – Full features – $39.95
Mac – one year – Whatsapp transfer – $39.95
Mac – one year – Phone transfer – $39.95
Mac – one year – Full features – $49.95
Minimum System Requirement for MobileTrans:
iOS Versions: iOS 5 and up (iOS 14 included)
Android Versions: Android 2.1 and up (Android 10 included)
Windows: Windows 10/8.1/8/7/Vista/XP
Mac:11(macOS Big Sur), 10.15 (macOS Catalina), 10.14 (macOS Mojave), Mac OS X 10.13 (High Sierra), 10.12(macOS Sierra), 10.11(El Capitan), 10.10 (Yosemite), 10.9 (Mavericks), or 10.8
As a rule, switching from an Android to an iPhone is a difficult process, but not when it comes to transferring WhatsApp data between the two. With Wondershare MobileTrans, you can quickly transfer all of your WhatsApp data from your Android to your iPhone in few easy steps.
Wondershare MobileTrans -
29.95$/y
UI & Navigation -

95%

Whatsapp Data Management Options -

95%

Security & Privacy -

95%

Mobile App Functionality -

95%

Speed & compression of Data Transfer -

95%