There are so many ways to do it when it comes to online learning, and then there are tons of eLearning courses, but which is worth it? Here we are discussing Udacity Nanodegree, what it offers, how it can be helpful to upgrade your skill and cross skills, and finally, help you in your carrier as you go ahead.
Udacity Nanodegree Review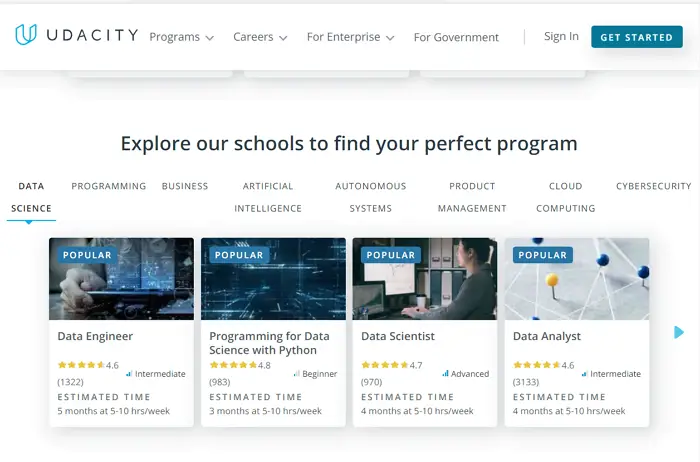 Udacity is one of the most popular online courses, offering Nanodegrees in Software Development, Android, Data Analysis, and Machine Learning. The courses are designed in partnership with tech giants such as Google, AT&T, Nvidia, Amazon AWS, Microsoft, Intel, and more ads to the program's authenticity that the courses aren't regular programming classes but much more advanced and matches with the current scenario.
Udacity Nanodegree is not just providing online classes but offers a curriculum which students will need to follow to go through the Nanodegree program. And it is pretty hard to follow it, especially if you are doing it full time.
What is Nanodegree?
Like Government-authorized courses under universities and schools, Udacity offers courses, but they are not linked to universities. They are exclusively offered through Udacity. Thanks to the partnership, quality, and maintaining the standard, they are recognized by the industry.
Course Catalog for Tech People
There are thousands of courses available on Udacity. Right from AI to Autonomous Systems to Business, Cloud Computing to Cyber Security, Data Science to Product Management, Programming, and Development. There are also courses available for Applying to Jobs and Interviewing. All of these are Project-based active learning programs.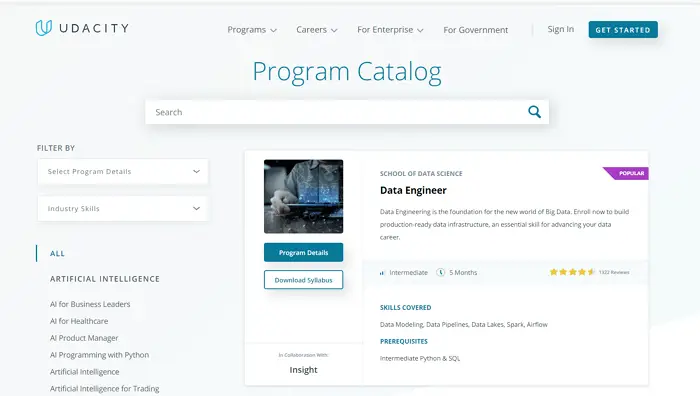 Artificial Intelligence
AI Product Manager
AI Programming with Python
Artificial Intelligence
Artificial Intelligence for Trading
Computer Vision
Deep Learning
Deep Reinforcement Learning
Machine Learning
Intro to Machine Learning with Tensorflow
Intro to Machine Learning with Pytorch
Data Science
Business Analytics
Data Analyst
Data Engineer
Data Scientist
Data Visualization
Predictive Analytics for Business
R for Data Science
Python for Data Science
Cloud Computing
AWS Cloud Developer
AWS Cloud Architect
AWS Cloud DevOps Engineer
Programming and Development
Introduction to Programming
AI Programming with Python
Android Basics
Android Kotlin Developer
Blockchain Developer
Data Engineer
Data Structures and Algorithms
Front End Web Developer
Java Developer
React
Python for Data Science
Autonomous Systems
C++
Flying Car and Autonomous Flight Engineer
Intro to Self-Driving Car
Robotics Software Engineer
Self-Driving Car Engineer
Sensor Fusion Engineer
Computer Vision
Business
Business Analytics
Digital Marketing (read our Digital Marketing Nanodegree Review)
Marketing Analytics
Predictive Analytics for Business
UX Designer
Product Management
Career
Applying to Jobs
Interview Prep
One can get full detail on each of the listed course inclusion options to download the course. It will also show the percentage of companies that plan to increase positions requiring that data skill.
When selecting a course, always make sure of two things—Price and Support of instructors—as long as you do that, things should be fine.
Udacity Teachers
If there is one thing you can be confident about, it's the teachers associated with each course. They are highly skilled professionals with impressive technical backgrounds and years of experience. As per the feedback from students from Udactiy, they are also accommodating and take a lot of interest in helping students.
Udacity Nanodegree Fees structure
There is no fixed pricing model for Udacity courses; instead, the pricing structure is entirely dependent upon the course structure. It can vary anywhere from $199 up to $3,000.
Few courses have a fixed cost, some are designed based on term, and the longer ones are split into terms. It follows similar guidelines as it has been done in colleges and universities.
The certification is timed, which means after a month of extension, you will have to sign up again, which makes the course's total cost very expensive but makes sure that unless you are serious, you will not be taking it.
Nanodegree Certification
Unlike other online certifications, Udacity Nano degree certification is only for those who are serious. As explained in the free structure, the courses, and times, you cannot keep doing it. The maximum time you get is an additional month.
The courses are designed by specialists in the field, which match the standard and also worked for the students. Apart from this, you get access to Udacity's restrictive wiki, backing from tutors, access to the Udacity Community.
The free courses on Udacity don't offer any certification, and there are no student-to-student and student to teachers interactions.
Is Udacity Nanodegree recognized?
Udacity designs and creates its own course content in collaboration with companies like Google, Mercedes, etc. Their courses are therefore recognized and acknowledged by some employers.
Employment Opportunities after Nanodegree
While Udacity doesn't offer any Job guarantee, the fact that you're learning most of the in-demand technologies makes the Nanodegree worth it. They offer a job portal where you get access to the latest job postings from Udacity partners, including Google, IBM, Shell, and BMW.
You can also submit your resume to LinkedIn or GitHub profiles, to which the Udacity team will offer feedback. Going one step ahead, you can also Network with fellow students and alumni to connect with others in your field.
So having a Udacity Nanodegree in your skill set will increase the chance. On top of it, it's a boon for those who don't have a chance to get into the university but can afford this course. In the end, you will need to prove yourself in interviews and practical exams. Check out some of the free courses to help you understand it.
All in all, Udacity courses look promising, certification courses are strict, there is solid teacher-student interaction, a community to interact with, and people to help you out preparing for an interview and resume.